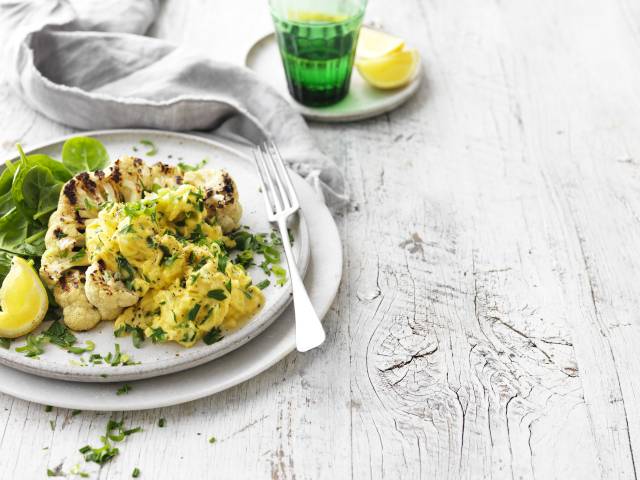 Cauliflower steaks with herbed scramble
Prep time: 5 minutes
Cook Time: 10 minutes
Serves: 4

Ingredients
• 8 eggs
• 1 head cauliflower, cut into 1.5cm-thick steaks
• Olive oil spray
• ½ cup milk
• 35g butter, chopped
• 1 cup mixed chopped herbs
• 60g baby spinach
• 3 green onions, thinly sliced
• Lemon wedges, to serve
• Steamed brown rice and tomato salad, to serve (optional)

Method
1. Preheat a grill pan or char-grill on high.
2. Spray the cauliflower with oil and place on the heated grill for 5 minutes on each side or until charred and tender.
3. Meanwhile, place the eggs and milk into a large bowl and whisk them together until frothy and combined.
4. Melt the butter in a large non-stick fry pan over a medium heat. Once melted, add the egg mixture and stir it gently with a wooden spoon for 2-3 minutes or until the eggs are just set. Stir in the herbs and remove the pan from the heat. Season the egg mixture with salt and pepper.
5. Serve the cauliflower steaks with the herbed scramble and spinach. Scatter with extra herbs, green onion and lemon wedges. Serve with steamed brown rice and tomato salad, if you like.