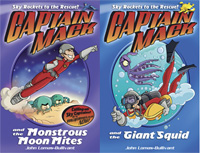 Captain Mack and the Monstrous Moon Mites
Action, drama, silliness and comedy abound in this full-colour comic book for newly independent readers.

Captain Mack is on an outer space rescue mission to save some stranded astronauts from a fuel leak in their space shuttle. But some nasty alien Moon Mites are lurking in the moon craters. Fortunately Captain Mack's got an arsenal of superpowers and gadgets he can use to thwart them. But can Captain Mack save the day before disaster strikes in Sunshine City? Never fear, Mack is here! Sky Rockets to the Rescue!

Captain Mack and the Monstrous Moon Mites
ISBN: 9781406329665
RRP: $12.95



Captain Mack Book 1: Captain Mack and the Giant Squid
Captain Mack is on a dangerous mission to save a submarine trapped in a rocky ravine, deep in the ocean. If he's not quick, the crew will soon run out of oxygen. But our superhero soon detects something very fishy going on when he struggles to pull the vessel free... Suffering submarines! It's a giant squid causing all the trouble. Will Captain Mack manage to tie the situation up before the good people of Sunshine City need his help? It's a disaster! Never fear, Mack is here! Sky Rockets to the Rescue!

Captain Mack Book 1: Captain Mack and the Giant Squid
ISBN: 9781406323603
RRP: $12.95

John Lomas-Bullivant originally trained as a Primary School Teacher, working in Wood Green, London. However by luck and a bit of judgement he ended up becoming a Television Producer. In 2008 he created the successful television series Captain mackand has now written four Captain Mack books. He lives in Kent, with his wife, three children and his chickens and secretly wants to be a farmer.


Review: In cartoon form, Captain Mack with captivate the imagination of young minds. An adventurous spirit and wonderful illustrations.