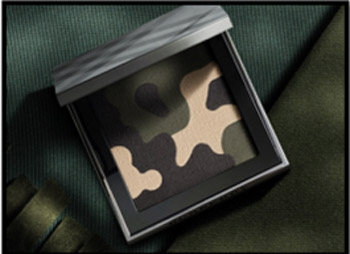 Burberry at Sephora
Burberry are proud to announce that Burberry launches into Sephora in Australia on October 23, 2015. Locations include Sephora Pitt Street Sydney, Sephora Macquarie Sydney and Sephora Melbourne on 28 November 2015.

Burberry also introduces its Runway 2015 Make-up Collection inspired by the brand's Womenswear 'Patchwork, Pattern & Prints" collection. Reflecting the design and shades of the camouflage printed ready to wear pieces, the collection introduces a limited edition Runway Palette, inspired by the Burberry Bucket Bag in camouflage suede.

2015 Runway Palette
'We have developed an eye palette which features the same camouflage design created for the runway show. This palette features three modern shades that can be used together to create a smokey look." Burberry Make-up Artistic Consultant Wendy Rowe

• The effortlessly blendable, silky formula glides across the lids for a velvet-soft finish
• The three eye colours can be applied as single shades or combined to create a bohemian smokey eye effect
• RRP $98

Burberry First Kiss
Introducing Burberry First Kiss, a soft glossy balm that melts onto the lips, delivering a comforting first kiss of colour and hydration. Available in 5 creamy shades that deliver a gentle colour crush and fuller-looking lips

'First Kiss has a hydrating glossy balm texture which soaks into the lips immediately, giving lips a soft, youthful look with a hint of colour. This is a make-up bag must-have for gorgeous lips everyday." Burberry Make-up Artistic Consultant Wendy Rowe

• The gloss-balm glides effortlessly, resulting in subtle colour
• The moisture-infused formula hydrates lips while smoothing them
• Features a unique cooling ceramic applicator for a smooth finish & invigorated feel
• RRP: $41

Burberry Fresh Glow Highlighting Luminous Pen Nude Radiance No. 01
'Fresh Glow Highlighting Luminous Pen is my glow to go – a great tool which can be applied where desired to light up the complexion and give skin that lit-from-within radiance." Burberry Make-up Artistic Consultant Wendy Rowe

• Boosts radiance with effortless, precision highlights
• The creamy stick glides across the skin, illuminating the complexion with a subtle glow
• A universal shade suitable for all skin types and skin tones
RRP $55

Burberry Effortless Contouring Pen
'The Effortless Contouring Pen makes contouring easy so anyone can achieve runway-inspired results, effortlessly. I've been using the Effortless Contouring Pen non stop – it is a one of a kind backstage essential." Burberry Make-up Artistic Consultant Wendy Rowe

• A slim pen for precision application avaliable in medium and dark
• The creamy, buildable texture blends seamlessly to a silky, soft-matte finish
• Apply under the cheekbones, jawline and along the nose to sculpt, shade and define
• Apply to the eye socket, adapting and elongating the eye shape
• RRP $55

• Burberry Cashmere & Burberry Cashmere Concealer
'Like Burberry Cashmere, Burberry Cashmere Concealer provides higher coverage and is long-lasting – it's great for hiding any flaws. It is the finishing touch to a flawless complexion." Burberry Make-up Artistic Consultant Wendy Rowe

• Provides medium to high coverage
• Unique, effortless soft-fabric applicator, the creamy concealer melts into the complexion
• Concealing imperfections & dark circles, it builds & blends with flawless, soft-matte long-lasting results
• RRP $60

Introducing My Burberry Festive
My Burberry 50ml Festive Collection $150 and My Burberry Festive Solid Perfume Special Edition $70 Burberry's latest Christmas edition to the 'My Burberry" range will leave you counting down the days until Christmas day.

My Burberry Festive Collection carries the same grand floral scent of My Burberry Eau de Toilette, capturing the essence of a spring blossom garden, with its blend of blooming rain-tipped flowers. The collection includes an EDT that is a glittering globe and a beautiful solid perfume, perfect for your handbag or hot summer days.