What would you do, if your world changed tomorrow?
'From Darkness, Light' is the story of an emotional and spiritual journey. During the five years of its creation, Thai-Norwegian londoner Erik Brudvik became a father, his Soho book shop first prospered, then went bankrupt, his long term relationship ended, and he abandoned his career in finance. But from these changes, he finally found his creative voice as Brudini.

Coined by Louder Than War as "an indescribable talent", Brudini has drawn praise from NYC punk legend Danny Fields (Iggy Pop, Jim Morrison, The Ramones) and received continued radio support from BBC6, RadioX, and been featured on Radio 2's Frank Skinner. His live performances include collaborations with Lulu Gainsbourg, appearances at Tate Britain and a sold-out Soho alt-cabaret with LGBTQ-pioneer Lanah P and Erasure´s Andy Bell.

Soul searching and profound, Brudini's conceptual LP debut From Darkness, Light weaves an abstract, wandering tale through feelings of loss and longing, anger, lust and despair, towards cosmic consolation. The beatific qualities of his songwriting and lyrics fuse seamlessly with poems by Californian writer Chip Martin, at two generations his senior. The narrative comes alive through a visceral soundscape of creaky pianos, analogue synths, syncopated jazz rhythms and the occasional jarring distorted guitar.

Self-recorded and self-produced, Brudini's debut is an invitation to slow listening, providing a bare and unusual perspective of the blood and guts of a grown-age transition.

1. Roselight (w Chip Martin)
2. Nightcrawler
3. Hunger (w Chip Martin)
4. Reflections
5. Female Rimbaud (w Chip Martin)
6. Emotional Outlaw
7. Pale Gold
8. God Unknown (w Chip Martin)
9. Radiant Man
10. Ariel (w Chip Martin)
11. Everything is Movement
12. Boulevards



Interview with Brudini
Question: How would you describe your music?

Brudini : Soulful, organic and playful. An experimental crooner, armed with guts, a piano and guitars, analogue synths and a jazz rhythm section.


Question: Can you tell us about 'From Darkness, Light'?

Brudini : 'From Darkness, Light' is an abstract, emotional journey, taking the listeners through an initial feeling of longing and loss, further towards anger and despair, suppressed desire and lust, and finally moving towards a sense of cosmic consolation. I self-produced and recorded it, and it took me five years to complete. Weaving the songs and narrative together, the album also features five poems by Californian beat writer Chip Martin.


Question: What inspired 'From Darkness, Light'?

Brudini : I think the album in many ways reflects my own personal journey during the years of its creation. Over the period my life and ambition changed completely, I had a career in finance that I finally decided to leave behind to pursue music, I was co-owner of a wonderful independent bookshop in Soho that prospered, before it was forced to shut down, I became a father, and a long term relationship ended. In a broader sense, I think the album reflects the soul-searching and introspective travels of a grown age transition.


Question: Is there a particular message you hope listeners take from your music?

Brudini : I guess my music is on the darker side and quite mature. But I also want it to be strong, playful and never sulky or self-pitying. I want people to sense an underlying feeling of hope and energy from the music, a resolve to push forward and be what and who you are, whatever cards life deals you on the way. Life is a journey with so many textures. And perhaps these days, more than ever, we need to be open-minded and liberal.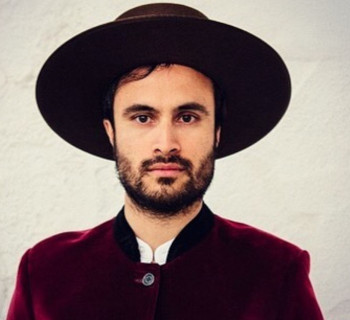 Question: Which is your favourite song to perform live and why?

Brudini : Hah, it really varies. My material is very diverse, from very energetic, groovy, full-band stuff to stripped down piano ballads. At different times, different songs will really click with the audience and the atmosphere of the room. I remember playing Emotional Outlaw at the George Tavern in East-London, a bustling old venue which almost has a beat poetry vibe to it. I had a percussionist (Siemy Di), a jazz drummer (Livio Polisano) and a double bass player (Casper Hoedemaekers) going all out, while I was murdering my guitar on full distortion. It felt like an earthquake and there was a great excitement in the room. And I thought, man, this is nice!


Question: If you could have anyone, in the world, attend a show, who would it be?

Brudini : Tough question. You grow up with certain musical idols, but maybe they attend and actually, they think you suck! Hmm. Maybe Dalai Lama. I wonder what energy and feelings he would sense out of the music, and how it would resonate with him.


Question: What motivates you most when writing music?

Brudini : I guess there are different aspects to composing which can all be quite rewarding. Partially it´s the process of diving into the subconscious and connecting with whatever emotions or feelings are there. Then you have the process of actually constructing the song, applying craftsmanship into shaping that raw emotion or idea into a piece of music. And the research that goes into that, in terms of exploring different sounds and techniques for inspiration.


Question: If you could collaborate with another artist, who would it be?

Brudini : I would love to have done a duet with Ella Fitzgerald. Her voice, her presence and the gravitas of her life story.. Out of the living world, maybe PJ Harvey. She has this unique rawness and strange, natural melancholy to her. I think that could yield something really interesting.


Question: What is the biggest challenge you have faced along the way to your musical success?

Brudini : I think the biggest obstacle was overcoming my own shyness, and just be willing to put myself out there. I think most people find that pretty scary, but once you´ve done it, it´s very liberating. All the other things, like connecting with other musicians, playing shows, writing songs.. You can kind of work through that and your persistence will bring you forward. But taking that first plunge and be willing to expose yourself, saying to the world that "hey, I'm an artist, and this is my work". I think that was the biggest challenge for me to overcome.


Question: What's a typical day like, during COVID19?

Brudini : It is certainly very different from the cliché rock star life! I spend a lot of time looking after my 3 year old daughter. To be honest it has been truly wonderful to have all this time with her on my own, with few other distractions. Otherwise, I compose and play music, and deal with the more administrative stuff of self-releasing a debut album which is due out in a couple weeks.


Question: What has been your favourite part of becoming a music artist?

Brudini : I always have the same answer for this. The favourite part has been the human connection with all the people I have met along the way. Whether it is musicians and artists I have collaborated with, or people I have gotten to know at shows or elsewhere.


Question: What's next, for you?

Brudini : Debut album on May 15th, I hope you will check it out! From there I will just keep going and release more material. Hopefully the world opens up again at some point as I would love to get back on tour, experience new places and meet new people.


Question: Can you share your socials? (links please)

Brudini : Sure! Instagram is probably the best one if you wanna spy a bit on my daily life and thoughts.. Facebook has all my events, and youtube has a lot of live performance clips plus some videos.
www.brudini.com
Facebook
Instagram
Spotify
Youtube


Interview by Gwen van Montfort