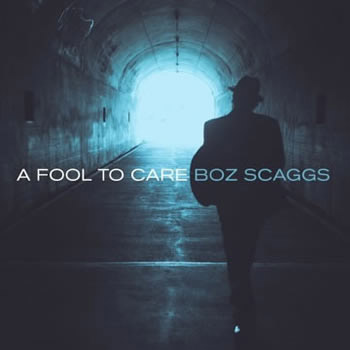 Boz Scaggs A Fool To Care
Boz Scaggs has announced today that he will release his new studio album A Fool To Care. Another spellbinding album in a prolific career, this new collection of songs boasts Scaggs' pioneering blend of rock, soul, jazz and R&B taken to new heights. A Fool To Care is the follow-up to the critically acclaimed 2013 album Memphis, which Rolling Stone described as -sublime' and hit the #1 spot on the Billboard Blues Chart and the Top 20 on the Billboard 200. Memphis was Scaggs' highest selling album since the multi-platinum smash hit Silk Degrees.

CLICK HERE to listen to the first track off the album 'Last Tango on 16th Street" which premiered today via Rolling Stone in the US.

429 Records, through Universal Music Australia, will release A Fool To Care on March 27, 2015.

A Fool To Care showcases the patchwork of influences and innovations that make up a Boz Scaggs album and sees Scaggs letting loose and having some fun. You can hear that sense of fun, as well as his ability and willingness to wander in any musical direction throughout these twelve tracks. The inspirational heart of the album lies in the sounds of Texas, Louisiana and Oklahoma that played such a vital role in shaping Scaggs' musical sensibility, but they venture forth boldly from there. Scaggs brings a sly drawl to a funky workout like Li'l Millet and the Creoles' 'Rich Woman" and an elegant delicacy to the Impressions' 'I'm So Proud." He easily negotiates the Latin flavouring of 'Last Tango on 16th Street" and 'I Want to See You," both written by San Francisco bluesman (and long-time Scaggs compatriot) Jack Walroth. Horns, strings, soulful background vocalists and guests like guitarist Reggie Young and steel guitarist Paul Franklin lift the album into the stratosphere.

Produced by Steve Jordan (Stevie Nicks, Bob Dylan, John Mayer) and recorded over four days at Blackbird Studio in Nashville, A Fool To Care features two very special guests – Bonnie Raitt contributes slide guitar and sassy vocals on the original song 'Hell To Pay", and Lucinda Williams trades vocal lines with Scaggs as a kind of prayer for deliverance on The Band's 'Whispering Pines." The core band joining Boz on A Fool To Care is Willie Weeks (bass), Ray Parker Jr. (guitars), Jim Cox (keyboard) and Steve Jordan (drums).

Raised in Texas with an abiding respect for a wide spectrum of American roots music, William Royce 'Boz" Scaggs began a long and storied career in 1965 with the release of his first solo recording Boz. After cutting his teeth playing with Steve Miller and honing his rock and R&B chops with the likes of the Muscle Shoals Rhythm Section and Duane Allman, Scaggs achieved multi-platinum success with Silk Degrees in 1976. He has continued on a lauded and multi-genre musical journey to the present day. With a trademark voice, a rich catalogue and many accolades, Scaggs continues to establish himself as one of music's most creative and original artists.
A Fool To Care Track Listing:
Rich Woman
I'm A Fool To Care
Hell To Pay
Small Town Talk
Last Tango on 16th Street
There's A Storm A' Comin'
I'm So Proud
I Want To See You
High Blood Pressure
Full Of Fire
Love Don't Love Nobody
Whispering Pines
To preorder Boz Scaggs' A Fool To Care, visit: iTunes
For more information on A Fool To Care visit: www.429records.com