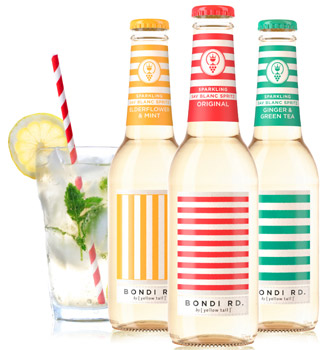 Bondi Rd

As the temperature gauge goes up a notch, the beach side vantage of Bondi Rd comes alive. Sun, sea and surf fill the day, whilst backyard BBQs, sun downers and Sunday sessions trickle through into night.

What if you could capture all of this in a bottle? To take with you to a party, share amongst your besties, or simply sip as the sun goes down. Bondi Rd has been created with the very essence of this iconic location in mind.

Welcome to Bondi Rd. Soak up the sun by day, enjoy the bustle after dark & drink in the essence of Australia's famous backyard…

Bondi Rd by [yellow tail] is a new range of sparkling Sav Blanc Spritz, signalling the arrival of warm summer days and balmy nights. Crafted from Australia's best-selling wine varietal, Sauvignon Blanc, Bondi Rd has a natural Sav Blanc taste with a light spritz. Available in Original, Elderflower & Mint and Ginger & Green Tea, Bondi Rd offers a range of refreshment to suit all tastes – with no artificial colours or flavours.

Alex Merry, Brand Manager at Casella Wines, the company behind Bondi Rd, is thrilled to introduce this exciting new wine style to Australian consumers.

'Bondi Rd is an exciting new wine style harnessing Australia's favourite white wine varietal and rethinking it for a new generation of wine drinkers. It is designed to appeal to consumers who are looking for a refreshing, convenient and importantly stylish alternative to cider, beer or RTD, without the potency of standard wine or bubbles," said Alex.

According to Alex, Bondi Rd by [yellow tail] captures the essence of the chic yet casual lifestyle of Bondi, which can be enjoyed wherever you are.

'Casella Wines has always been about building brands that deliver on flavour and ignite the imagination of our consumers worldwide by celebrating all that is Australian – Bondi Rd is no exception," said Alex.

'Famous for its glistening ocean, golden sands, laidback surf lifestyle, seaside spirit, cafe culture, boutique shops and thriving, eclectic community, Bondi Rd by [yellowtail] is about creating a slice of this chic yet casual lifestyle that can be enjoyed wherever you are," she said.

Presented in a convenient and stylish 4 pack and wrapped in nautical stripes, arguably the unofficial pattern of summer, the chic and timeless packaging brings an element of beach sophistication to any occasion.

Bondi Rd is best enjoyed well chilled and amongst friends. Serve over ice or straight up with a stripy paper straw for instant & stylish refreshment.

Bondi Rd is 5% ABV & 1.1 Standard Drinks. RRP of $18.99 per 4PK (4x275ml).

Review: Really enjoyed these wines and they come in a convenient traveller / party size.