Bio Ionic Straightening Regrowth
So you are thinking about permanently straightening your hair, but you would like to know what you are getting yourself into.
Firstly, while Bio Ionic Hair straightening is permanent, it does require maintance of the hair root regrowth. Similar to a colour, the length of time needed between Bio Ionic Hair Straightenings will depend on how quickly your hair grows, and how long you can stand managing it.
Typically regrowth will be between 3-6 months, but with the help of Bio Ionic tools like the
Bio Ionic Straightening Iron
I've lasted up to 9 months.
Once you have straight, manageable hair, you can create the styles you really want and say goodbye to curly, frizzy & unruly hair that is hard work. Change your lifestyle forever! Never be afraid of rain again!
So how does it work?
Following the same process as
Bio Ionic Hair Straightening
only the roots need to be straightened. My Regrowth Straightening, took around 3 hours all up for my hair (shown above - which is thick, coloured & extremely curly/frizzy). The process is actually rather relaxing, involving application of Bio Ionic Treatment, washing, drying, ironing/setting, washing again & then drying. This is available at several salons around Australia, but for the most experienced & relaxing choice visit
Kabuki Hair Studio
, the home of Bio Ionic Training in Australia, plus some cosy massage chairs that enhance your experience.
Can Bio Ionic Straightening be done on Coloured Hair?
And what are the long term effects?
This is my 7th year of Bio Ionic Hair Straightening, and I couldn't be happier, the regrowth is easy to manage and the results perfect every time. My hair has never been so healthy, even with colours every 5 weeks. You will need to time your colours accordingly, leaving 2 weeks either side of a Bio Ionic Straightening Treatment for your colour, but it's definitely worth it. Bio Ionic Straightening only works on your root regrowth area, ensuring that your hair is not over processed. Using the
Bio Ionic Shampoos, Conditioners & Tools
will also extend the length of your Bio Ionic Straightening.
Curly, frizzy hair is often dry, with split ends and annoying flyaways, the Bio Ionic process adds moisture to your hair, weighing down the flyways and conditioning the entire hair giving you stronger more conditioned hair, that appears soft, silky & straight.
Bio Ionic Hair Straightening will take years off your looks plus put you back in charge of your own style again.
The best decision I ever made, Bio Ionic Hair Straightening was life changing & still is!
Michelle Warmuz
Editor - Femail.com.au & Girl.com.au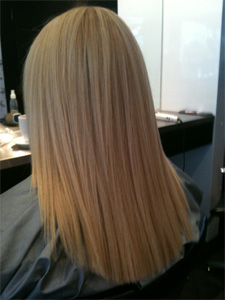 Kabuki Hair Studio
Shop 5, 101 Grattan Street, Carlton, VIC, 3053
P: 03 9349 1727
www.kabuki.com.auBio Ionic Straightening Hair Salons in other states: www.bioionics.com.au

Bio Ionic Hair Straightening Review
https://www.girl.com.au/bio_ionic_hair_straightening_technique.htm

Bio Ionic Hair Straightening Products & Tools