Belle Roscoe
Currently whipping up a storm of interest in Australia and Europe are Melbourne-based harmony folk-pop band Belle Roscoe.
Belle Roscoe' self titled album is dedicated to the life of Dove Chaulet. Belle Roscoe provides the perfect sound, soothing but could still be called 'pop'- because of the funky beat that combines with remarkable, yet catchy, lyrics. 'Wrong Side' stands out amongst the ten-track album. 'Paris' completes the Belle Roscoe album- a very strong instrumental track, the perfect ending to a exceptional musical compilation.
They were the first Australian band to be invited to play at Cannes Film Festival (May 2009) and "The only band in the history of the event to have the audience up and dancing on the beach" (Cinema de la Plage Team). They closed the festival, to a standing ovation, of more than 3,000 people, at the infamous 'Cinema de la Plage' Stage.
Belle Roscoe have performed at, 'Le Printemps de Bourges', one of Europes largest festivals and have had a string of media commitments following their European touring. Made up of twin sisters Julia and Sarah Gurry and their younger brother Matty, Belle Roscoe have already toured Europe three times, and plan to return again in 2009. They will head overseas again for the European summer, to perform showcases for record companies and booking agents.
Belle Roscoe have also had their songs Strange People, Paris, Restless Soldier, Fly, Looking Glass and Camp Fire Song, in the 2009 U.S-made movie "Drop Dead Gorgeous" as well as in the 2009 Aussie short film "Death Doesn't Wait" and the 2008 ABC-TV documentary "Beyond The White Lines" (about drug use in sports).
In Australia, their debut single Young & Fearless is picking up across-the-board radio airplay. Their self-titled debut album will be released on July 3, through MGM. They'll also appear in an upcoming episode of "Neighbours" and their song Fly is featured on Academy Award winner Lisa Gerrard's 2006 DVD "Sanctuary - A Portrait by Clive Collier". Fly and Boneyard Blues are also featured on the Australian TV series "Kath and Kim".
How does it feel to be the first Australian band to be invited to play at Cannes Film Festival?
Belle Roscoe
: It felt like we had ticked a big dream box in life. To represent Australia and our music at the Cannes Film Festival was wildly satisfying and a memory we will not shake for a very long time.
Is it an advantage or a disadvantage that you're a family band?
Belle Roscoe
: Both!! We are always reflecting on our dynamics as Belle Roscoe. In actual fact we are siblings, friends, artists and business partners all at once, so naturally at times it difficult to see the wood through the trees!!
Probably touring is the most grueling aspect of being a family band. There is very little time and opportunity to create space from one another and without this space the childhood dynamic tends to rear its ugly head!!! But, being a family on stage when every note is perfect, each performance is natural and engaging and when we communicate with our knowing eyes and familiar smiles, everything at that moment feels like an advantage to be a family.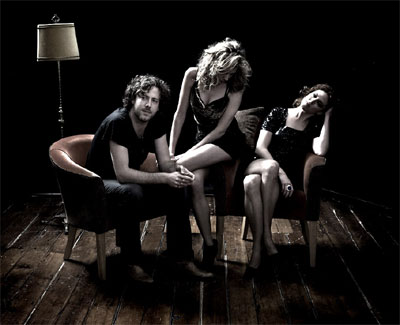 How does it make you feel that so many of your songs have been used in television series?
Belle Roscoe
: It is wonderful to have your music represented visually. Having just played the Cannes Film Festival, it is apparent more than ever, that there is a strong recognition of the wonderful inter-dependent relationship that exists between film and music. To write songs and have them adapted to moments on screen, adds more meaning and inspiration to one's original material. It makes you feel proud creatively.
You have been very successful was there a moment when this sunk in?
Belle Roscoe
: I am not convinced that success has sunk in, in fact, I am not sure we see ourselves as having been successful yet. As far as ticking off the dream boxes in life, absolutely we take moments out to reflect and smile. The Cannes film festival was one of those moments for sure.
Describe your music style?
Belle Roscoe
: The easy answer: rock, nostalgic of the 70s. However, as there are three singer/song-writers we can tend to cross over musical genres.
Did you have any pre-conceived ideas about the music industry?
Belle Roscoe
: We thought it would be more romantic and glamorous!! The industry has changed so much in recent years that even the ultimate idea of a major label looking after you, is not so eminent anymore. It is difficult for a musician to concentrate solely on the creative and artistic side of their career. Most musicians these days recognize there is a need to become business minded. Looking after aspects such as the accounts, the administrations, the touring logistics and the promotion and advertising side of the music business falls usually on the shoulder of the independent artist. This is the most difficult reality of being apart of the music industry in the 21st century.
Do you write your own songs? What's your inspiration?
Belle Roscoe
: All three of us write and compose the songs of Belle Roscoe. I can only speak for myself, but my inspiration usually comes from personal experiences and emotions.
Do you prefer performing live or recording?
Belle Roscoe
: I definitely prefer performing live. It is feeling of being in the moment. Each performance is like a new work of art, it drums up different emotions, it is met with different reactions and it requires, at all times, the confidence to commit to yourself and your art in front of any audience. Performing is what most keeps me inspired and excites me most about choosing music as a career, or rather, the music having chosen me!!
What/who was your inspiration to go into the music industry?
Belle Roscoe
: As I mentioned just before, we really believe that any art chooses you and not the other way round. Our entry into the music industry happened organically. We were encouraged to sing together as kids and having grown up with a strong Irish heritage, we were always exposed to the sound of music and family harmonies. <
It was not until we were traveling during our early twenties that somewhere along the way music presented itself to us as a career option and we just went with it. Before we knew it we were playing in pubs and bars in Paris to earn money to stay on in the city, and when we returned home to Melbourne we just couldn't let it go. We've being playing music for ten years now. We couldn't give it up if we wanted to.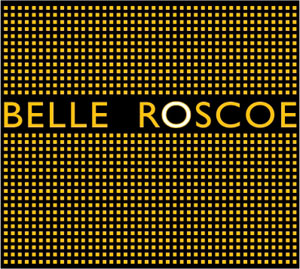 Tracklisting
1 Restless Solider
2 Shot Gun Love
3 Young and Fearless
4 Come Back Jimmy
5 Camp Fire Song
6 Wrong Side
7 Looking Glass
8 Strange People
9 Dis-Moi (Tell Me)
10 Paris
What stands out most about the Belle Roscoe album are the gorgeous sibling harmonies, a strong melodic pop sensibility and adventurous arrangements. Created over two years - with acclaimed Melbourne producer Cameron McKenzie - the record adeptly builds up the atmosphere of the songs with piano, guitars, mandolins, harmonica as well as wide array of sounds made by multi-instrumentalist Matty. The roots of Belle Roscoe music is in the classic '70s pop of Fleetwood Mac and the acoustic folk of Neil Young.
Another song reflecting their affinity for France Dis-Moi (Tell Me) is about a close friend of theirs, Dove Chaulet, who had been a strong supporter of their music until his death in 2006. The music on the album, they say, is a tribute to his spirit and zest for life. Restless Soldier and Young & Fearless document how Julia, Sarah and Matty live their dream of taking their music to the world.