Ingredients:

4 180-200gms Tasmanian Atlantic Salmon steaks
1kg chat potatoes
180 gms rocket
2 tablespoons mayonnaise
1 heaped tablespoon of seeded mustard
2 tablespoons sour cream
1 lemon
½ cup of chopped spring onions
Salt and pepper


Instructions:

1. Chop potatoes in half and boil in salted water until soft. Set aside.

2. In a large bowl, combine warm potatoes with 100 grams of chopped rocket, spring onions, mustard, mayonnaise and a squeeze of lemon juice.

3. Stir well and season to taste.

4. On the BBQ, make sure the grill is hot and lightly coated with oil before putting on the salmon. Once salmon is on, wait approximately 4 minutes before turning steaks, otherwise they will stick and break apart.

5. Cook the other side for another 4 minutes and serve with salad, remaining rocket, lemon wedges and salt and pepper.

Visit www.tasmaniansalmon.com.au for more recipe ideas using Tasmanian Atlantic Salmon.



---
More Recipes:
Tasmanian Atlantic Salmon Salad Nicoise - www.girl.com.au/tasmanian-atlantic-salmon-salad-nicoise.htm

Corn Fritters with Smoked Tasmanian Atlantic Salmon and Avocado Salsa - www.girl.com.au/corn-fritters-tasmanian-atlantic-salmon.htm

Tasmanian Atlantic Salmon Salad Nicoise - www.femail.com.au/bbqsalmonsteak.htm


---
Tasmanian Atlantic Salmon -
What Makes it the Super-Easy Natural 'Superfood'?
'Superfood' is a term used to describe foods that naturally provide health benefits beyond other foods. They are richer in essential vitamins and minerals and can have medicinal effects.

The list of commonly agreed 'superfoods' includes salmon, beans, blueberries, broccoli, oats, pumpkin, soy, spinach, tomatoes, walnuts and yoghurt, which puts Tasmanian Atlantic Salmon in good company.

Tasmanian Atlantic Salmon, raised in the island state's rivers and estuaries, contains low cholesterol protein, anti-oxidants, (vitamins D, E, B-carotene, minerals, zinc, iron, copper, manganese and selenium) vitamins A and B, folate, calcium, phosphorus, and potassium. This makes it the tastiest 'superfood' around - certainly a more rounded superhero than any multivitamin!

It's become well-known that Omega-3 fatty acids are essential for brain development, heart function, digestion, osteoarthritis, help prevent the risk of cancer and promote youthful skin and hair .

As a result, food manufacturers are scrambling to try to enhance their products with the essential fatty acid. By contrast, Tasmanian Atlantic Salmon is one of the richest natural sources, containing up to 100 times the Omega-3 fatty acids of other protein choices such as chicken, beef or turkey .

This is why your doctor will tell you to eat two serves of oily fish per week. Unlike many other nutrients, your body cannot produce Omega-3s - they can only be obtained through your diet.

However, while Omega-3s offer some super qualities, it is the combination of Omega-3s and the vast array of other essential vitamins and minerals that gives Tasmanian Atlantic Salmon its 'superfood' status.

The benefits of eating Tasmanian Atlantic Salmon are well researched - studies suggest that a couple of serves every week can help prevent hypertension, stroke, heart attack, certain cancers, diabetes, asthma, autoimmune disorders and inflammatory diseases .

Frances Bender, one of Tasmania's growers of Tasmanian Atlantic Salmon, said that while the benefits of eating salmon are becoming better known, people often don't realise it is both versatile and easy-to-prepare.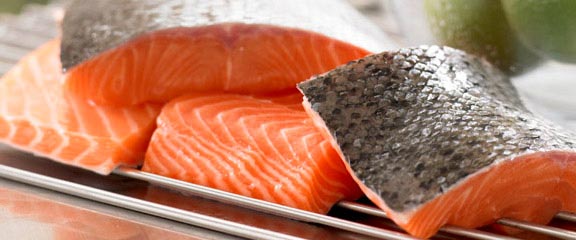 "Salmon was once considered a special occasion food. However, as people have improved their diets and our local product has become more affordable, Tasmanian Atlantic Salmon is finding its place in kitchens around Australia. It really is super-easy."

"Unlike most imported products, our salmon doesn't need to be frozen because we're right here in Tasmania, which makes for fresher produce and also brings the costs down - Tasmanian Atlantic Salmon is now around the same price as any other protein choice for the family.

"Anyone who is a little unsure of how to prepare salmon should start with the basics. Just grill a salmon steak and accompany it with some fresh vegetables - fresh Tasmanian Atlantic Salmon tastes so good, that's all you need to do!," Frances said.

Tasmanian Atlantic Salmon's 'super' status doesn't end with the physical. Helping to improve brain function, further evidence suggests that salmon can help with memory loss and Alzheimer's , as well as 'Attention Deficit Hyperactivity Disorder' (ADHD) and depression.

"With salmon so important for cognitive development, parents should also think about serving Tasmanian Atlantic Salmon for the kids twice a week, at least. There are lots of simple ways of preparing salmon to ensure that everyone is happy," Frances said.

With the benefits of eating salmon so diverse, the taste so delicious, it's no wonder Tasmanian Atlantic Salmon proudly holds its title as the super-easy natural 'superfood'.

To find recipes, health and nutritional information, visit: www.tasmaniansalmon.com.au