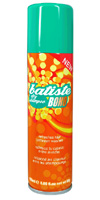 Batiste Dry Shampoo Boho
For all the gals that stand out in a crowd.
Are you known for your funky, individual wardrobe of flowing dress, unique accessories, embroidered tunics and long tresses? Well make sure you don't leave home without you ultimate item- your Batiste Boho.
Batiste Dry Shampoo has just launched Batiste Boho fragrance with fruity top notes of lemon, orange and passionflower and an aromatic heart of spiced jasmine, lily and heliotrope in time for the summer season.
With all your energy directed towards creating a free-spirited individual vibe, it doesn't leave you much time for managing those long locks. Never fear- your Bohemian locks will be saved with Batiste Boho.
Batiste knows good hear. Revitalised and volumise your hippy hair on those long summer days and nights without water and fuss.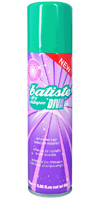 Batiste Dry Shampoo Diva
Calling all Diva's - it's party time!
Do you party hard? Do you sometimes stay out all night- even on a work-night? Do you like to have gorgeous hair all the time? If you answered yes to any of these questions Batiste Diva is talking to you.
That's right, everyone's favourite brand Batiste Dry Shampoo is launching a fabulous new fragrance Batiste Diva, perfumed with a radiant blend of florals; cyclamen, violet, lily and jasmine, combined with sweet vanilla and soft musk.
So, if the 'late for work Diva dash' sounds like you and there is no time to shampoo, then give Batiste Diva a try.
Batiste knows how to help you revitalise your hair in an instant, giving you a fresh and easy start to the day plus a little extra time in bed.
How?
Same as always, just hold approximately 30cm from hair and spray lightly and evenly, massage through hair using fingertips and then leave for a moment. Brush out fully, preferably using a natural bristle brush. Shake can before use and in-between spray bursts.
RRP:
$9.95 for 150ml.
Take the Batiste test and find out if you are a Boho or a Diva!
Question 1:
What's your idea of a fun evening?
A) Checking out the latest bands during an all day festival.
B) Dressing up, going to the hottest nightclub and partying hard!
Question 2:
How long does it take you to get ready to go out?
A) 5 minutes- just enough time to throw on that vintage maxi dress and your Indian-inspired bangles
B) 2 hours- It's a process! Shower, moisturise, blow-dry, make-up, decide outfit, and last minute tzujing.
Question 3:
What does your living space look like?
A) It's all about simplicity and feng shui
B) Chandeliers, luxurious fabrics ad aromatic candles burning.
Question 4:
How important is money to you?
A) All you need is enough to live by from day to day
B) Its everything! How else would I have been able to get my hands on the latest Jimmy Choos'!
Question 5:
If a guy who likes you asks you out for dinner, you expect:<
A) Some place decent, just as long as you spend time together
B) To be taken to an acclaimed restaurant, hopefully one that's hard to get into.
Question 6:
How do you react to things when they don't go your way?
A) Just change your mindset and adapt
B) Watch out!
Mostly A's
Try Batiste Boho!
It will have your hair smelling of aromatic summertime scents, such as lemon, passionflower, and spiced jasmine. In just 2 minutes you will have fresh smelling bouncing locks, you're hair will be the envy of all Bohemian girlfriends!
Mostly B's
Try Batiste Diva!
For divalish hair smelling of cyclamen, violet, lily and sweet vanilla; you will have some people complaining about your diva ways but not your gorgeous Diva hair.