Relive the beauty and magic in Barbie Fantasy Tales out now on DVD. Featuring Barbie: In The Nutcracker, Barbie: Rapunzel and Barbie: Swan Lake.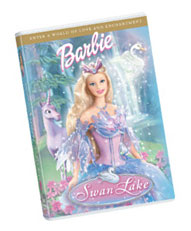 Swan Lake
Barbie stars as Odette, the baker's daughter who follows a unicorn into an enchanted forest. While there, she is transformed into a swan by an evil wizard. Through courage, honestly and intelligence, she will save herself as well as the Enchanted Forest.
Review:
A collectors item for every young girl to pass down to their children. This timeless story has been beautifully presented with elegance, grace, romance and of course lots of magic. Barbie inspires girls and boys to believe in themselves and the power of love. Ballet and the masterful music of Tchaikovsky gives a new enchanting edge to this magical tale, and an enduring quality that will encourage you to watch it time and time again. Plus maybe drag out those ballet shoes.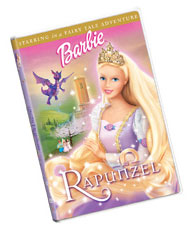 Barbie as Rapunzel
Once lived a girl named Rapunzel who had the most beautiful, hair the world had ever seen. But Rapunzel's life was far from wonderful. She lived as a servant to evil Gothel, who kept her hidden in a forest, guarded by the dragon Hugo, surrounded by an enchanted glass wall. Rapunzel's starts on a journey that will unravel a web of deception, bring peace to two feuding kingdoms, and lead her to love with a handsome Prince.
Review:
Relive Rapunzel in a new and magical light with Barbie, Kelly and friends. Discover the power of imagination and love as Rapunzel (Barbie) paints her way to freedom. Barbie shows us that freedom of spirit enables us to conquer anything.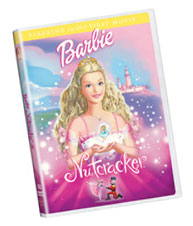 Barbie in the Nutcracker
Clara, played by Barbie, receives a beautiful wooden Nutcracker as a gift. That night, the Nutcracker springs to life to ward off the evil Mouse King. She awakes but the Mouse King shrinks her by casting an evil spell. Clara sets off on a spectacular adventure to find the Sugarplum Princess, the only one who can break the Mouse King's evil enchantment.Review:
A gorgeous portrayal The Nutcracker, were dreams and reality intertwine. Against all odds the Nutcracker & Clara (Barbie) set out to find the mythical sugarplum fairy, but what they find is so much more. Bravery, kindness and love can overcome all, and reveal beauty inside.
In her new turn as a dramatic heroine, Barbie
TM
demonstrates that, if you are kind, clever and brave, anything is possible.