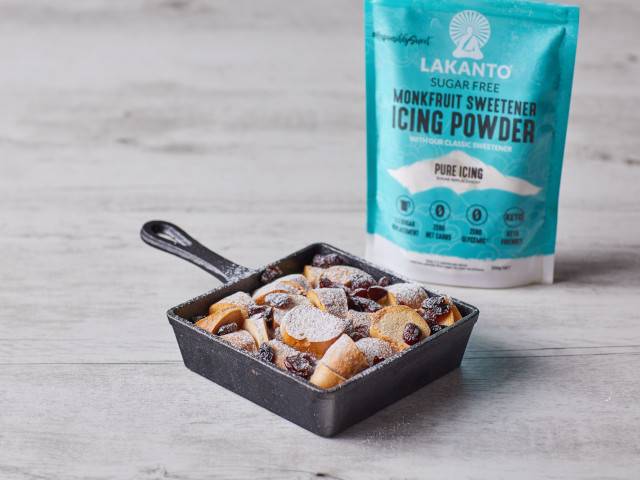 Bagel Bread & Butter Pudding
A simple and quick dessert for thewhole family with a bagel-y twist!

Ingredients
● 3 Bagels
● 4 whole eggs
● 2 tsp ground cinnamon
● ½ Cup full fat milk
● ¼ Cup Lakanto Golden Sweetener
● ½ tsp ground nutmeg
● ¼ cup blueberries
● ¼ cup whipping cream
● ¼ cup Lakanto Icing Powder

Method
1. Preheat a oven to 180c
2. In a small bowl combine the chopped bagels and whisked eggs with cinnamon and Lakanto golden monkfruit sweetener
3. Use a heavy bottomed pan or tray
4. Fill with the bagel mixture
5. Allow the bread to soak up the egg mixture
6. Cook in the oven for 15 minutes or until golden
7. Serve immediately with cream, fresh berries and a dusting of Lakanto Icing Powder

Tip: Swap bagels for bread slices if you'd like it the traditional way!