Sydney's hardest-rocking four piece Avalanche have released their rollicking new single Second Hand Band, a powerful track that encapsulates what it's like for a rock n roll band on their way to the top, out April 9. The band have also released a potent video to accompany Second Hand Band, an ode to the band's beginnings, rehearsing in an old steel factory in Sydney's west. Avalanche's highly anticipated new EP of the same name is set for release on May 11, and the group will be heading out on a massive east coast tour to celebrate, kicking off at Crowbar in Sydney for Home Brewed Festival on April 9, then moving through Port Kembla, Brisbane, Gold Coast, Melbourne, Wollongong, Newcastle, back through Sydney, then wrapping up at The Basement in Canberra on August 14.

The new single, Second Hand Band, is evocative of the Aussie pub rock greats – AC/DC, Rose Tattoo, The Angels – but with a modern, unique Avalanche spin. The listener can hear the years of practice, passion and grind that has gone into this project, and anyone who has ever dreamt of a life as a musician will relate to the subject matter behind this heavy, gritty romp. Lead vocalist Steven Campbell says, "With Second Hand Band, we tried to capture our experiences as a young rock band in Australia and the way we kinda see ourselves and how others may see us in the industry; thoroughly used, gently bruised and in somewhat working order and trying to find our own voice, where all the music we play is influenced by what we grew up on, the music in our dad's record collection and the dirty pub rock of Australia's past, but played through our generation. Because when you're first starting out as a band and you're at the absolute bottom of the feeding chain, a good live show is the only thing you have, so you better make it fucking phenomenal. That's what we learned very early on and we always work our arses off at every show to do that, and then we kinda worked backwards from there to get that on tape and in our songwriting, and so the single and EP was born." The video for Second Hand Band captures exactly that – the exceptional live show that has been at the forefront of Avalanche's practice since the very beginning. Dramatic, sweaty and exciting, the video demonstrates Avalanche's commitment to true entertainment.

The EP is as dirty, hard-rocking and moshpit-filling as one might imagine after hearing the single Second Hand Band for the first time. Recorded at DEF WOLF Studios with producer and engineer Mark Matula, the EP is as hectic and brash as you'd hope for from a rock n roll band like Avalanche. It's a full-body experience; guitars and drums right in your face from the get-go, with lead vocalist Steven Campbell's voice punching through the noise. Speaking on the inspiration behind the EP, Steven reflects, "Well, this EP basically is about our experiences so far as a rock band and also just as people and where we're at in our lives and jobs and all that. We have songs like Down in The Gutter, Permanent Ink and Spit in My Mouth that are very fast, aggressive songs, about life and fuckwits getting you down, not taking what others try to shove down your throat and not caring about what other people think. Then we have 'Get Back (To Fuckwit City)' which is basically just a fun, tongue in cheek ode to our home city of Sydney!"

The true Avalanche experience is to witness them live – and luckily for fans they will be heading out on an extensive Australian tour to celebrate the release of Second Hand Band in April through to August 2021. Giving audiences a taste of what to expect from their explosive live show, Steven says, "Our live shows are what we do all this stuff for and when people come they should expect a good time. They should feel like they're at the craziest, wildest party they've ever been too, you know the one that ends up on the local news. The ones you can't quite remember, but you'll never forget. They should expect blood, sweat, piss and hell even some tears sometimes - our live show is what we've come to be known for and something you gotta experience to understand, and our new material encapsulated it better than ever."


Interview with Avalanche (Veronica Campbell)
Question: How would you describe your music?

Veronica Campbell: Like a welcoming punch to the face. We try at least.


Question: Can you tell us about Second Hand Band?

Veronica Campbell: Second Hand Band is an amalgamation of everything we've sort of come to experience in the short few years we've been together. It's about the highs and lows of any band starting out, how we kind of see ourselves and how others may see us, and trying to find our own voice. Especially when our sound is inspired by so many different bands and all the pub rock of Australia's past, but played through the interpretation of our generation.


Question: Is there a particular message you hope listeners take from your music?

Veronica Campbell: Not really, we just want people to have a good time when they listen to us. Like the same feeling you get when you're at a party or a good gig. There's no particular message there but a feeling rather, an indescribable push to be in the moment and want to get up and thrash around with random people you've never met before.


Question: Do you prefer performing live or recording?

Veronica Campbell: We wouldn't even record music if we couldn't play live shows. Our band is very much a live band and it's what we do all this for. Even when we record, we record live together. We're not a fan of tricks or overdubs. But when you're first starting out as a band and you don't really have a name for yourself, a good live show is all you got so that's what we worked hard to cultivate and what we've come to be known for. When we record we work backwards from there to capture that on tape.


Question: What should we expect from your upcoming tour?

Veronica Campbell: Blood, sweat and piss. A big fat shot of rock n roll direct to your ear holes. And maybe deafness in the morning. But people can stand and dance again, it's going to be awesome. We really wanted to tour all last year and after COVID hit we knew it wouldn't be a possibility, so it feels like all that built up energy and fire will finally come alight once again and people should bloody prepare themselves.


Question: Which is your favourite song to perform live and why?

Veronica Campbell: Get Back (To Fuckwit City), is definitely one of the most fun songs to play live, it always gets the crowd going and we've literally seen it turn people from listening attentively to dancing around and jumping to our music not to mention the chorus takes the whole place alive and our more dedicated fans will always sing along with us when we play it which is a feeling that most musicians strive for, connecting with people on a level that they literally want to shout out your lyrics in a crowded room.


Question: If you could have anyone, in the world, attend a show, who would it be?

Veronica Campbell: hmm Bon Scott? That would be a fun night.


Question: What is the story behind the band name?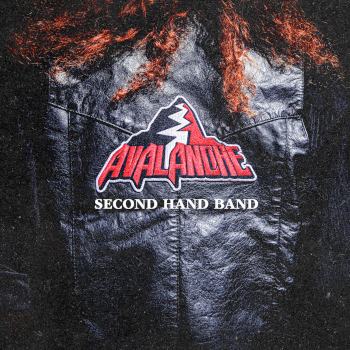 Veronica Campbell: Way back in 1976, Steve's father Adrian Campbell and three other heavy hitters of the time including Tony Naylor and Geoff Cox started a band called Avalanche and together recorded a full-length LP. It was the beginning of something great and they ended up playing Countdown, touring with AC/DC, Billy Thorpe… tons more and even featured in commercials. But unfortunately they broke apart shortly after that and they all went their separate ways much to the dismay of a lot of their fans. Fast forward a few decades and it was Steve's dad who taught him how to sing and belt the notes out in the same fashion he did. So when we were all sitting in Ryan's dad's old steel factory rehearsing at the start of the band's inception, wondering what on earth we should call the band, the only name that really stuck its ground was Avalanche, almost as if we could carry on the torch and legacy that was left behind all those years ago and pay tribute to the original band and that whole era of Aussie rock.


Question: How did the band come together?

Veronica Campbell: Ryan's sister and I went to school together so that's how I met him. He was a few years younger but the best drummer I'd ever heard. We started jamming together and put out a few ads for other members and eventually found Steve. He was originally from the Sunny Coast and only recently moved to Sydney so he showed up to the wrong address at our first rehearsal and we had to wait 2hrs for him to catch a bus to the right address. God knows why we waited but I'm very glad we did. And then after much trial and error with several guitarists who just wanted to be Jimmy Page, we found Arthur Divis. Rhythm machine. No ego. Great dude, and we all clicked so well. One of our biggest compliments is always how well we work together as a band and a unit and that's something we'll always hold dear.


Question: What motivates you most when writing music?

Veronica Campbell: Anything really, sex, drugs, rock n' roll, parties, girls, dudes, people, cities, experiences, tattoos, school, work… the list goes on. And musically, early 70s rock, blues, 50s rock n roll, 80s metal, late 60s rock, blues again. You get an idea or a certain feeling you want to convey, and you zone in on that and grow it and change it from there.


Question: What or who was your inspiration to go into the music industry?

Veronica Campbell: For me it was definitely AC/DC and specifically Angus Young. Me and my dad went to one of their Sydney shows when I was in high school. I had become obsessed with them after I watched Let There Be Rock The Movie and tried to listen to all their albums and watch all their music videos and interviews and anything I could find before the show. And then at the show it just hit me, like this is what I want to do. These guys started as nobody's in Sydney, in Burwood, in Sydney's west. That's where I'm from. I can do this. Before that I only fiddled with the guitar, never thinking it could possibly be an actual career choice. After that, it became my life mission.


Question: What's a typical day like?

Veronica Campbell: Well all of us work day jobs and they are quite different from each other, but after that, the rest of the day is spent listening, playing and finding music. It's a passion all four of us have and something we share on such a level with each other that we literally consider ourselves family. It's a great bond but it takes up so much time. It's hard to have any hobbies outside that or even sometimes have time to eat and make food but we like it that way. We rehearse 2-3 times a week or more. It's like you finish work and then you go to rehearsal for the rest of the night. And when you're not at rehearsal, you're still playing as much guitar as you can. And me and Steve are also doing the behind the scenes stuff, like booking shows, doing promo, sorting everything out. It can get stressful at times but we all put the work in and we honestly wouldn't have it any other way.


Question: What has been your favourite part of becoming a music artist?

Veronica Campbell: We've always said to each other that no matter what happened we'd always play music. Whether that's on-stage in front of a live audience, recording in a studio or even just playing in our bedroom. But perhaps the best thing we've found is being able to play the music you've created and loved and to have someone you don't know also appreciate and gain something from it, it's really an incredible feeling, something you don't quite expect to know what it feels like until it actually happens and when it does you really take a step back and think about everything that led you to that point, all the decisions you made, little arguments about stuff that doesn't matter and it forces you to have a completely inexplicable feeling of joy.


Question: What's next, for you?

Veronica Campbell: This will be the biggest tour we've done to date and hardest we've ever had to work for the band. 12 dates in 4 states over 5 months, including 2 festivals. It's really going to be massive and we can't wait, you can find all the dates on our Facebook or our Instagram bio, as well as on Spotify, songkick, etc. We're keen to re-visit some familiar places and visit some places we've never been before. As well as the release of our second EP in May which is what we're doing all this for.


Question: Can you share your socials? (links please)

Veronica Campbell: Facebook
Instagram
Bandcamp
Spotify
YouTube


Interview by Gwen van Montfort