Oi, Oi, Oi! Australians Descend on Brazil
Sports fans across Australia are racing to Brazil and the 2016 Olympic Games with Cheapflights.com.au reporting a 46 per cent surge in flight searches to Rio de Janeiro for travel between 5 and 21 August.

More than 53,000 Aussies are predicted to have tickets to the Games, and it's evident Sydneysiders are first in line, with a 96 per cent spike in flight searches in the lead up to the world's biggest sporting event, followed by those from Perth (31 per cent) and Melbourne (9 per cent).

Nathan Graham, Regional Sales Manager ANZ at Cheapflights, said the upcoming Olympics provide the perfect opportunity for travellers to visit South America and the host cities of Belo Horizonte, Brasilia, Manaus, Salvador and São Paulo.

'With Brazil recently announcing a temporary visa‐waiver program for Aussies visiting for less than 90 days, we can see travellers are taking advantage and planning longer stays of 19 days on average. The closer we get to the Games, the more airfares are increasing so travellers should get in quick if they spot a deal. Currently, Sydney and Brisbane are the cheapest departure points with flights available from $1,800."

The help navigate your stay in each host location, Cheapflights.com.au has compiled a sightseeing guide.
Belo Horizonte

Belo Horizonte is the bar capital of Brazil with an estimated 12,000 bars within the host city. Even if you don't have a ticket to the Games, you can be sure to find an excited atmosphere here, as fans gather to watch their countries compete. And while you're enjoying a pint, try a Pão de Queijo (cheese bread). Eaten across Brazil, these addictive dough balls are especially popular in Belo Horizonte where they're served fresh and hot from the oven.

Brasilia

The capital of Brazil is famous for its distinct and modern architecture. Only developed in the 1950s, many of the recognisable curves and spirals of the unique buildings are thanks to world famous architect Oscar Niemeyer. Tour the city and take in the visual feast of the Cathedral of Brasilia, National Congress of Brazil, Niterói Contemporary Art Museum or Juscelino Kubitschek Bridge.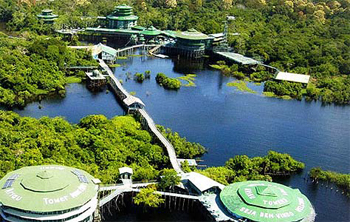 Manaus

Found in northern Brazil, Manaus is a popular gateway to the Amazon Rainforest with excursions to suit all tastes, from a trip up the Amazon River to hikes through the undergrowth. Further enjoy the scenery and spend a night at the canopyhugging hotel, Ariau Amazon Towers. With nine kilometres of treetop walkways, it will bring you into close contact with the forest's residents – monkeys, macaws and sloths.

Salvador

Set in the state of Bahia on a stretch of sparkling coastline, Salvador is famous for its beautiful beaches. The city was Brazil's first capital and residual colonial architecture can be admired at every turn. Pack your bikini and hit the Porto da Barra Beach along one of
the world's most beautiful bays.

São Paulo

A trip to Brazil would not be complete without a visit to South America's largest city, São Paulo, located in the southeastern part of the country. Known as a city that never sleeps, it's also home to great museums, a major urban park (Ibirapuera Park), more than 12,000 restaurants and a melting pot population.

For more tips or to search for your next holiday, visit Cheapflights.com.au