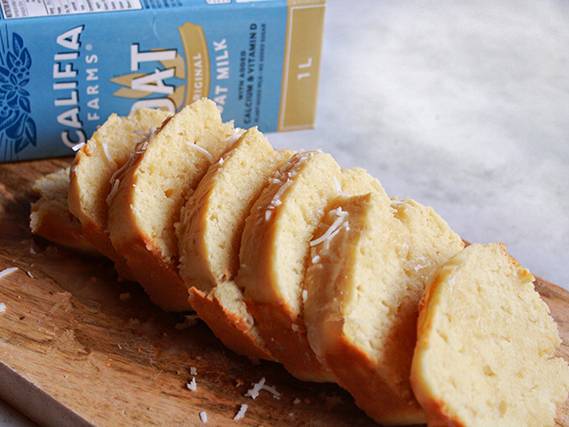 ZESTY LEMON LOAF WITH OAT MILK
A recipe from Vegan By Eden and Califia Farms

Ingredients
1 1/2 cup Califia Farms Original Oat Milk
1 tsp apple cider vinegar
1 tsp vanilla extract
1/4 cup vegetable oil
1 tbsp lemon juice
2 cups plain flour
1/2 cup caster sugar
Pinch of salt
Zest from 1/2 lemon

Method:
1. Preheat your oven to 180°C
2. In a large bowl combine the milk, vinegar, vanilla, oil and lemon juice.
3. Add flour, sugar, salt and lemon zest.
4. Mix very briefly until flour is no longer visible but make sure not to overmix as this can ruin the texture.
5. Pour into a lined loaf pan and bake for 35-40 mins or until a skewer comes out clean. Set aside to cool.
6. For the icing combine 1/2 cup icing sugar 1 tsp Califia Farms Original Oat milk & stir until creamy. Pour over the cooled loaf. You can use less milk for a thicker icing or more for a thinner one.
Quotes:
"The smooth and creamy texture of Califia's oat milk is the key to getting this zesty loaf so soft and fluffy. It's also packed with calcium and vitamin D and with no added sugar, it's perfect for all my dairy free recipe needs!" says Eden Gokkaya.
Califia's oat milk is available at Woolworths

More info:
Eden Gokkaya is a Sydney plant-based recipe creator who loves creating simple, nourishing and tasty recipes that are easy to prepare. Visit her Instagram: @veganbyeden