Australian Family is Raffling off their Profitable Seaside Cafe to Travel through Australia in a Caravan.
Laura & Matt McNamara are giving one lucky Aussie the chance to win a profitable seaside café! The couple decided to raffle the café when a friend of theirs mentioned that a resort in Panama was raffled off in this manner. Laura realised that by finding a new owner this way it allows the individuals who have always dreamed of owning a business a chance to make this happen.

Island Whole Foods is rate number 1 on Trip Advisor for restaurants on Phillip Island and has a reach of over 9000 followers across Facebook and Instagram. Established in 2015, Island Whole Foods is an innovative plant-based café in Cowes, Phillip Island. The business is currently turning over $500k and growing, with sales increasing year by year. The food offering consists of an all-day breakfast and lunch menu focused on wholesome plant based ingredients. They also provide specialty coffee, house made raw treats, the popular vegan COCOWHIP soft serve and superfood smoothies.

The location is literally 250m from the Cowes foreshore, open 6 days per week from 8am-3pm.

The raffle will also help to raise funds for charities that are close to Laura and Matt's heart.

With each purchase, Laura and Matt are splitting a donation of $2 between Take 3 for the Sea, and other local charities.

Take 3 for the Sea share a simple and powerful message – 'Take 3 pieces of rubbish when you leave the beach, waterway or…anywhere!'. Other local charities include Plastic Free Phillip Island and Boomerang Bags Phillip Island.


Laura's Story
Laura started Island Whole Foods at local markets, selling handmade raw chocolate, treats and green smoothies with her 6-month-old in tow.

The business grew and Island Whole Foods was transformed into a vibrant Whole Foods Café.

Laura McNamara says,"I wanted to share my love and knowledge on the amazing health benefits of wholesome plant based foods with the local community. I had never run a cafe before and quickly learnt on the go training my husband, who as well had no experience in hospitality. Island Whole Foods is the only plant based cafe in the Gippsland & Bass Coast Region making everything in house including our own nut milk, beefless burger patties, cashew cheese and raw treats to name a few. As a team we are very focused on sustainability, minimizing waste, reducing plastic use and supporting customers to bring reusable cups and containers for takeaway. The cafe is a Community hub of like-minded people with a warm and welcoming atmosphere. The Cafe is also unique in the fact that it is situated in close proximity to world class waves, pristine nature reserves, the fastest growing humpback whale migration route in the world and also Australia's number 1 natural tourist attraction in the penguins."

What do you win?
One lucky winner will walk away with Island Whole Foods Café and everything in it, valued at up to AUD$187,439 (inclusive of all taxes and duties).

The prize includes:
The business
$10000 Cash
$4000 Stock
Rent, body corporate fees and council rates paid up until 4/3/2019
Fixtures and Business assets valued around $100,000
All applicable taxes, duties, and costs to transfer business and lease.

Laura adds: 'Our Mission it GIVING. The driving force behind the raffle is to not only find an owner, but also to raise awareness and funds for our chosen charities. This amazing opportunity will change the winner's life, as it did ours. I would love nothing more than to see Island Whole Foods continue to nourish the supportive community on Phillip Island. We are aware of the many outcomes the prize may be taken however the winner of this amazing opportunity doesn't have to accept the prize if they don't feel fit to run a café. Alternate option for the winner include selling the cafe to one of the many interested individuals (which you can discuss with us), or taking the cash and assets as the rent is paid for until the current lease ends.'

The big question everyone's asking…WHY?
Laura states, "With our love for adventure, the outdoors and the ocean, my husband and I have always planned to travel Australia when our kids were young, to really embrace this fundamental time together as a family. On our travels we want to work with organisations like Take 3 for the Sea to help educate communities on the importance of living sustainably and protecting our oceans. And also share our minimalistic life, plant-based recipes and knowledge we gain along the way. I am currently working on a website / blog to document this adventure under - The Avocado Tribe.

www.theavocadotribe.com.au aiming for this to go live December.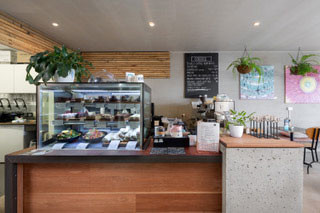 How you can enter?
To enter, a person can go to www.islandwholefoods.com.au and purchase a Raw Golden Chocolate Bar for $15 which entitles you to 1 x automatic entry into the draw to win the Cafe. Raw Golden Chocolate Bars can only be redeemed in store. SA residents can purchase a bar however are excluded to enter. The draw closes 16th October and winner randomly drawn 2pm on 17th October.

Laura is very excited about her own future as well as that of the new owner.

Laura concludes: "An entry into the raffle gives people a chance to own a successful business within a growing health conscious community. with an established customer base, large social media network and a growing Melbourne tourist influx looking for healthier food options. Month on month sales increase over the last 12 months indicates this will continue with an expanding residential and tourist population. GOODLUCK TO EVERYONE"

For full details about the promotion and the T & C's go to www.islandwholefoods.com.au