Wild By Nature
The epic story of one woman's 16,000 kilometre, three year trek from Siberia to Australia.

Not since Cheryl Strayed's Wild has there been such a powerful epic adventure by a woman alone.

In Wild by Nature, Sarah Marquis, a National Geographic Explorer, recounts her extraordinary solo hike that took her literally from one end of the planet to the other. Over 1000 days and nights she journeyed through six countries, starting in Siberia and finishing up at a place of special significance for her - a small tree standing alone in the vastness of the Nullarbor Plain in South Australia.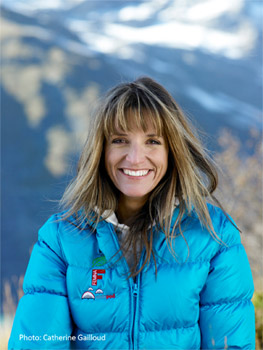 Walking for three years, Sarah overcame almost insurmountable odds to reach her final goal, surviving Mongolian thieves on horseback who harassed her tent every night for weeks, heavily armed drug smugglers in the Golden Triangle, temperatures from subzero to scorching, lethal wildlife, a dengue fever delirium in the Laos jungle, tropical ringworm in northern Thailand, dehydration and a life-threatening abscess.

Sarah's story is an incredible record of adventure, human ingenuity, persistence and resilience that shows firsthand what it is to journey as a woman in some of the most dangerous and inhospitable regions on the planet, as well as some of the most beautiful, and what it is like to be truly alone in the wild.

Sarah Marquis is a Swiss national, who began adventuring in her 20s. National Geographic named Sarah an 'Explorer of 2014'. She has been profiled in The New York Times Magazine and National Geographic. In solo expeditions she has hiked the Pacific Crest Trail as well as across Australia and South America.

Wild By Nature
Allen and Unwin
Author: Sarah Marquis
ISBN: 9781760290740
RRP: $29.99