Westwood: Punk. Icon. Activist
Director: Lorna Tucker
Running Time: 80 minutes

Synopsis: With exclusive access to the behind the scenes workings of one of Britain's most iconic fashion houses and an unprecedented cast of real life characters, Westwood: Punk. Icon. Activist is an untold story of a global icon – the grand dame of punk and the enfant terrible of British fashion.

A self-proclaimed daydreamer, Vivienne Westwood came from humble beginnings in the north of England, arriving in London at 17 during the swinging sixties. Her life changed course dramatically when she met Sex Pistols Manager and impresario Malcolm McLaren and their Kings Road shop launched punk, and revolutionised popular culture.

Over the next forty years Vivienne persevered through failed relationships, personal vendettas, the mockery of the press, and financial hardship, to endure as a British cultural icon and global fashion phenomenon.

Today Westwood sits alongside Gucci, Dior and McQueen – but what's unique about Vivienne is that she is the only namesake who still owns and runs her empire, and at seventy-six shows no sign of slowing down.

We join Vivienne at a pivotal time, as her company opens flagship stores in the fashion capitals of Paris and New York. What begins as a celebration of the brand across their busiest year soon becomes more complex, as we see that global success comes at a price.

As we witness the successes, the conflicts and the insecurities that she faces today, we skip back to key biographical moments. Patterns and parallels emerge between her 21st century activism and the inherently anti-establishment punk rock ethos of her youth.

This richly textured narrative will transcend the standard fashion film format, to become an intimate and inspiring portrait of true British icon: a single mother, a punk and an agent provocateur.

Westwood
Release Date: September, 2018
Filmmakers' Statement
In 2008 Vivienne Westwood asked Josh Homme (Queens of the Stone Age) and Unkle to collaborate on a rap song that she'd written to raise awareness for the human rights organization Liberty. At the same time Lorna was starting her career as a director, filming tour videos for rock bands and promos for brands. She was invited down to film, and she and Vivienne met and became friends.

Lorna spent the next few years filming in Native American reservations for an upcoming documentary about the enforced sterilization of indigenous women. As an active human rights campaigner, Vivienne took an interest in the project and every so often she would get in touch with Lorna to find out about its progress, and to ask her to film at protests, talks and political rallies.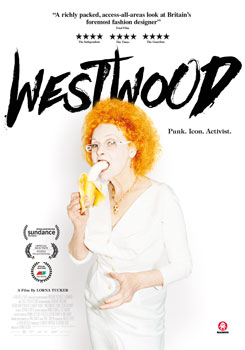 After making a fashion film for Vivienne Westwood's Climate Revolution in 2013 (Red Shoes – starring Lily Cole), and collaborating on a series of short films for the Vivienne Westwood Dazed Takeover, Lorna suggested the idea of a feature documentary – and so Westwood: Punk, Icon, Activist was born.

Over the three years that we were filming we documented many angles of Vivienne's life. We spent time with Vivienne in the Arctic Circle - on a mission with Greenpeace to raise awareness of the threat to the region. In the same month, we nestled in amidst rolls of fabric watching a collection take shape from mood board, to sketch, through to the final show. We followed Vivienne as she toured the country campaigning against fracking and witnessed the opening of the new flagship stores in Paris and New York.

What is most striking about Vivienne is that she is always prepared to stand up and stand out – and that's reflected in both her fashion and her activism. Whether she's working late into the night at her showroom, or marching for climate justice in Westminster, she employs the same uncompromising passion and determination. She has a palpable rebellious streak, and a true antiestablishment ethos, which underpins all she does, and is immediately infectious.

Vivienne's interests, ideas and principles have always been slightly out of step with public expectations of what a stereotypical fashion icon should be. Therefore, from the very beginning we knew this could never be a typical fashion film. Instead we wanted to focus more on Vivienne as a character - exploring her origins, her activism and her revolutionary cultural impact.

Vivienne is not only an artist, a fashion designer, and activist – but she's also the figurehead of a global brand, and a powerful businesswoman. She's also one of the true originators of the 21st century who has led an extraordinary life, punctuated by some of the greatest cultural shifts in recent history. It's our hope that the cultural relevance, and the winder contemporary themes will ensure that the film plays to the widest possible audience – from former punks, present day activists, existing fans, fashion enthusiasts, and those that simply love a character driven story.

It soon became apparent that Vivienne should be the one to narrate her own story. So, one week, during a remarkably sweltering London summer (with Lorna 7 months pregnant) we holed ourselves up in quiet corner of the Groucho Club and recorded the main interviews that form the narrative backbone of the film.

The genesis of the project was fuelled on little more than passion, and we are hugely indebted to Arri for their sponsorship, to Creative England and to the generosity and dedication of our crew. As first-time filmmakers tackling a high-profile subject, we knew it was essential for us to have an experienced team around us. In 2015 we started working with leading documentary sales and distribution company Dogwoof, and shortly afterwards partnered with Nicole Stott and John Battsek of Passion Pictures. Their combined experience, and the commercial and creative steer they brought to the film, not kept us on track but also helped us secure our fantastic editor Paul Carlin, who was a true creative collaborator – bringing fresh ideas, shaking up the story, and always pushing us to make the best possible film.

During the process of making this film, there was nothing more encouraging than Vivienne's story. The way she navigated her way through a maze of knock backs and financial hardships to prevail as one of Britain's greatest fashion designers speaks volumes for her strength and determination - and is truly inspirational. For us that is perhaps the most important message of the documentary: if you want to do something do it, and never give up.
Westwood
Release Date: September, 2018