The Extraordinary and Thrilling True Story
Cast: Evan Peters, Barry Keoghan, Blake Jenner, Jared Abrahamson, Ann Dowd, Udo Kier
Director: Bart Layton
Running Time: 116 minutes

Synopsis: American Animals is the extraordinary and thrilling true story of four friends who brazenly attempt to execute one of the most audacious art heists in U.S. history. Centering on unpredictable wild child Warren (Evan Peters) and aspiring artist Spencer (Barry Keoghan), two friends from the middle-class suburbs of Lexington, Kentucky, the film follows the duo through college life at separate universities, as adult pressures begin to weigh heavily on their futures. Realizing their lives may never be important, they organize the brazen theft of some valuable books from the special collections library of Spencer's college, including Audubon's Birds of America, valued at $10 million. Enlisting two more friends, budding accountant Eric (Jared Abrahamson) and fitness fanatic Chas (Barry Jenner), the gang meticulously plots the theft and subsequent fence of the stolen volumes, taking cues from popular heist movies. But the thieves' plans go awry, placing their bright futures in limbo. Unfolding from multiple perspectives, and shifting between the fictionalized central narrative and documentary-style interviews with the real-life figures on which the story is based, writer-directed Bart Layton (The Imposter) elevates the heist movie to bold and thrilling new heights.

American Animals
Release Date: September, 2018


About The Production
American Animals is the true story of four young men who get lost in a fantasy of their own creation, only to discover that by the time they are thrust into reality, it's too late " they have crossed a line into violence and criminality from which they can never return. Marking the narrative feature debut of British-born filmmaker Bart Layton, it's the second feature for the multi-faceted auteur, whose breakout debut The Imposter, won the BAFTA Award for Outstanding Debut in 2013.

Telling the story of a French conman who passes himself off as a missing Texas teenager, The Imposter was a documentary whose beguiling twists and turns revealed that the truth is often stranger than fiction. For his sophomore feature, Layton switches to a fictionalized narrative based on the true story of a botched heist in a Kentucky university town in 2004. In a feat of creative ingenuity, he intersperses the dramatization of the brazen daytime theft with post-prison testimonials from the real criminals who organized the heist.

Layton saw the crime story's unique cinematic potential after reading about the theft of some of the world's most valuable books from the special collections library of Transylvania University. "It sounded like the plot to an old movie," says Layton.

"What was even more surprising was the fact that the theft took place at a Kentucky university, organized by a group of students from various schools in the region."

The more Layton learned about the heist, the stranger the story became " and the more unlikely it seemed the young men could have pulled it off. "I wanted to find out why a group of seemingly educated young men from comfortable backgrounds would go through with a crime like this in the first place," says Layton. "My instinct coming from a documentary background was to make contact with the people involved, even though they were serving lengthy prison sentences for their crimes."

Layton began corresponding with the young men as they served time on federal charges, including theft of cultural artifacts from a public museum and interstate transportation of stolen property. His letters to the prisoners " Warren Lipka, Spencer Reinhard, Eric Borsuk and Charles "Chas" Allen II " ultimately formed the basis of the American Animals screenplay, which he wrote as the young men's prison sentences wrapped up and they began resuming their lives as adults.

"Anyone could be forgiven for thinking these guys were unintelligent or uneducated," says Layton. "On the contrary, they were erudite and full of the most unexpected ideas and references, from pieces of literature to poetry and movies."

The Animals

In the correspondence with Layton, the young men talked about their motivations for the crime, each giving strikingly different reasons for what they had done. Some claimed it wasn't about the money; others discussed their upper-middle-class upbringing and the expectations that brought with it. Spencer in particular talked about his deep yearning to become an artist " only his "perfect" life was so devoid of experience or trauma that he felt he didn't have anything to say in his artwork.

Warren, the ringleader, and Spencer's best friend since childhood, wrote of a need to be special, wanting to leave his mark on the world. Eric, an accounting major who wanted to pursue a career in the F.B.I., wrote about being part of something real, breaking free of the stultifying suburban treadmill. And Chas, the getaway driver, simply needed the money.

"In some ways this was a bigger, more prescient story of a lost and increasingly individualistic generation fed on a mantra that its lives would end up being interesting and remarkable in some way," says Layton. "In the absence of what they saw as meaningful life experience, they set out to manufacture one."

Being novice criminals, they planned the crime by watching movies like Oceans 11 and Snatch and Googling how to orchestrate the perfect heist. The more they plotted, the more addictive it became " a fantasy that took them out of their ordinary lives. "They became increasingly reluctant to let go of the fantasy," says Layton. "No one wanted to be the one to pull the plug for fear of being thrust back into ordinary life again."

Layton met the ex-convicts in Kentucky after they got out of prison, determined to find out what would lead a group of privileged young men to commit such a brazen and reckless crime. What astonished Layton was their description of the first two years of prison, which they uniformly agreed were the best years of their lives. "I was completely taken aback by this notion and I asked them why they felt this way," says Layton. "They said it was because they were free. They had liberated themselves from all the expectations their parents and teachers had for them. All the things they were supposed to do in life no longer applied."

A Unique Structure

When Layton heard about the young men's story, he initially thought they had mistaken their own lives for a movie. "So much of what they did was influenced by the movies they watched and their desire to live within a heightened reality they created, and I wanted to make something that reflected that," says Layton. "The story was partly about the confusion between fiction and reality " and it's also a true story. I found that I could experiment with a way of telling the story in which the characters and the audience simultaneously get whisked off into this fantasy world. It was important to show that these young men weren't in any kind of safe movie world."

Layton's interviews with the young men formed the foundation for his screenplay; many of their comments wound up as actual dialogue in the movie. Oftentimes their perspectives of the heist shifted, or didn't correspond with previous testimony. One participant would have a specific take on what happened, while another had a differing view. "I tried to make a virtue of that notion " how we all create our own version of the truth that we want to remember or believe," says Layton. "Only memory can be unreliable " and no two people remember the same thing in the same way."

He wrote scenes with the young men's testimony in his head, opting later to film the real characters during production, building the script around their on-camera testimony; in this way, he knew precisely how to organize and center his story around the concept of fiction colliding with reality. "It was important they remained the subjects of the film rather than mere collaborators," says Layton. "I was also interested in fictionalizing their story, since they didn't often remember things in the same way. In certain moments, the real guys even occupy the same space as the actors playing them, which makes for a unique viewing experience."

Choosing to inhabit a movie-like fantasy world versus living one's real life in the mundane present became a mechanism for Layton to tell a true story that incorporated elements of documentary filmmaking alongside tropes from the fictional movies the young men emulated in the heist. "I wanted to shoot and cut the film in a way that mirrored their increasing detachment from reality, employing the grammar of heist movies only to upend it when things go too far," says Layton. "This story really, truly happened, and we keep questioning versions of events as they emerge in the story. As a result, audiences engage with the movie in a different way. By not floating off completely into movie world, willfully suspending disbelief, we become more emotionally involved in the story."

Meet The Producers

The first producer on board American Animals was Dimitri Doganis, the founder of the British TV production company Raw, who produced The Imposter with Layton. Doganis came into the project as Layton began corresponding with the young men in federal prison. "This was the first chance we had to meet them in person, so my initial involvement in the story was with the actual subjects," says Doganis, whose television productions include "Gold Rush: Alaska" and "Locked Up Abroad." "Bart always saw this as a logical successor to The Imposter, which was a documentary with very stylishly dramatised elements and scenes. The idea behind this one was to make a dramatised, fully scripted feature that also had stylized documentary elements."

Katherine Butler, head of film and TV drama at Raw, had been close to project nearly as long as Doganis. The former head of low-budget features at Film4, she produced Ben Wheatley's Kill List and Terence Davies' The Deep Blue Sea, as well as The Imposter. When she left Film4, American Animals was one of the first projects in her new role at Raw. "I thought it was a ripping yarn, a great roller coaster ride, but also a solid genre movie, and heist movies are always fun and engaging," says Butler.

"This had a unique slant on established elements, something I'm always attracted to in the projects I work on. But there were layers underneath the heist story, examining malaise and the search for meaning, which felt very contemporary. I thought immediately of the millennial condition of being told you're special and your life is going to be extraordinary. What happens when it's not? How do you live your life when it's not so special after all?"

Next aboard was Derrin Schlesinger, the British producer behind the indie hit Four Lions, who won a BAFTA for the comedy series "The IT Crowd" in 2007. Schlesinger received a phone call from Butler, her former colleague from Film4, asking her to join the project. But Schlesinger wasn't available, having already committed to other productions. Butler sent the script, which Schlesinger read on a Sunday night. She was instantly transfixed, engaging with it as a heist movie but also as a commentary on young millennial males who are prevented from attaining the American Dream. "They can no longer go up a mountain and kill a lion in order to make that transition into adulthood," says Schlesinger. "There's a whole generation of young men who are unable to express their individuality, so they turn to this corruption of the American dream."

Adds Schlesinger: "This is a unique form of storytelling with documentary elements in which the story's actual subjects inform the fictional story. They're like a Greek chorus that runs through the spine of the movie, commenting on the action. But as the story progresses, and more is revealed, and the characters try to rationalize their actions, things grow more fascinating. Sometimes the people undertaking a crime are not the best people to understand their own actions. They can look back with hindsight, but it's the fictional part of the movie that informs the real subjects as much as they inform the fictional part of the movie."

The final producer to board the project was Mary Jane Skalski, the only American executive involved in American Animals. Having won an Independent Spirit Award for her work on Tom McCarthy's The Station Agent, Skalski also produced Dee Rees' Pariah and Craig Johnson's Wilson, starring Woody Harrelson and Laura Dern, based on Daniel Clowes' graphic novel. Skalski received a phone call from the production team in England " because the project was set in America, and based on an American story, they wanted to add an American producer to the team.

Skalski wanted to be involved with American Animals for two reasons: the script and Bart Layton. "I love heist movies but what I liked about this one was the heist had a consequence to it," says Skalski. "Typical heist movies can be fun because most of the time you're dealing with a victimless crime, but it's not always that way in reality. This movie shows there are consequences to what happened (in the form of Transylvania University librarian Betty Jean Gooch's abuse at the hands of the four criminals). There were emotional consequences to this crime, which all the boys felt."

From her first conversation with Layton, Skalski found the writer-director both endearing and engaging, something important for a director helming his first narrative feature. "You can see why he's so good at his job as a documentarian but I could also see the elements that would make him a strong feature film director," says Skalski. "In addition, he had a strong point of view that he brought to this project. He had a real sense of energy, which was evident within the first five minutes we met."

Casting The Actors

With the producing team in place, the next hurdle for American Animals was assembling its cast. This would prove to be Layton's greatest challenge in bringing his unique script to life. "I had a lot of new things to figure out beyond the blocking and construction of the scenes," says Layton. "Having never written a screenplay or directed a fiction narrative was terrifying " it wasn't until the actors showed up and started speaking the words I'd written that I began to feel like everything was going to be alright."

Layton was not concerned about casting exact replicas of main subjects Warren Lipka, Spencer Reinhard, Eric Borsuk and Chas Allen. Although the casting team looked at dozens of headshots and videos, it was the chemistry between the young men that mattered more than direct physical resemblance. "I only wanted to find the essence of the main characters, no matter who the actors were going to be," says Layton. "Conveying spirit was more interesting to me, whether it was the quality of needing attention, being an extrovert, or coming across as too smart or the opposite of that " not very intelligent."

Layton wanted to build an ensemble in the same way heist teams were put together in the movies his young subjects watched before, during and after their crimes, including the Oceans 11 movies, in which Danny Ocean, played by George Clooney, goes out and recruits his Dirty Dozen. Working with casting director Avy Kaufman (Monsters and Men, It Comes At Night), Layton and the producers gradually found their Dream Team. "The chemistry had to be right, so it was a long and meticulous search," says Butler. "The most important thing was to find four actors that fit together as a team rather than bringing starry names to the cast. We were absolutely creatively driven by our casting choices."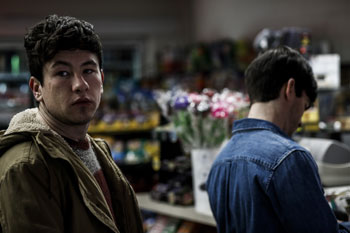 Layton met with dozens of actors, but Evan Peters stood out above the pack in the search for Warren Lipka, and remained the casting team's first choice, forming the central pillar of the cast in the form of the heist's erratic ringleader. "He's not only an exceptional actor but he also has a wild streak," says Layton. "He's serious and super professional " he doesn't mess around in the way the real Warren does " but he also has this eccentric quality about him, he's a little bit crazy."

Peters is best known for his multiple roles on the FX anthology series "American Horror Story," in which he has appeared since its debut in 2011. He has also played the mutant Quicksilver in X-Men: Days of Future Past and X-Men: Apocalypse, and appeared in a supporting role in Kick-Ass. "Warren is the engine that moves the story along, the character who doesn't want to let the heist go, and that's a big job for an actor to take on," says Skalski. "Fortunately for us, Evan is a thinking person's actor " he approaches his craft seriously and intuitively in order to get a sense of a character's nuances."

After reading the script and meeting with Layton, discussing Warren's personal turmoil, his dissatisfaction with society in general, and his erratic college life, Peters came to see how much life Warren had in him. He became intrigued with the idea of playing out the fantasy of the heist, planning it, stealing the books, as well as the friendship and camaraderie that was developed over months and in some cases years.

"When this movie takes place, Warren was at the age when you rebel against things, you have angst, anger and frustration," says Peters. "You sometimes act like you're in a movie, realizing afterwards that maybe you should have respected the rules a bit more. Things are in place for a reason, and they have been for hundreds, if not thousands of years."

In his research for the role, Peters watched several heist movies, studied the police reports from the original crime, and met with Warren Lipka himself prior to shooting. Since Layton had conducted and filmed the interviews with the real subjects prior to filming the fictionalized narrative, Peters and the actors had access to all that material.

Once Peters was cast, it became a question of casting actors that would complement him " and by extension Warren " but who wouldn't compete too much with both, or look too much like either. "I didn't want actors who look like they belong on TV shows, the clean-cut usual suspects who were completely wrong for this," says Layton. "I wanted them to feel real, like they had a history. When you see them on screen as an ensemble, they don't look or feel or sound like typical actors. It was more about finding the essence of the real guys, without worrying about what they looked like."

Barry Keoghan was next to be cast, in the role of Spencer Reinhard, a budding artist who is in many ways the total opposite of Warren " and Evan Peters, who is already a seasoned actor. Keoghan is still a relative novice, having appeared in a small role in Dunkirk and breaking through last year as a villainous teen in Yorgos Lanthimos' psychological thriller The Killing of a Sacred Deer. After only a few films, Keoghan is already one of the hottest young actors of his generation.

His character's innocence had to belie inexperience and a thirst for getting experience, both as an artist and someone living in his extroverted best friend's perpetual shadow. He also had to demonstrate a willingness to break out of his shell. "Barry is an animal," says his co-star Evan Peters. "He's an Irish fighter and drinker, but also an incredibly nice guy, always offering food or drink or coffee on set. He brings a lot of the artsy side to Spencer, that introspective, brooding unrest that makes him such a fascinating (unformed) character."

Adds Layton: "Spencer is a guy whose problem is that he doesn't really have a problem " he lives a fairly ordinary life with a loving, supportive family. Barry, on the other hand, has a very different past that's been difficult at times. But despite it all, he was able to remain in the moment in front of the camera, and it's amazing to watch his character take shape."

Layton and the producers saw Spencer as the emotional heart of the movie, requiring an actor with soul as well as depth. Keoghan for his part saw Spencer as someone who was looking for experience and adventure to shape his artistic craft. "He's the kind of guy who literally throws away everything he has and goes into the wild," says Keoghan. "Stealing the books become an adventure for him. The money was merely a bonus. It wasn't about selling the books " it was more than that. I've got stuff at home that would be worth a lot of money if I sold it, but it's sentimental to me. And that's where I related to the character."

In contrast to Peters, who did considerable research to play Warren, Keoghan had a less meticulous approach to shaping his character. "Barry is not highly trained and has a unique way of inhabiting his characters," says Layton. "I didn't know what to make of him when we first met, but he's so natural and mesmerizing " he's got the kind of face you can't stop watching. He was also nothing like the real Spencer."

Jared Abrahamson, a former miner and MMA fighter from Northern Canada who is best known for his role as Trevor Holden on the Netflix series "Travelers," had initially auditioned for the role of Chas Allen, but was cast as the more introspective " but no less volatile " Eric Borsuk instead. "We had been thinking of Jared in that context but it didn't feel quite right," says Layton. "He had this quality about him that felt more like Eric " soft-spoken, watchful and quite smart. When he read for that part, it was uncanny how similar he was to the real Eric. We had been looking for Eric longer than any other character during the casting process. Jared walked in with his deep voice, and instantly we had found him."

"Eric is shut down, a loner, who feels like he's in a place where he doesn't belong," says Abrahamson. "He's studying accounting at university because it's easy for him, but he wasn't inspired by what he was doing. He's this bored guy going through the motions, until Warren convinces him to come along for this wild ride and he finds a purpose in life. But after the deed is done, he goes down this very dark hole. He did something he wasn't prepared for, and I think it haunts him to this day. I wanted to capture that in the film " that heavy, solemn feeling of a man unhinged."

Adds Mary Jane Skalski: "Eric is really intense and Jared brings both that intensity and intelligence to his character. He's sort of the mastermind of the whole plot, but he also figures out the holes in their plan and helps them smooth things out so they can go forward with the plan."

To prepare for the role, Abrahamson read some of the articles the real-life Eric contributed to Vice, detailing his experiences after the heist, including his stint in a federal prison. He also read about the heist in news reports, building his conception of the character from media depictions. He reached out to Borsuk before production started, getting to know him through phone calls, e-mails and text messages. To help Abrahamson find his character, his true-life counterpart sent him music he was listening to at the time of the heist, including Johnny Cash and The Wu-Tang Clan.

For the role of Chas, the fitness-obsessed fourth member of the heist gang, Blake Jenner (Everybody Wants Some!!, The Edge of Seventeen) made an audition tape and sent it to Layton, prompting the filmmaker to meet the former "Glee" actor to discuss the role. "Blake is a decent all-American guy who happens to be half-Cuban but you'd never know that by looking at him," says Layton. "He's a great actor in terms of his ability to play things in a very light, throw-away capacity as well as being able to go to difficult, emotional places very easily."

For Jenner, the film was unlike anything he had done previously, which he found invigorating and challenging. "One part of it was the documentary form with all these raw interviews featuring the people who actually experienced this story," says Jenner. "Getting to act it out alongside them felt like a once-in-a-lifetime opportunity."

Jenner saw Chas as the most levelheaded of the four heist members, someone who wants the operation to run as smoothly as possible. As the story progresses, and plans go awry, Chas becomes more of a loose cannon. "When we first meet him, he's very confident in his life, exercising rigorously, running a lawn service company and buying real estate," says Jenner. "But you start to see these layers fall away. He enters that animalistic state of mind where he fights for control over the group. You see him slip into defensive mode, which is really fun and challenging to play. He's like this boiling teapot that eventually explodes..."

Researching the role, Jenner opted not to meet the real-life Chas, instead reading news clippings and magazine articles about the heist and finding whatever information he could online about the key subjects. He did internal research on his own character through journaling and stream-of-consciousness exercises. "I was writing from the character's perspective, figuring out what makes him tick, his relationship with his father, whether he feels confident or inferior in a given circumstance," says Jenner. "I made playlists of different kinds of music this character might listen to at various times."

A key portion of the American Animals story takes place inside a university library, and one of the major characters in the heist was its victim " the real-life librarian Betty Jean Gooch, played in the film by Ann Dowd, who recently won an Emmy Award for her work as Aunt Lydia in the acclaimed Hulu series "The Handmaid's Tale," based on the novel by Margaret Atwood.

"B.J. is a very significant and pivotal role in this story, requiring an actor who is formidable in her own right," says Layton. "Ann Dowd is up there with the best of her generation of actors, someone I've always wanted to work with. My attitude going in was you don't ask, you don't get, so I wrote her a letter after sending the script and offered to meet with her."

Dowd was impressed by the project's hybrid sensibility as well as by Layton's established abilities as a documentarian. "I don't know of any other film like this, and I think his documentary background only helps," says Dowd. "Putting the real human subjects in the film along with the actors playing them was just an extraordinary choice. This is not a documentary, but it has elements of one. I couldn't believe that it was a true story."

Dowd was also attracted to the story for its depiction of young people growing up in an atmosphere where they don't feel challenged or connected in a meaningful way. "I have children of my own and I found it very scary to see kids wreaking havoc and blowing up their own lives through these choices," says Dowd.

She researched the role by turning to her next-door neighbor " who happens to be a librarian " for inspiration in understanding the character. "She's a solitary figure and loves books," says Dowd. "She's not a technical wizard " her gifts are more oldfashioned. She knows every title in the library and knows where to send students to get their research done. It was fascinating to talk to someone who has such immense respect for books, and rare editions in particular."

The biggest challenge for Dowd was enduring the physical violence that was inflicted on her character as the heist unfolds. In the film, she is zapped with a stun gun, tied up in restraints and physically assaulted by her captors, something the seasoned film and television veteran pulled off with aplomb, impressing her cast and crew members. "When Ann showed up on set, she raised everybody's game," says Layton. "Most of the time on set she was bound and gagged and in tears, but she was never anything but a ray of sunshine."

Adds Skalski: "Ann Dowd is a treasure, and it was amazing to watch her at work on set. She's the heart of the movie in a lot of ways because B.J. Gooch represents the repercussions of the crime committed " for the boys, she is the embodiment of what they've done, how they invaded someone's life and space in a malevolent way."

Designing The Production

American Animals filmed over the course of seven and a half weeks, moving locations twice and sometimes three times a day, in keeping with the unusually high numbers of scenes in the script. None of the locations was ever used twice, requiring a production designer who could move locations and stay ahead of the rest of the crew at a dizzying pace.

"Everyone kept telling us they'd never read a script with so many scenes and so many locations," says Layton. "This was challenging for a first-time director. But for our production designer Scott Dougan, nothing was ever too difficult or complicated. He was tirelessly optimistic and industrious."

Dougan (Monsters and Men) is a relative newcomer with a background in art direction and theatrical set design. After working on the art direction team for Steven Spielberg's Bridge of Spies, he met with Layton in New York City to discuss the design requirements of American Animals. Dougan had prepared a detailed look book centering on his conception of Lexington, Kentucky around the turn of the century, when the heist unfolded. He paid special attention to the interior and exterior of the university library that appears in crucial scenes in the movie.

After looking at hundreds of universities and colleges around the U.S., to represent Transylvania University, where the heist occurred, Dougan and his production crew found the perfect location in Davidson College, just outside Charlotte, North Carolina, one of the few campuses that fit the bill in terms of Transylvania's architecture. The university library at Davidson featured columns and steps leading up to the entrance, which was a crucial factor in recreating the authenticity of the actual heist. The area around Charlotte also resembled Kentucky " another boon for the production.

The design crew also required an interior location they could use for the special collections library " a room located upstairs from the main library, in keeping with the Transylvania library's unique layout. "If you don't have the right geography, the scene doesn't work," says Dougan. "We also needed it to look and feel like a small liberal arts college, which is a very specific kind of place. We needed a special collections library with a stateliness and grandeur " not like the gothic architecture of Yale or the colonial architecture of Harvard. More like a little jewel box."

They found what they were looking for in the Davidson library. "One of the first things Bart and I talked about was the other character in the movie, besides the human characters, which was the special collections library " and in another sense the books contained within," says Dougan. "Everything in the movie goes back to the heist, and designing the details around that aspect of the story."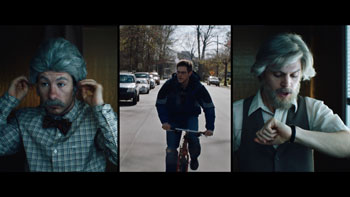 Before filming began, Dougan made a trip to Yale University's own special collections library, where he studied the way books were displayed. Working with prop master Emily Weston, Dougan spent weeks creating very precise replicas of the books at the heart of the story, including four double-sized folios of John James Audubon's Birds of America, which were individually bound and produced in very small numbers.

"We accumulated thousands of reference pictures from the Audubons and other rare books that were stolen in the heist," says Dougan. "The Audubons are gigantic " 40 by 30 inches for one sheet; when you open it up, it's as big as a person. They also stole a Hortus Sanitatis, which is something monks made back in the 15th Century. These books are valuable because they are meticulously hand-painted works of art."

Shooting Animals

Dougan chose the Davidson location because it could be easily transformed into something resembling the more expansive special collection room at Yale, where he did so much of his research. Director of Photography Ole Bratt Birkeland needed ample room to move cameras around and tracked the action as the heist played out. "Scott did a fantastic job of transforming a fairly bland room into an amazing looking set, very close to what Bart had in mind," says Birkeland. "Scott had created this elaborate Steadicam shot of the books heist, which played out in one continuous take, thanks in a large part to the logistics of the location. We had a set that operated in a 360-degree fashion, which is highly unusual."

Birkeland, who works principally in British television and independent features, shot several episodes in the first season of "The Crown" on Netflix. American Animals required a different kind of planning and strategizing, prompting Birkeland and Layton to talk through the script and put together a shot list, much like Dougan's library schematic, so they knew prior to filming what worked and what didn't at a given location.

"The biggest challenge on a film like this is the sheer number of locations " it's a fast-moving film, there's a lot going on, including dozens of smaller scenes," says Birkeland. "When you do something like this, you have to constantly make sure you're telling the story and not simply getting shots. It's easy to get caught up in the technicalities of filming. In addition to the multiple locations, there are different timelines, so we had to respect the story line and convey it as clearly as we possibly could."

While Birkeland has had some experience working on documentaries, including cinematography on Stevan Riley's Listen To Me Marlon, he has mostly shot narrative works. But he quickly found a middle ground with Layton's unique blend of fiction and documentary styles. Both filmmakers share a similar approach to shooting, working quickly with a compact crew. "There's nothing inherently different about shooting documentaries and dramatic works," says Birkeland. "The only difference is you have actors in front of the camera instead of real people."

American Animals
Release Date: September, 2018