VS SASSOON LAUNCHES THE BIGGEST REVOLUTION IN HAIR STYLING IN YEARS BUT SHHH …
IT'S A SECRET …
IT'S THE SECRET TO THE FOOL-PROOF PERFECT CURL. IT'S THE VS SASSOON CURL SECRET™.

So what's the big secret? Hair goes in, curl comes out. It's that simple, that quick and that easy. This breathtakingly innovative one-of-a-kind styler uses new-patented technology to create stunning long lasting three-dimensional curls… the kind of curls not readily achieved with traditional styling tools.

The Curl Secret™ looks like no other curler on the market because it is like no other styler on the market. Why? Because it does the work for you. To start curling, simply place a section of hair through the guide. Clamp down and your hair is automatically drawn inside into a heated curl chamber. Once inside, your hair is softly held and heated from all directions. Your hair is not put under any tension so its elasticity is protected. It takes just seconds to form a perfect curl. A beeper counts out the seconds and tells you when the curl is ready. Simply open to release a perfect curl.

Creatively you can do so much with the Curl Secret™. With different temperature and timer settings, you can personalise your curling style. Create a variety of styles from highly defined crisp curls to softer beachy waves. Start by adjusting the heat settings to suit your hair (higher for thick hair, lower for finer hair) then choose from the timer settings to get the curl style you need. The 8 second setting will give you looser waves while the 12 second setting is perfect for defined curls; 10 seconds for anything in between.

The Curl Secret™ can be used on a variety of different hair lengths and styles from very long to shorter cuts, from structured bobs (try a heavy eye make-up look with this) to finely layered cuts. You can also use it on already wavy and curly hair to add finesse. And it doesn't matter what hair type you have either. Whether you are adding body to fine hair, an edge to medium density hair or dramatic interest to even the thickest hair, the result is always outstanding and astonishingly achievable with the Curl Secret™.
























Features Overview:
• Automatic curling system
• Ceramic tourmaline curl chamber
• 2 Heat settings with heat ready indicator
• 3 Timer settings with auto beep indicator
• Sleep mode & auto shut off
• 2 year warranty
• Heat protection mat & soft storage pouch included

Review: I had so much fun with the VS Sassoon Curl Secret creating the perfect curls quickly and easily. The Curl Secret works well on a variety of hair types from thin to coarse hair, short and long, zipping into the curl shaft to create perfect curls. This is the most exciting product in hair this year!


VS Sassoon Curl Secret™
RRP $172.95
See Curl Secret in Action at http://www.vssassoon.com.au
http://www.facebook.com/VSSassoon

Available through Shaver Shop, Priceline, Myer, David Jones, Big W, Target, Harvey Norman, The Good Guys, Betta Electrical, Shop.television4me. For Stockist call: 1800 650 263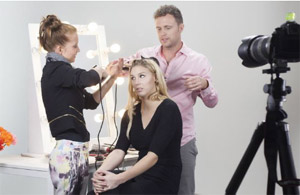 Brad Ballard is an accomplished hairdresser, session stylist and salon owner based in Sydney, Australia. After working in the United States for a number of years, Brad returned to Australia in 2004 and worked at several high calibre Sydney salons before opening booth st. salon, based in the Sydney suburb of Annandale.

Brad also began styling for fashion and beauty publications including Marie Claire, Madison, Helmut and Cosmopolitan and continues to work with many iconic titles. In addition to his published work, Brad has worked extensively in television – Australia's Next Top Model, So You Think You Can Dance, Australian Idol, Ten Years Younger in Ten Days and the Morning Show.

Brad describes his experience of working with VS Sassoon on the launch of the Curl Secret™ as -inspiring'. "It's not every day you get to be part of something so ground-breaking and innovative. Curl Secret™ will change the way you curl hair. It's surprisingly easy to use – hair goes in, curl comes out, it's that simple! Plus it creates so many different curls and styles delivering a professional look each time by eliminating common at-home styling mistakes such as fish hooks and uneven curls. This is truly a one-of-a-kind-styler."