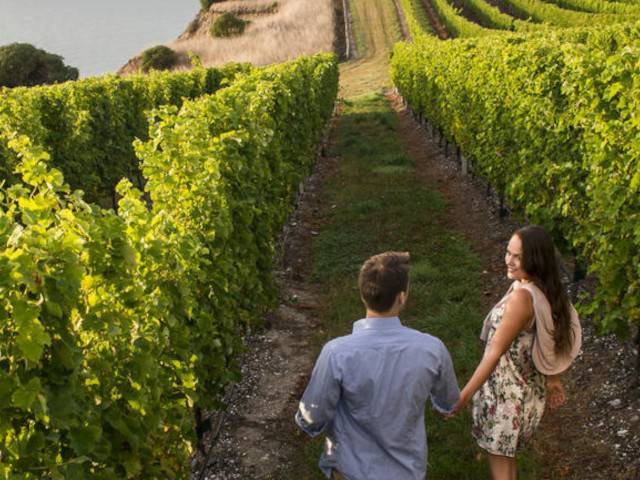 Great wine stories start with the land on which they are grown. New Zealand vineyards experience young soils, beautiful landscapes and a close proximity to the ocean which results in a pronounced effect on the character and flavour of New Zealand wines.

To celebrate the great-tasting wine and regions highlighted in Taste Buds, a trans-Tasman cookbook featuring food and wine pairings from Kiwi-Aussie chef duo Analiese Gregory and Clayton Wells, see the top picks for travellers to experience the best of New Zealand wine across the country.

Marlborough
Often critically acclaimed as New Zealand's most famous wine region, a wine drinker will know Marlborough as the region with the best Sauvignon Blanc. Aside from crisp wine, the Marlborough region offers fresh seafood and diverse landscapes, from valleys of vines to sheltered waterways. There are more than 30 cellars available for award-winning wine tasting tours alongside vineyard restaurants. Pairing the beautiful wine with fresh local produce is a perfect combination!

Marlborough is also home to Oyster Bay Chardonnay, the pairing selected for Poached Marlborough Greenshell Mussels with Stracciatella, Fennel and Bush Tomato and the Rapaura Springs Reserve Pinot Gris, the pairing selected for Caramelised Kiwifruit and Desert Lime, with Waikato Aged Gouda and Rye Lavosh recipe.

North Canterbury
North Canterbury is known as a breaktaking wine region in New Zealand. The wider region of Christchurch and Canterbury offers scenic contrasts of vineyards, coastlines, mountains and glacial lakes. While visiting, plan a day at Aoraki/Mount Cook National Park, the tallest mountain in New Zealand; check out Akaroa, the most French town in New Zealand, that brings with it a passion for fine food and magnificent wine; and relax in Hanmer Springs' natural hot pools.

North Canterbury is home to the Greystone Nor'Wester Pinor Noir, the wine pairing selected for Central Otago Lamb Ribs with Davidson Plum Glaze and Horopito.

Hawke's Bay
Hawke's Bay is renowned as New Zealand's wine country due to the region's fertile soils and sunny, warm climate. Among New Zealand's leading producers of wine, Hawke's Bay produces notable red wines, including cabernet sauvignon, merlot and syrah and stunning chardonnay including the Villa Maria Chardonnay, the pairing selected for Steamed Coromandel Pink Snapper with Moreton Bay Bug Roe Sauce and Geraldton Wax.

As Hawke's Bay is the first stop on the Classic New Zealand Wine Trail, visitors are sure to enjoy this popular place for wine tours via bicycle along the easy-riding cycle trails.

Notable landmarks include Cape Kidnappers, home to the world's largest mainland colony of gannets; Lake Waikaremoana, where the walking track is among New Zealand's nine Great Walks; and Te Mata Peak, with its 360-degree views of Hawke's Bay and spectacular walking tracks.

Taste Buds is available for all to enjoy via a free digital cookbook, which is available to download discovernew.nz/australia.