Switch it Up! Top Tips to Turn Your House into a Smart Home with Arteor with Netatmo
From 2015 to 2022, the average number of connected devices across Australian households is expected to increase four-fold from 9 to 371, while the number of smart households is expected to rise to 1.6 million. With more and more Australians seeking easy and affordable ways to turn their house into a smart home, Australian electrical brand HPM, in collaboration with their parent company Legrand, is determined to deliver home automation that seamlessly integrates into existing Australian lifestyles, using technology to make life simpler.

A product that is living up to this promise is Arteor with Netatmo, a collection of smart switches and sockets that makes home automation simple and affordable for home renovators. Receiving a prestigious design excellence award in the Product Design category at the 2019 Good Design Awards, Arteor with Netatmo allows you to control lights, small appliances, blinds and shutters; monitor energy consumption; and create tailored scenarios to enhance your life. Users can control their home through their smartphone devices via the Home+Control App, voice command through popular digital assistants like Amazon Alexa, Google Home and Apple Siri.

The flexibility and functionality of Arteor with Netatmo now means upgrades are no longer reserved for new luxury residences. Today, homeowners can give their home a face-lift by experimenting with smart home technology and embracing the benefits. Whether it's a touch-up, renovation or rebuild, Arteor with Netatmo is suitable for all households and allows homeowners to create tailored scenarios to simplify their daily life and free up more time for just living.

Two-time Blockheads, home renovation experts and HPM Ambassadors, Josh and Jenna Densten, are currently building their dream home in Melbourne. Josh comments, "In this increasingly connected era, we feel it's so important that homeowners are moving in the direction of smart home automation. We're now building our 10th property and because this is our dream home, home efficiency and practicality is extremely important to us. We want to create spaces within our home that are specific to our lifestyle and all about making the property calming and practical to us."

Jenna continues, "Even as parents, every little bit of time that we can get back or make life that little bit easier when getting ready for the day, is so important in our busy lifestyle. With smart home automation, we are also interested in watching our home's energy consumption and saving money where we can. Particularly as we experience Melbourne's coldest winter days and hottest summer days, this is something we'd like to monitor and adjust in real-time."

More affordable and easier than ever, Josh and Jenna share their top tips to smarten up each room in the house thanks to Arteor with Netatmo:

Living Room
Take your home entertainment experience to the next level with a little help from home automation. Using your digital assistant, just holler '...start the movie' while Arteor with Netatmo powers on the TV, closes the shutters, dims the lights, and even fires up the popcorn machine for the ultimate home cinema experience.

Master Bedroom
Sleep well knowing that at 7am your personalised "Wake Up" scenario setting on the Home+Control App will open the blinds and shutters, switch on your bedside lamp and fire up the coffee machine ready to start your day. Forget to turn the lights off before hopping into bed? Simply press the 'night mode' button from your bedside table or connected mobile device.

Kitchen
The Home+Control app allows you to monitor your energy consumption in real-time or through an in-depth analysis, showing complete transparency for you household usage per day, month and year. Allowing the user to take necessary action when required, the app will also deliver regular updates and alerts.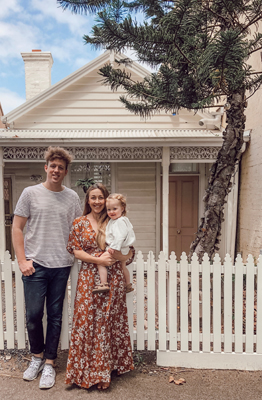 Bathroom
Ever walked out of the house worried you left the hair straightener on? The Home+Control App will notify you via an alert and allow you to control lights and individual appliances remotely.

Hallway
Running out the door? The Master Switch can be conveniently placed near the door so that you can switch off all connected devices when leaving home. Perfect for a holiday or rental property, maintain your peace of mind after a relaxing holiday by simply powering down the lights, fridge and other white-good appliances as you leave.

Kids Bedroom
Using the wireless switches not only means you can ensure your controls are in a convenient spot for you by the bed or lounge, but children can have easy access too, and even be repositioned as your child grows. The Arteor with Netatmo range also allows homeowners to create multi-way switching, without the need for additional wiring, making it possible for the kids to control their lighting from smartphone devices by simply allowing access from the 'master' device during set-up.

Outside
Whether it's enjoying a backyard BBQ or summers by the pool, AQUA smart switches ensure you have safe and reliable power for all occasions. Rain, hail or shine, these smart switches design withstands Australia's toughest weather conditions which means you can control your pool pump, outdoor lamps or flood light all from your smart phone device.

Arteor with Netatmo requires the installation of a 'Starter Kit' which includes the gateway to establish a home network of up 100 individual switches. The starker kit also includes a Smart Light Switch, Smart PowerPoint and Wireless Master Switch.

Arteor with Netatmo is available by HPM exclusively for $489.00 (RRP). Visit hpm.com.au to locate a retailer or visit Mitre 10 stores nationally.

AQUA smart switches will be rolling out in leading retailers nationally from September.