Alt folk rock troubadour, Tim Wheatley is back with a unique dose of melancholy and Australiana, dropping his deeply personal single, Lying Low. The song is complemented by a fittingly dark and manic video clip that showcases the private suffering and switching of personalities that inspired the song.

Produced and engineered by Michael Badger (King Gizzard & The Lizard Wizard, You Am I, Amyl & The Sniffers) at Jaya Jaya Music in Melbourne, and mixed by ARIA award winning Steven Schram (Paul Kelly, San Cisco), Lying Low tells a tale of darkness with that raw, raspy voice Wheatley is best known for, and his intensely introspective songwriting shines. "It was the first song I wrote after moving from Los Angeles to London. The adjustment from sunny California to the cobblestone streets of East London was near impossible for me. I wrote this song feeling more isolated than ever, in a new city, away from family and friends, and without the ability to perform live," explains Wheatley. "I stopped talking about how hard I was finding it, because I was drowning in other people's well-intended but cookie cutter advice. I was going stir crazy in my own company all day and night. It was a true test for my mental health, I was suffering and switching up a few different sides of my personality trying to find the one that could best get me through each situation. It was exhausting 'getting out there' and making new friends, for some reason during this period I felt I needed to keep to myself to get to the other side."

Directed and filmed by Ben Cook (Bombay Bicycle Club, Bring Me The Horizon) at the Sony Music Studios in Sydney in the midst of the bushfires raging across the country, the video's intent was to demonstrate the solitude and strain the move had on Wheatley. "We wanted it to be frantic and dark, but ultimately strong enough to stand on its own," says Wheatley. "Ben and I deliberately went in to the filming of the video wanting to capture something completely unrehearsed and candid with nothing but a light and his new Super8 camera, and possibly a bottle of scotch."

Despite not being written during or about the current global isolation situation, Wheatley insights, "In more 'normal' release circumstances, this song - that is now a year old - would be a memory, or about a circumstance that has since passed. But this time, 'Lying Low' is somehow becoming more relevant by the day. Either that or I'm stuck on a carousel."


Interview with Tim Wheatley
Question: How would you describe your music?

Tim Wheatley : I was hoping you could help 'me' with that. You see, I'm an Australian playing 'Americana' in England. It's a very confusing time for me.


Question: Can you tell us about Lying Low?

Tim Wheatley : I wrote this little tune after moving to London. I was feeling very isolated while working on the songs for the next record and by the time it was recorded and released, I was back in isolation. I hoped to capture both in trepidation and excitement about my new city. Whilst I was consciously riding out a tough time, I knew things would get better.


Question: How has COVID-19 influenced your music?

Tim Wheatley : I'm not sure yet. I'm excited to see and hear what everyone else has been doing during this time. But at this point, without being able to step back and take stock I can't see it being much more than a hindrance.


Question: Which is your favourite song to perform live and why?

Tim Wheatley : 'Burning the Midnight Oil'. It's upbeat, two chords and always the last one. It's about moving on to the next thing - so it's also relevant.


Question: Can we expect a tour once all restrictions are lifted?

Tim Wheatley : Nothing would please me more than to head back to Australia over summer and hit the road. NOTHING!


Question: If you could have anyone, in the world, attend a show, who would it be?

Tim Wheatley : Jeff Tweedy.


Question: What motivates you most when writing music?

Tim Wheatley : Other great songs. Nothing inspires me to write music more than if I hear something I like, something different or even something I'd forgotten.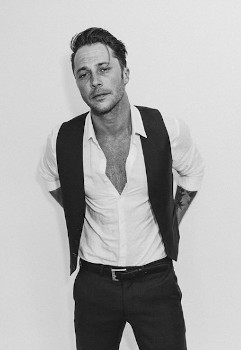 Question: Which music/artists are you currently listening to?

Tim Wheatley : The Pogues, Nick Cave, Amanda Shires, The Replacements, Harry Nilsson & The Drive By Truckers.


Question: What or who was your inspiration to go into the music industry?

Tim Wheatley : My inspiration lay within writing, creating and performing music. As far as the 'industry' itself goes, I'll leave that in the hands of 'professionals'.


Question: Was there a moment you contemplated throwing in the towel?

Tim Wheatley : I ran out of towels a long time ago. As a youngster, I really took to heart bad reviews and people who assumed I had it easier because of my last name. Now I honestly thrive on criticism and feel for those who assume.


Question: What's a typical day like?

Tim Wheatley : I'm an early riser. Mornings are my favourite part of the day and definitely my most productive time. I'll get up around 5am but mentally and physically check out by 3pm.


Question: What has been your favourite part of becoming a music artist?

Tim Wheatley : Loading up the old jeep and heading up the East Coast of Australia. Touring and meeting people was and is still my favourite part of being a musician.


Question: What's next, for you?

Tim Wheatley : Riding out the pandemic, writing, releasing my record and forever missing everyone back home.


Question: Can you share your socials? (links please)

Tim Wheatley : Instagram
Facebook
Tim Wheatley


Interview by Gwen van Montfort