Molly Abbott, a popular teacher at the local school, is found taped to a tree and stoned to death. Suspicion falls on the refugees at the new detention centre on Cobb's northern outskirts. Tensions are high between immigrants and some of the town's residents.

Detective Sergeant Georgios 'George' Manolis is despatched to his childhood hometown to investigate. His late father immigrated to Australia in the 1950s, where he was first housed at the detention centre's predecessor – a migrant camp. He later ran the town's only milk bar.

Within minutes of George's arrival, it is clear that Cobb is not the same place he left as a child. The town once thrived, but now it's disturbingly poor and derelict, with the local police chief it seemingly deserves. As Manolis negotiates his new colleagues' antagonism and the simmering anger of a community destroyed by alcohol and drugs, the ghosts of his own past flicker to life. His work is his calling, his centre, but now he finds many of the certainties of his life are crumbling.

White skin, black skin, brown skin – everyone is a suspect in this tautly written novel that explores the nature of prejudice and keeps the reader guessing to the last. The Stoning is an atmospheric page-turner, a brilliant crime novel with superb characters, but also a nuanced and penetrating insight into the heart of a country intent on gambling with its soul.

About the author
Peter Papathanasiou is the son of migrants and grandson of refugees. His parents emigrated from Greece to Australia. A research geneticist he has worked in the US, UK and Australia. His passion, however, is writing, and he has a Master of Arts in Creative Writing from The University of London. He is the author of the acclaimed memoir Little One. The Stoning is his debut crime novel and the first in an anticipated series. He works and lives in Canberra, Australia.

The Stoning
Peter Papathanasiou
Transit Lounge Publishing
ISBN: 9781925760798
RRP: $29.99


Interview with Peter Papathanasiou
Question: What originally inspired the idea of The Stoning?

Peter Papathanasiou: There were a number of small lightning bolts that seemed to strike to inspire The Stoning. The first was actually being away from Australia geographically – I was living in a small flat in West Hampstead in 2014, the rain was falling outside, it was dark at 4pm, and the streets were crowded. The mild feeling of homesickness and need to escape a dreary, congested Central London transported me to a hot, sunny and remote place in the Australian outback. The second bolt was my own academic background – I have a Bachelor of Laws from ANU, specialising in criminal law, which I always found fascinating, crimes that take place, motivations behind them, investigations and evidence and prosecutions. And the third inspiration were news stories about Australia's human rights treatment of several vulnerable and marginalised groups within society: asylum seekers, refugees and First Australians.

With this as background – the desire for space and isolation, for sun and heat, and with the backdrop of human rights and crime – the idea for The Stoning began to crystallise. A small mythical town with no specific geographic location so that readers could potentially picture it in their own backyards. A largely white township, tensions with the local Aboriginal community, and an immigration detention centre plonked on the outskirts to stimulate the local economy. As the child of migrants and grandchild of refugees, the treatment of 'new arrivals' is a topic close to my heart. The book soon blossomed in my mind.


Question: Are the characters based on anyone you know, in real life?

Peter Papathanasiou: The protagonist of Detective Sergeant Georgios Manolis draws some characteristics from my brothers in Greece, and also a little from me. The characters are otherwise fictional, but I may have been loosely inspired by some of the more memorable people I've met over the years!


Question: Was it difficult reliving certain aspects/times of your life, whilst writing The Stoning?

Peter Papathanasiou: Not vastly difficult. It was more drawing on certain aspects of my life to construct characters and events in the book. It was more difficult reliving parts of my life when I wrote my memoir Little One, which was published in 2019. That was all about my international adoption as a baby and featured many family members.


Question: Is there a message you hope readers take from The Stoning?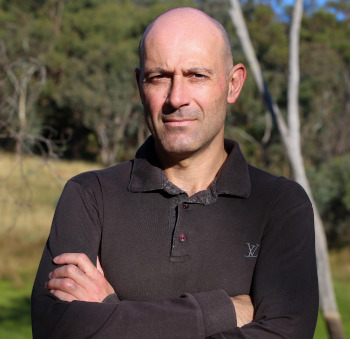 Peter Papathanasiou: While my intention, first and foremost, was to write a compelling crime novel inspired by the vast Australian outback, I also wanted to write something that was more than a whodunit. A whodunit thread can help propel a plot, but mine was designed as a springboard to launch into an exploration of characters and their worlds. Through the prism of an atrocious crime, my aim was to present readers – nationally and internationally – with some important issues, which I hope they take away with them after reading The Stoning. These relate to such themes as immigration, culture, race, religion, identity, assimilation, masculinity, sexuality, addiction, history, colonisation and nationalism. The Stoning is a novel that tries to speak to the world from the island continent down under, and the depths of its vast and ruthless outback. This is not a story of which Australia will be proud, but which I feel must be told.


Question: What research did you do, prior to writing The Stoning?

Peter Papathanasiou: In discussing Australia's treatment of new arrivals, I knew I needed to be true to the nation's original inhabitants, and that the book needed the voice of a First Nations character. So I created Constable Andrew 'Sparrow' Smith, who became the main secondary character to George Manolis, the novel's protagonist. Writing Manolis was relatively easy: he was Greek-Australian, like me. But I knew that writing Sparrow would be harder and that I needed to properly research all aspects of his character. To research Sparrow's character, I read widely, both fiction and nonfiction. I also consulted with the Australia Council and Screen Australia who had published guidelines and protocols for the representation of Indigenous people, culture and concepts. Lastly, I ensured the manuscript was read and approved by sensitivity readers representing the Indigenous writing community. They are acknowledged in The Stoning, along with representatives of the asylum seeker community who also read the manuscript.


Question: What is the best thing about creating a character like Detective Sergeant Georgios Manolis?

Peter Papathanasiou: It was great to be able to live vicariously through a character who is a policeman and gets into dangerous adventures and tries to solve crimes. Manolis is a brave and noble man who is also flawed, struggling with his own demons, and is hopefully a character who the audience can root for as he seeks to both better his own life and bring criminals to justice.


Question: What advice do you have for aspiring writers or artists?

Peter Papathanasiou: Here, I'll pass on some advice that was given to me. First of all: finish your book! So many people abandon their manuscript or lose interest or get distracted. But without even finishing your book, the rest doesn't matter. And second: if you seek to find a publisher for your book, don't give up! Be prepared for challenges, but stay resilient and tenacious.


Question: What or who inspired your love of reading/writing?

Peter Papathanasiou: I was inspired by the usual influences at school, both my teachers and parents, who encouraged me to read widely and also to use my imagination and write. By age 11, I was writing short stories that were several thousand words in length. I seemed to lose the creative urge during my late teens and twenties, and only reconnected again in my early thirties. As a crime writer, I'm especially inspired by the late Peter Temple, who died in 2018. He was the first Australian crime writer to win the UK's Gold Dagger in 2007 for The Broken Shore. In a first for a crime novel, Temple's Truth then won Australia's most prestigious literary prize, the Miles Franklin, in 2010. The name of my character Sparrow is actually an intentional doff of the cap to Temple and his own Indigenous cop named Paul Dove.


Question: What's next, for you?

Peter Papathanasiou: I'm now writing the second book in the Manolis series. Crime stories tend to be very amenable to a series format, and also to screen adaptations. So I'm also working on an adaptation for The Stoning, which is in addition to the adaptation of my 2019 memoir Little One. It has been very educational to work as a screenwriter and translate my writing skills from the page to the screen, which hopefully also makes me a more well-rounded writer.


Interview by Gwen van Montfort