From the author of the bestselling The Pearler's Wife, a riveting novel of seventeenth-century romance and intrigue that sweeps the reader from the canals of Amsterdam, across the waves, to the rough-and-tumble frontier town at the Cape of Good Hope.
In 1683 life is gruelling for the young women in Amsterdam's civic orphanage. The sole light in Johanna Timmerman's existence is her forbidden love for Frans, an orphan in the boys' section who has a smile like sunshine. Then he is gone, whisked across the globe to the Dutch East India Company's nascent colony at Good Hope.

Floriane Peronneau's privileged world is pleasant and fulfilling until she discovers that it is all built on lies. Far from being the devoted gentleman he seems, her husband Claes is a womanizing degenerate who has led them to the edge of ruin. And the forces are closing in on him.

While Johanna's love drives her to make a shocking bargain to secure passage to the Cape, Floriane is caught in a terrifying game of cat and mouse. The two women's lives could not be more different. Yet, on the long, dangerous voyage to the southern tip of Africa, they will become the best of friends – and co-conspirators...

About the author
Roxane Dhand was born in Kent and entertained her sisters with imaginative stories from a young age. She studied English and French at London University, and in 1978 she moved to Switzerland, where she began her professional career in public relations. Back in England and many years later on, she taught French in both the maintained and private sectors. Now retired, she is finally able to indulge her passion for storytelling. The Pearler's Wife is her first novel.

The Orphan of Good Hope
Penguin Books Australia
Author: Roxane Dhand
ISBN: 9780143789666
RRP: $32.99
Interview with Roxane Dhand
Question: What originally inspired the idea of The Orphan of Good Hope?

Roxane Dhand: A few years back, on holiday in South Africa I had dinner in the lovely restaurant Catharina's (now renamed Tryn) which forms part of the Steenberg wine estate in Constantia, Cape Town. The restaurant was named after Catharina Ras, the first owner of the estate.

Her fascinating story was printed on the back of the menu and as I read it, I saw the earliest outline of my character Johanna in my novel, The Orphan of Good Hope.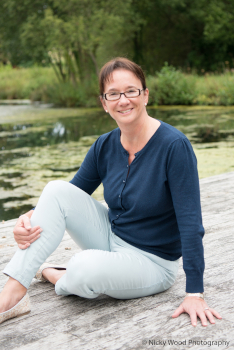 Question: How did you develop your approach to the 1600's in the Netherlands?

Roxane Dhand: Through extensive research. There are many brilliant reference works written about the Dutch Golden Age, so I started there, to immerse myself in the period. After that, I read as much as I could – fact and fiction – about Amsterdam during the specific timeline of my story. I also took a trip to Amsterdam. There is so much to see that is still as it was then; the canals, tall narrow houses, the Amsterdam Museum building was the original civic orphanage in my story and the Ship Museum has a full size replica of an East Indiaman – the ship that took Johanna to the Cape.


Question: What did you learn, about yourself, whilst writing The Orphan of Good Hope?

Roxane Dhand: This is a difficult question to answer because as a writer you inhabit the character of the individuals you write about, to bring them to life. As such, it is hard to separate what traits belong to me or to a fictional person I am creating. Often a character develops behaviours which you realise are fundamentally your own oddities and it helps you understand a bit more about your own motivations.


Question: Are the characters based on anyone you know, in real life?

Roxane Dhand: I think all writers draw on what they know whether it be places, events or people. I try to find photographs of actual people from the period in which I am writing and stick them on the wall in my office. That way, I can see their faces and they become real from the outset. Their characteristics and mannerisms develop from what I observe when I am out and about or amongst friends. People I know in real life might inspire the way my characters react, but I never have one particular person in mind as I am writing.


Question: How much of your inspiration comes from real life and real people?

Roxane Dhand: I'd say all of it. My first book, The Pearler's Wife came about when I visited Broome and learned about the pearl diving industry in Australia at the start of the twentieth century. The characters in that novel are based on real people and I used true events as far as possible for what happens in the story. Similarly, in The Orphan of Good Hope I have based my cast of characters on people who actually did live in the seventeenth century and tried to use real happenings as far as I was able.


Question: What research did you do, prior to writing The Orphan of Good Hope?

Roxane Dhand: When setting a book in a historical context, it's really important to have the detail correct or it will not be credible to your readers. In preparing for and writing The Orphan of Good Hope, I would say that I read upwards of sixty books and spent hours and hours on the internet. I also travelled twice to Cape Town and spent a fascinating time in Amsterdam with a check list of places to visit – most of them off the tourist track.


Question: What is the best thing about creating characters like Johanna and Floriane?

Roxane Dhand: It's wonderful to be able to create characters who say things or behave in a way that we are not necessarily able to do in real life. All those inner frustrations can come out on paper without running the risk of offending people!


Question: What advice do you have for aspiring writers or artists?

Roxane Dhand: Try to write every day – including weekends. Some days are more productive than others, but I do think it is important to put words down on paper in a regular, disciplined way even if you end up discarding more than you keep. Writing is a job when all said and done; you have to sit at your desk and work at it.


Question: What or who inspired your love of reading/writing?

Roxane Dhand: I come from a family of avid readers. I could read by the time I went to school at five years old so I can't really remember a time when I have not had a book "on the go" or a story in my head.


Question: What's next, for you?

Roxane Dhand: I have just finished the first draft of my next book – working title The Anglo-Indian Bride. It's set in British Raj India in 1902 at the time of King Edward VII's coronation. As with all my books, it has its foundations in a true story – which was given to me a couple of years back. I don't want to give too much away just now but have you ever dreamed of running away to the circus?!


Interview by Gwen van Montfort