The Leftover Cuties Interview
Some things are eternal. Love songs. California sunsets. The ukulele.
Leftover Cuties embody all of that goodness on their debut album Places To Go. Produced by Tony Berg (Bob Dylan, Michael Penn, Jesca Hoop), the eleven breezy, sophisticated songs evoke a magichour stroll on the beach with a special someone. Who knows what year it is? Who cares when the songs are this sweet?
To call Leftover Cuties retro or throwback would be too easy, and frankly dismissive. Sure, the music fits beside Billie Holiday, but it's also current in its sex appeal, its sophistication, its confidence. The Cuties' music - plied with upright bass, accordion, the brushed drums, and yes, ukulele - is not slavishly old-timey, but honors its forebears in the right way. Melody. Sharp playing. Stylized, confident, character-laden singing.
When Leftover Cuties chanteuse Shirli McAllen steps to the microphone, she commands your attention because she's got something to say. And a beguiling way of saying it. Sultry. Aching with longing, yet in control. She's the Cuties' charmer-in-charge, and her silky voice hooks you from the get-go. You keep looking to see bluebirds landing gently on her shoulder for a listen. You could hardly blame them.
When McAllen first moved to Los Angeles from her native Israel (where she served in the army), she was still finding her way musically. "I grew up listening to Israeli music, '90s grunge rock and singer songwriters," she says. After a couple of years trying to make her mark in the city's crowded singersongwriter scene - a lot of good writers and singers, but not a lot of memorable personalities - she struck up a friendship with multi-instrumentalist Austin Nicholsen.
"One day, Austin walks in with a ukulele," McAllen says, "I thought it was a toy. He started playing and I started singing the lyrics. We wrote 'Game Called Life' in about five minutes." With a newly defined musical direction, the duo dubbed themselves Leftover Cuties (more enigmatic and distinctive than Old Clementines, and sweeter). Stuart Johnson (drums), Ryan Feves (bass), and Mike Bolger (keys, horns, accordion) came on board to flesh out the sound, and the band was off and running. In 2010, that sweet tune written on a napkin in five minutes was tabbed as the theme song for the acclaimed Showtime series "The Big C" starring Laura Linney. The band's fan base swelled, with fans emailing them from all over the world, and their live shows packing them in.
With a debut album that delivers on the promise of that early success, Leftover Cuties' journey has just begun. They've got places to go…
- Written by Jonathan Palmer, Los Angeles, March 2011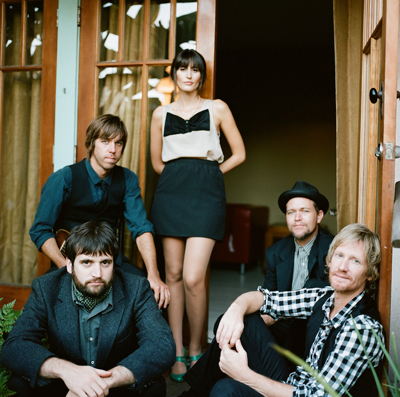 Interview with Shirli McAllen
Question:
How would you describe The Leftover Cuties, music?
Shirli McAllen
: I like people to make up their own minds about what we sound like. I've heard people call it pop noir, modern cabaret pop, beach music, etc. If pressed, I would say it's retro with a modern twist. It's light hearted, but also sultry and dark at times.
Question:
How did it feel to hear your songs played back?
Shirli McAllen
: It was so exciting and nerve-wracking at the same time. We had been working on the music for so long, and to finally hear it in its finished form was unbelievably gratifying. There was a part of me that was afraid I was going to hear something I didn't like and that it would be too late to go back and fix, but I ended feeling so proud, and so excited to start sharing it with everyone.
Question:
Did you have any pre-conceived ideas about the music industry?
Shirli McAllen
: All of us have played with different bands before we formed Leftover Cuties, so we knew a lot about the music industry and how it is changing. It was really important to us to build as much as we could on our own before joining what I guess you would call the "music industry."
Question:
Do you write your own songs? What's your inspiration?
Shirli McAllen
: Yes we do. I am inspired by everything and everyone; often by my close friends and family, and by nature.
Question:
What music/artists do you listen to when you are not playing your own?
Shirli McAllen
: So many. Most recently Bon Iver, Mumford and Sons, Arcade Fire and a local artist named Blake Mills.
Question:
What's next? Tour/Album/Single?
Shirli McAllen
: We released our debut LP "Places To Go" three months ago and we are already itching to start work on the next one. Definitely hoping for the right tour opportunity to come along as well.
Question:
Was there a moment you contemplated throwing in the towel?
Shirli McAllen
: Sure, a few times. I think a part of being an artist comes with this back and forth feeling of doubt and renewed confidence. I used to go through that all the time before Leftover Cuties was formed. These days I feel it much less, but I still have a bad day now and then. Luckily so far there's always been something that keeps me going.
Question:
Do you prefer performing live or recording?
Shirli McAllen
: I love performing because it feels very natural and it's different every time. There's more room for spontaneity and experimentation. In the studio everything is under a microscope and that can feel a little unnatural at times. It's such a different dynamic, but I love both for different reasons. I love that we were able to record our album live and bring some of what we do in our performances into the studio.
Question:
What/who was your inspiration to go into the music industry?
Shirli McAllen
: My brother. He played guitar and wrote songs when we were young and he inspired me to do the same.
Question:
What is the biggest challenge you have faced along the way to your musical success?
Shirli McAllen
: The most challenging part is when you have to let someone in the band go.
Question:
What's a typical day like?
Shirli McAllen
: In the morning I answer and write e mails, I send CD orders and talk to our manager about things we need to get done. In the afternoon Austin and I usually get together to work on songs, some days we meet with the whole band. On days we have a gig, I make a set list, and I do a vocal warm up and look for an outfit to wear.
Question:
What has been your favourite part of becoming a music artist?
Shirli McAllen
: Sharing my music with people who are moved by it. Especially from The Big C, we have seen people who have cancer reaching out and saying that our song really helped them. It is such an honor to know that our music is helping people who are in the darkest period of their lives.
Question:
If you could collaborate with another artist, who would it be?
Shirli McAllen
: Tough one. Probably Tom Waits.
Question:
Do you have a website fans can visit?
Shirli McAllen
:
www.leftovercuties.com
and you can also find us on Facebook.
Question:
Can you tell us 5 things required for a happy healthy & enjoyable life?
Shirli McAllen
: Doing what you love
Eating well
Being outdoors in the sun
Having positive loving people in your life
Traveling
Question:
What message would you like to say to your fans?
Shirli McAllen
: Follow your heart.
Question:
What is the story behind the bands name?
Shirli McAllen
: One night at the bar I was working, after a few of my co- workers had left work, my friend Josh came up to me and my friend Maria and said " You guys are the Leftover Cuties". It immediately struck me as a great name for this new project I had just started with our ukulele player, Austin.
Interview by Brooke Hunter