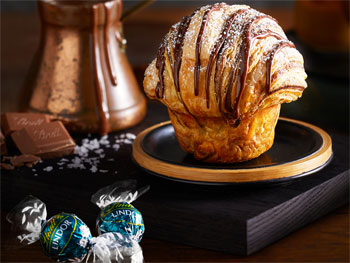 International Day of Donuts
Back by popular demand, the Duffin makes a return to Muffin Break stores around the nation on June 1st, which is the International Day of Donuts!

Baked fresh in-store, the Duffin is a popular creation that is half donut, half muffin. For the first time, the new Duffin has also been given lashings of delectable chocolate by Master Chocolatier, Lindt.

Available for a limited time only, the Duffin is made with crispy, buttery layers of pastry, filled with a melted Lindt creamy milk chocolate and a Lindor ball that oozes a salty caramel filling with every bite.

Incomparable Swiss chocolatier Lindt is an Australian favourite. Lindt chocolate's exquisite flavour comes from its careful blend of high quality beans. The salted caramel Lindor ball at the centre of the Duffin is a dark chocolate shell with delicate pieces of salt and a smooth caramel flavoured centre.

Muffin Break are delighted to launch the Duffin on the International Day of Donuts, which started in 1938 as a fundraiser for The Salvation Army in the United States. Donuts were served to soldiers to honour The Salvation Army Lassies of World War One.

Enjoy a Duffin to continue this beautiful tradition of recognising war heroes - with a twist!

Beat the rush and head into your local Muffin Break early so you don't miss out. The new Duffin is available for a limited time!

Warning: Duffins may be dangerously addictive.