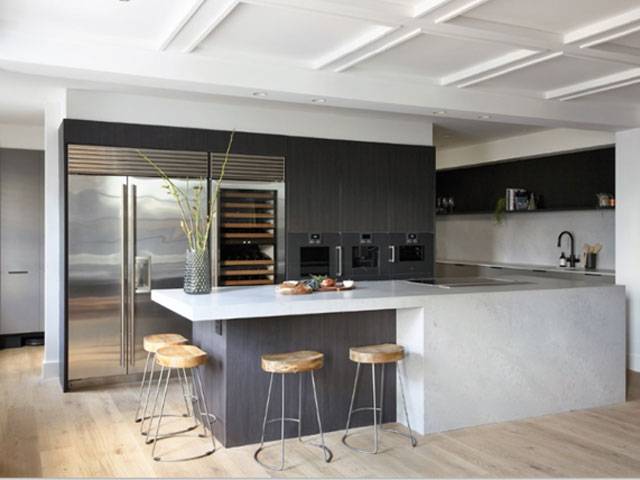 Biggest Kitchens and Butler's Pantries Ever On The Block Showcase The Latest Trends In Kitchen Design
It's always one of the biggest weeks on The Block, and Sunday night's Kitchen Week reveals delivered some of the biggest – and most beautiful – Freedom Kitchens ever!

From covetable amounts of cabinetry to HUGE butler's pantries, these five brilliant new kitchens showcased the latest in stunning kitchen design, finishes, and appliance technology.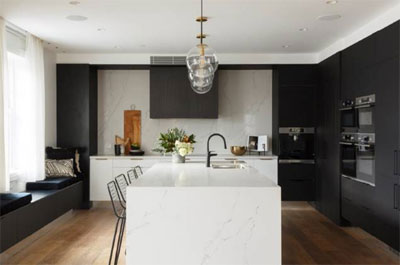 Kerrie & Spence in Apartment 1 were the winning contestants of Kitchen Week, awarded a perfect 30/30 points for their refined design using contemporary neutrals and a timeless layout. Their kitchen features a sleek central stack of cabinetry in the Freedom Kitchens colours of 'Burnished Wood' and 'Moose', complete with sophisticated integrated appliances including a large Sub Zero fridge, wine storage, and side-by-side ovens by Gaggenau. Their hero island bench also featured Burnished Wood, with Caesarstone's new 'Airy Concrete' taking pride of place for the benchtop with its stunning concrete-look finish. Vast in stature, the island benchtop hosts a Gaggenau ventilation system for the cooktop which rises from the benchtop from within the 'stone box'.

The judges were blown away by the high end design in this kitchen. Shaynna said: "this is out of town!" and Darren said if it was his home he'd be pretty damn happy, while Neale said it was paradise for anyone that loved cooking – the ultimate comment for a perfectly executed kitchen.

Coming in second place from Apartment 3 were Hayden & Sara, who created a spacious entertainer kitchen with black & white impact. They used 'Supa Black' for an entire wall of cabinetry with Bosch ovens, contrasted by 'Alaskan White Gloss' drawers and a touch of 'Burnished Wood' to conceal their rangehood. Amping up the luxe factor is a large island bench with waterfall ends in Caesarstone's marble-like 'Statuario Nuvo', which was also used for their oversized splashback which extends up to the ceiling. Oriented in a different direction to the other contestants, their vast island faces a window with bench seating and storage. In their beautiful butler's pantry, they incorporated Freedom Kitchens' NEW '2020 Black Alumin' rack shelving, drawing from one of the latest kitchen design trends from Milan.

The judges loved this kitchen, appreciating the flipped benchtop orientation and space for four stools. Neale said it had a "sense of generosity" and meant business from an entertaining perspective, and that "When cooking, you'd feel connected to your guests." The hidden butler's pantry made a great impression and they even loved some of the smaller details like the mirrored kickboards with LED lighting.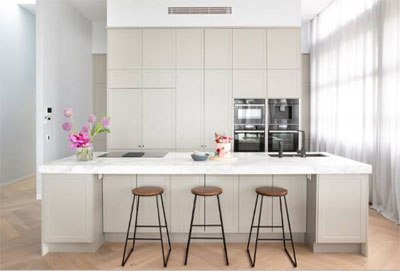 Coming joint third place in Apartment 4, Norm and Jess created a contemporary Hamptons style kitchen using Freedom Kitchen's SIERRA profile doors in the versatile 'new neutral' hue of 'Stone Grey'. When it comes to storage, the full potential of the high ceilings have been realised with plentiful amounts of floor-to-ceiling cabinetry throughout – something the contestants felt was lacking within other areas of their apartment. The contemporary take on a classic also has an added level of luxe with marble-look benchtops: Caesarstone®'s 'Statuario Maximus' amplifies the beauty of the space with its subtle vein patterns. The huge island benchtop plays hero in the centre of the kitchen, incorporating ingenious hidden storage such as an integrated fridge, pantry pull outs and internal accessories for ultimate organisation.

The judges loved the Shaker-style cabinetry and Neale thought that aesthetically everything was "beautiful and luxurious", while Darren liked the layout and noted the benefit of being able to enter the butler's pantry from either side. While there a couple of functional elements the contestants may have missed, all three judges agreed that this this kitchen is "one of the most beautiful kitchens ever produced on The Block.

The high ceilings match the lofty goals of the Bianca and Carla in Apartment 5, who also came in joint third with Norm and Jess. They chose to put in a tall wall of joinery using Freedom Kitchen's (NEW) 'Fox Grey' and 'Charcoal Riven' for high-impact streamlined storage. The inclusion of an enormous butler's pantry concealed behind the wall of cabinets offers an abundance of storage and benchtop preparation zones, as well as integrated appliances. The pale grey and white hues in both the joinery and stone are offset by the deeper charcoals and a subtle texture in the cabinetry. Caesarstone®'s 'Cloudburst Concrete' finish is stunningly impactful in this space, adding to the high-end industrial feel. Touches of warmth have been added to the space with Freedom Kitchens' timber-look 'Halifax Oak' used for a small study nook – the perfect place for place for homework.

While they lost some points for missing elements like a bin or dishwasher in the main part of their kitchen, Darren loved the Caesarstone® Cloudburst Concrete which he also has in his own home, and he thought the pendant lights were fabulous. Neale called the room "sexy and sophisticated" and Shaynna said they'd nailed their market, once again displaying consistency from room to room.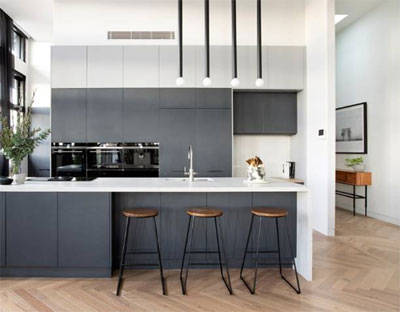 Courtney & Hans' kitchen in Apartment 2 garnered the lowest scores due to their unusual layout, although they incorporated loads of storage into their kitchen design with floor to ceiling cabinetry in 'Charcoal', housing their bank of Bosch ovens. They brought some metallic glamour into their design with the upper run cabinets in 'Champagner', offset with lower neutral cabinets in 'Paperbark'. Caesarstone's White Attica was used throughout, from the island benchtop to the splashbacks, with the beautiful clean white base featuring a dark grey vein that ties back into the 'Charcoal' cabinetry.

Despite being disconnected from the dining area, Neale said everything was nice stylistically, and Shaynna said you can't fault the functionality of the kitchen itself. Darren loved the finishes - especially the metallic cabinetry, which he also has in his own kitchen. "My heart belongs to this finish - I think it's absolutely beautiful.."

This year's Kitchen Week has provided plenty of new kitchen ideas and inspiration for viewers. And as the heart of the home and the room that sells houses, the kitchens within The Block houses will no doubt be a key factor in the winning bid prices on The Block Auction Day next month.

To view The Block Freedom Kitchens 2018 galleries and videos online, visit: https://www.freedomkitchens.com.au/the-block-2018/
Readers who would like to enter The Block Freedom Kitchens competition to WIN a $30,000 Freedom Kitchen can do so at: https://freedomkitchens.com.au/the-block-2018/