From Messy and Cluttered to Organised and Stylish
All Sorted Out founded by decluttering expert Jo Carmichael. Jo takes your home (and life) from messy and cluttered, to organised and stylish, whether you're selling or staying. Jo is a Professional Organiser, who declutters homes in preparation for sale.


Interview with Jo Carmichael, All Sorted Out Founder
Question: What is decluttering?

Jo Carmichael: Decluttering is removing unnecessary items while keeping the ones that are useful or bring us joy. This could be in your home, your work space or even your diary. Decluttering is all about sorting and organising your things to create more space, and has no down sides.

Everything will improve everywhere you look. You'll feel fantastic, emotionally lighter and energized. So tackle that small space today " whether it is a drawer, a purse, or a shelf. With each achievement, you'll build motivation and as Marie Kondo says you will receive Sparks of Joy.


Question: What inspired your passion for decluttering?

Jo Carmichael: A love of feng shui, working in film, television and being organised.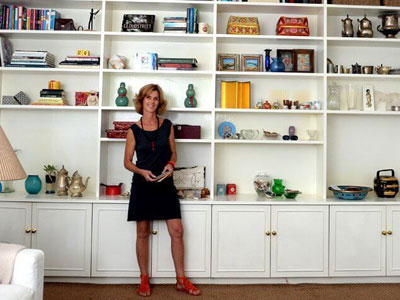 Question: What is all sorted out and how do you help Australians?

Jo Carmichael: My passion for living a busy yet calm lifestyle led to becoming a professional organiser, which is how all sorted out was born. We are living in a time of wealth with ample possessions, yet many of my clients and family had also lived through the depression when receiving an orange, as a Christmas gift was the norm. So I help people let go of the excess allowing them to live an uncluttered life with less things.

I help Australians take their home from messy and cluttered, to organised and stylish, whether you're selling or staying.

all sorted out works with Real Estate Agents and Property Stylists to ensure vendors achieve the maximum price for the sale of their property.
all sorted out is based on The Northern Beaches of Sydney and available to clients around Australia. If downsizing to a smaller home, we declutter your possessions enabling you to do this. Our bespoke service is tailored to your needs. Using the 'Kon Mari' technique we can streamline your home to give you a more organised and efficient home and life – we get you all sorted out.
Question:
How does decluttering reduce our environmental footprint?
Jo Carmichael
: A big part of decluttering is sorting through our possessions keeping the ones that are still relevant and useful right now. Possessions that are no longer needed were gifts that don't suit, or have been out-grown can be donated to so many charities - so that others can enjoy them. This is an environmentally friendly way to let go - and be kind too. For instance, repurposing an antique chest of drawers to house shoes means that furniture has a new lease on life.
Question:
What is minimalist living?
Jo Carmichael
: Minimalist living is all about saying goodbye to those unnecessary items you think you need but probably don't. When sorting through your things make a conscious effort to work out what you use, and don't use, this helps us decide what we actually do and do not need.
Question:
How does a decluttered house increase your likelihood of a fast and profitable sale?
Jo Carmichael
: Presentation of a home is everything when preparing to sell. The first thing a buyer will look at is how the home is presented, trying to imagine how this home could potentially look house their furniture and lifestyle. A tidy, uncluttered and organised presentation in a home encourages aspiration. This tidy inviting space generates a positive emotional response to buyers. For example, they will aspire to wanting to live here and needing to buy this property.
My top tips when selling a home are:
Ensure the front garden and entrance is immaculate, this is the first thing buyers see
Declutter and pack away as many excess household items and photos as possible.
Open the curtains and let in fresh air and as much sunlight as possible. Kitchens and Bathrooms are the prime areas of interest for buyers, makes
ure they are spotless.
If you have a pool, make sure its sparkling clean, with a fluffy beach towel draped over a comfy chair
Place fresh flowers or foliage around the home
Question:
What advice do you have for those of us who need to declutter our home, even if we're not selling?
Jo Carmichael
: Clutter is a known cause of stress and agitation. So decluttering and organising the home is good for our wellbeing - whether selling or not.
I suggest starting with your own clothing and bedroom. By practising how to sort, keep and discard your own clothing first and creating some calm in your bedroom will help you understand the process so you can then go on to do the rest of the home. Many people want to tidy the living room first because this is what guests see when they enter the front door. The inspiration is that when you declutter and make a home for things you will be able to find things like the car keys, both shoes and the kids' sports kits easily every time.
Question:
How are you reducing your plastic consumption at home and in the office?
Jo Carmichael
: We constantly take a lot of things to the charity stores, so when possible I like to re-use shopping bags - plastic, cardboard and fabric, also re-using cardboard boxes from the grocery stores for this purpose. It's like reverse shopping. Having a decorative cane or rattan basket in the office or living room makes it super easy to place all cardboard or paper there for recycling.
Interview by Brooke Hunter