Trick of the Light Album
Melbourne soul band That Gold Street Sound's debut offering brings to fruition six years of hard work and showcases a fiercely independent band on the rise. The 10-track album takes listeners on a journey through disco undertones, R&B influences, slow jams and soulful romance. From the opening track of Trick Of The Light, That Gold Street Sound set the foundation for a consistent groove with solid arrangements, slick foundations of brass and bass, gritty yet smooth soul infused rhythms and a vocal suppleness that demonstrates their originality. Its evident this is a band who have been performing together for years – and who rely on their live show to showcase their music – they embody the old-school soul approach and it shows in their authentic release.

Trick Of The Light not only features the eight-piece That Gold Street Sound, but also included guest strings, a Hammond and a 15-piece choir. The opportunity to experience this collaboration in the studio was fortuitous in itself. Initially the band was only going to record an EP, but a chance performance spot on the New Music Stage at St Kilda Festival saw them winning the Best New Act prize in 2017, funds that they immediately funnelled into their recording project.

"We were able to record an album that we are really proud of," says lead vocalist Shaanika Marguccio. "The album showcases the band's history and growth over the last six years beautifully. There are true soul songs from our initial years, but I think we have really started to find a more modern sound, which is a sound that is a bit more our own. We recorded this album over two years and you can really hear the progression from the early recordings to the new ones. Reflecting back, it has been such a gift to be able to hear how much we have grown in our sound as a band."

With all band members working outside their musical commitments, the album was recorded across weekends and other spare time. Any spare time the band had was dedicated to getting Trick Of The Light right. The album was recorded at The Aviary Recording Studio and was produced by Fraser Montgomery and the band. Being a fiercely independent soul band, it was important for That Gold Street Sound that they have a hand in ensuring the sound was right. They whittled down the many tracks they had penned over the years to create 10-tracks – curating an A-side and B-side that was representative of the band's sound.

Leading into the album's release, the band dropped two singles, Only Lonely and Rain, two completely different tracks, to give an insight to audiences on what was to come. "We decided on releasing these two tracks first as they really contrasted from each other and I believe show the band's diverse sound at the moment," says Shaanika. "We love all the positive feedback and hope it has excited our fans to want more from us. The plan of attack is to release our next single, the album title track Trick Of The Light, which we have just finished recording the film clip for. We also aim to release a few post album singles following the launch."

Trick Of The Light will be released as both a CD and vinyl, something that was important to the band, who are avid collectors of funk and soul records. "It's difficult to explain that special feeling and sound that a vinyl record provides," says Shaanika. "It's a true authentic experience, even down to the feeling of it in your hands. Getting our hands on our very own LP after so much time and effort that went into its production, was such an incredible moment. We remember opening up the gatefold and seeing the pictures and the lyrics for the first time. It was really exciting."

That Gold Street Sound's debut full length album Trick Of The Light is out now.
For more information, please visit www.thatgoldstreetsound.com


Interview with Shaanika
Question: How would you describe your music?

Shaanika: If you were to ask this question prior to us making the Album, I would have said straight up Soul/ Funk. But with this new album we have been writing more modern sounds. There are so many fantastic bands in Melbourne that are taking that Soul sound and exploring new avenues. We have been calling it Melbourne Soul.


Question: Can you talk us through the process of Trick of the Light?

Shaanika: We are so excited to share the new album, which I believe showcases our growth as a band. The album was one of those beautiful, unexpected opportunities life sometimes gives you. Initially we never intended on recording a full album, mostly due to lack of time and finances. It wasn't until we won the Best New Act prize at St Kilda festival that gave us the ability to turn an EP into an album. We've been together for a decent amount of time now, so as you can imagine, had a range of songs to pick from. You can really hear the contrast between our earlier songs, which are more straight up Soul, to our to- date sound, which has a more modern feel, a sound that I believe is a bit more our own.

The recording process took us two years due to all of us having full time jobs and unfortunately not being able to take off a week or two at a time. So it was spaced out over weekends when everyone was available. What I really loved about this album was I got the chance to play keys in addition to lead vocals for a large majority of the songs, which definitely added another level to our sound and gave me the opportunity to feel even more part of the band. In the studio we experimented with different keys, which included Rhodes, Wurlitzer and Piano, as well as adding a 15- piece choir, strings and a Hammond, which really added to the sound.


Question: Do you prefer performing live or recording?

Shaanika: 100% performing live! There's no better feeling than that rush you get from your audience, and it's a bonus when you get to share that special feeling with seven other amazing people on stage!


Question: Which is your favourite song to perform live and why?

Shaanika: Even though it's one of our oldies, "Get' Up" is one of those songs that no matter how many thousands of times I heard it, I can never sit still listening or performing it. It just gives me this rush on stage and all I can do is dance!


Question: If you could have anyone, in the world, attend a show, who would it be?

Shaanika: This is easy. Hands down Sharon Jones and the Dap- Kings. I was lucky to see Sharon perform at The Corner Hotel a couple of years ago and man could that lady sing and dance. She absolutely had the crowd feeding out of her hand, with an energy so contagious. She was not only an incredible singer and performer, but she was one of the most humble and kind performers I have ever had the pleasure to meet. She would give each of her fans the time to meet and hang out with them after the show. It was so beautiful to see how fame and success didn't change her values and just being a kind human.


Question: What is the story behind the band name?

Shaanika: When I first auditioned for the band, the band was originally called 'The Youngs'. A couple of years later we received a confronting email from the States demanding we change our name immediately from an American band also called The Youngs. It really put a spanner in the works and we struggled for a while tossing and turning over ideas until we received another email, which really put the pressure on us. At the time Jim (guitarist) and Steve (drummer) were neighbours on Gold St, which is actually where the majority of the members first met. We decided to all catch up at the local pub, The Fox, during the deadline week, which was a common place where we would hold our band meetings. The combination of looking around and appreciating how the street and suburb brought us together as a band inspired us to name the band after the street Jim and Steve lived on, "Gold Street".


Question: How did the band come together?

Shaanika: Back in the day, Jim (guitarist) and Steve (drummer) lived next door to each other. Jim was always hearing drums through the wall, so instead of making a noise compliant he went over, introduced himself and suggested they start a band.

A couple of years after, they had just lost their lead vocalists. I had always wanted to be in a band, so as soon as I finished year 12 my friend dragged me along to jam with the guys. Little did I know it was actually an audition. At the end of the night they offered me to join them as lead, and the rest is history.


Question: What motivates you most when writing music?

Shaanika: In my early teens, when I started writing, it was always about the latest boy crush. From there, I was never really lucky when it came to love, so heart break seemed to play the central theme of a lot of my music. When I met the band, it was great collaborating and writing as a team. It opened a world of variety and really strengthened my lyric writing, and showed me songs don't always have to be intense full of emotion and sadness, although there's nothing like writing a song to vent your feelings and help get over a guy.

Gold Street has always been about bringing the fun back, particularly when the bad and ugly always seems to be at the forefront of our news and media. Though our latest album includes songs showing a more emotional side compared to our previous work, at the end of the day a major motivation in our music is we just want to get people up and dancing their worries away.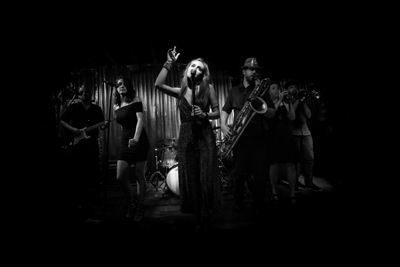 Question: Which music/artists are you currently listening to?

Shaanika: Currently I've started going back to the classics….Stevie Wonder, Elton John, Michael Jackson, Diana Ross. All the good stuff I was brought up on.


Question: What or who was your inspiration to go into the music industry?

Shaanika: Music has always been around me from a young age, including whilst my Mum was pregnant with me. Both my parents have a musical background and play piano. They both taught piano part time whilst going through Uni. Dad was also a keys player in a wedding band and used to write songs, entering them in the Italian song festivals in Melbourne. I really can't remember a day at home without someone on the piano or Dad rocking out and jamming on his keys and synths in his upstairs study. So as soon as I could sit, I was at the piano playing away.

From this, I grew up learning classical piano and finding musical theatre, which is where I found my love for the stage and performing. It was always a goal to join a band as soon as I finished school, as my parents really instilled the importance of getting an education and having a "plan B". As much as they drilled the brutal reality of going into the industry, when you have a passion and love for something it really is hard to stay away. So here we are!


Question: If you could collaborate with another artist, who would it be?

Shaanika: Would have to be Stevie Wonder…he can do it all! Sing, write, produce and literally play every instrument under the sun. He's what I believe is the true definition of what a musician is. Close second would be Amy Winehouse. She had a talent you can't teach! Her lyric writing was also out of this world.


Question: Can you share your socials?

Shaanika: Facebook
Youtube
Soundcloud
@thatgoldstreetsound


Interview by Brooke Hunter