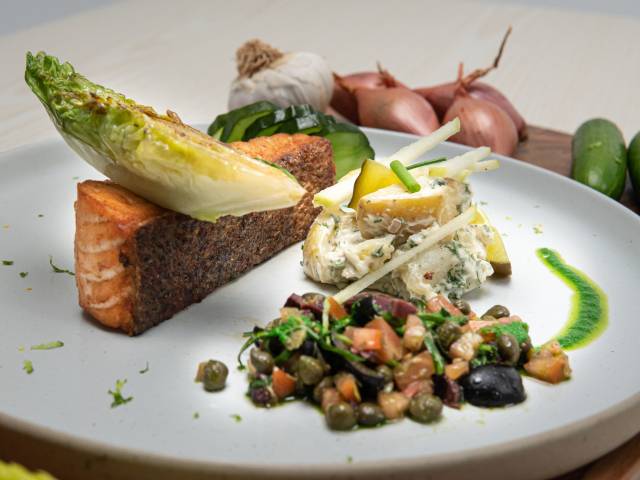 Crispy skin Tassal salmon with apple, gherkin and potato salad, baby gem, pickled cucumber and Mediterranean salsa
Start with the pickled cucumber

For the pickled cucumber
1 cucumber
200 ml of rice wine vinegar
100 gr of white sugar
100 ml of water
3 pieces of star anise
1 cinnamon quill

Peel of one lemon
Slice the cucumber in ½ cm slices
Put all the other ingredients in a pot and bring to the boil
Pour the liquid into a container and cool down in the fridge
Once cool add the cucumber slices and let it rest for an hour

For the salmon
2x 300g packs of Tassal Tassie salmon, skin on
Place the salmon fillets skin down on kitchen paper to dry
Generously sprinkle the skin with fine salt
In a frying pan on low heat add some vegetable oil and place the salmon fillets skin down
Make sure to press the salmon through the pan-frying process and start upping the heat to ensure a crispy skin

Cook for approximately 10-12 minutes

For the salad
2 large potatoes
1 granny smith apple finely diced
3 tablespoons of whole egg mayonnaise
½ a bunch of chopped parsley
Zest of ½ a lemon
100 gr of finely diced dill gherkins
Salt and pepper to taste

Peel the sweet potatoes and dice in 1 cm cubes
Blanch in boiling salted water until almost cooked (approx. 15 minutes)
Strain and cool on a kitchen towel
In a bowl mix the sweet potato with the gherkin, apple, mayonnaise, lemon zest, parsley and season with salt and pepper and set aside

For the salsa
4 large tomatoes, seeds removed and finely diced 100 gr of kalamata olives finely diced 60 gr of small capers ½ bunch of basil 200 ml of quality olive oil

In a bowl place all the ingredients and mix together Season with cracked black pepper and sea salt

For the baby gem
2 pieces of baby gem cut in half

To serve
Place salad on a plate alongside the salmon. Garnish with the pickled cucumber and serve salsa on the side or over the top.