Perth's queen of moody indie rock Tanaya Harper is excited to announce new single 'Emma' along with an intimate live performance to a real life audience in her hometown before the year is up. Since releasing her debut EP Some Kinds in 2018 and recent follow up Slow Motion Breakup earlier this year, Tanaya has grown an avid following with her insightful lyricism in the studio and charismatic banter on the stage. Her music resonates with audiences far and wide as she delivers her personal experiences with depression, anxiety and living with bipolar disorder. Now, the rising young artist is thrilled to reveal the next chapter in her songwriting journey with her latest ode to recklessness, 'Emma'.

'Emma' was produced by multi-WAM Award-winning producer and engineer Dave Parkin (Jebediah, Abbe May, Spacey Jane) and mastered by William Bowden and is a catchy dose of danceable catharsis. Channeling '90s indie rock and noughties indie pop, all driven by an edgy garage vibe that packs a punch of present day angst, 'Emma' is Tanaya's first new music since her well-received Slow Motion Breakup EP of this year. Wrapped up in epic riffs and heart pulsing drums, its anthemic sing-along chorus stays with you long after you drop the hairbrush mic.

"Emma is a sad song thinly veiled as a fun song. It's about a couple months of recklessness I embarked on following a breakup. At the time I felt totally justified in my actions when really, grief and denial were always looming. I was partying pretty hard and having lots of fun with all my friends but once I was alone it would just hit me, all the confusion and unresolved issues and the 'what ifs?'" - Tanaya Harper

Having supported many admirable musicians, including Alex The Astronaut, Jess Locke and Abbe May, as well as sharing the stage with artists like Stella Donnelly, Lucy Peach and Carla Geneve, plus performing in her bands Bells Rapids and Ghost Care, Tanaya is a true staple of Perth's live music scene. With a lot of Australia at a live-music standstill in 2020, Western Australian's can rejoice in the opportunity to see Tanaya Harper live at her upcoming single launch at The Bird, Perth on Friday 20 November with local artists Hannans and Smol Fish supporting, plus a small run of shows in true post-COVID WA touring style. It's sure to be a special night, so don't sleep on it.
Interview with Tanaya Harper
Question: How would you describe your music?

Tanaya Harper: Ah jeez, this question is so hard! Kicking off with the big ones! I like to call it elegant rock, because I feel like my music is pretty clean and shiny instrumentally and vocally, but that it's still sonically pointed in the alt-rock direction.


Question: Can you tell us about Emma?

Tanaya Harper: Emma is a fun song about fun times with friends following a breakup. It's about the break-up party phase when you drink lots and do lots of other stuff, and then around 2:30am you find yourself in a nightclub cubicle remembering your ex and wishing whatever went wrong hadn't gone wrong.


Question: Is there a particular message you hope listeners take from your music?

Tanaya Harper: I don't know if I consciously have any message to give, but my songs do contain messages I kind of write to myself regarding self-esteem and getting through mentally hard times, so if even just one person benefits from hearing those words then I'm over the moon about that.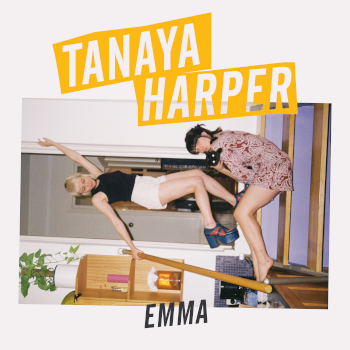 Question: Do you prefer performing live or recording?

Tanaya Harper: Performing is of course the best fun, however I get such deep enjoyment out of recording vocals. I have a deaf ear which can make it really difficult for me to feel totally comfortable on stage because I'm not always sure that I'm singing in tune, so to be given the chance to turn up my voice in my ear and perfect what I'm singing in the studio is the nicest feeling. Literally the sensation of having my voice turned up really loud is comforting to me, that's why you can hear the click track at the beginning of 'Slow Motion Breakup', fun fact!


Question: Which is your favourite song to perform live and why?

Tanaya Harper: I actually love performing Sleep Talker these days. It's a slow, lulling ballad that has a deeply intimate sentiment about loving someone so much that it scares you. It's nice to sing that live because it's the moment when the energy calms down allowing for a love song to be shared in the room.


Question: What should we expect from your upcoming shows?

Tanaya Harper: I'll be traversing my EP catalogue to date, from Some Kinds through to Slow Motion Break up, as well as all the tracks from my upcoming EP 'Bad Faith', then finishing things off with a Carla Geneve!


Question: If you could have anyone, in the world, attend a show, who would it be?

Tanaya Harper: I'd ask Thom Yorke to come watch me play then I'd try to convince him to write songs with me.


Question: Which music/artists are you currently listening to?

Tanaya Harper: I love Taylor Swift's new album, Folklore. I've been riding along the Swan River to work and it's been the perfect soundtrack for weeks now. I also listened to James Blake's latest release 'Before' on the way to work the other morning when I had a small break from Tay Tay and it was stunning. Grace Sanders's new single NO FAIR is insanely good, and Carla Geneve's new track The Right Reasons is an instant classic.


Question: What or who was your inspiration to go into the music industry?

Tanaya Harper: Delta Goodrem's album Innocent Eyes. That is all.


Question: What is the biggest challenge you have faced along the way to your musical success?

Tanaya Harper: Confidence, or lack thereof is the biggest challenge by far. Nick Cave has these 9 Primary Bedevilments of Creativity, and mine is number 1, 'Procrastination through fear' for sure. It's the most difficult thing to overcome, personally, and the worst bit is that it's all in my head, it's not even something I can physically tackle….or maybe I can? ugh.


Question: What's a typical day like?

Tanaya Harper: Literally, a typical day is wishing I didn't have to work so that I could actually focus on music.


Question: How would you describe your personal style?

Tanaya Harper: Confused.


Question: What's next, for you?

Tanaya Harper: EMMA is out this week!!! So that's my immediate focus. Then next week I get to go away for a songwriting trip all alone because I'm having a very serious existential crisis related to writer's block.


Question: Can you share your socials? (links please)

Tanaya Harper: Facebook
Instagram
Spotify
Triple J Unearthed


Interview by Gwen van Montfort