Internationally award-winning performer, singer-songwriter, influencer, and model Tamara Shamini releases Exclusive, an alluring contemporary electro-dance excursion highlighting Tamara's seductive vocal performance and nuanced songwriting style. Tamara's streamlined pop ode to resilience and self-empowerment utilises a late-night club beat, sparse instrumentation, and restrained melodic charm, reaffirming her position as one of Australia's most accomplished contemporary dance music artists.

Tamara's music has attracted worldwide radio airplay in such territories as Australia, Asia, Europe and North and South America, and the emerging star has featured in numerous TV, radio and press outlets in countries including Malaysia, Sri Lanka, England, and Australia. With over 3 million views on YouTube, Tamara Shamini's new track follows her previous releases, which comprise seven singles and two albums, including the 2020 smash Sounds Underground. Exclusive is all set to reaffirm Tamara Shamini's place on the global stage, continuing the evolution of this exceptional Australian music artist.


Interview with Tamara Shamini
Question: How would you describe your music?

Tamara Shamini: It's really difficult to describe my music because it doesn't fit into one box or genre. I write multiple genres from pop, to ballads, rnb to dance, country to rock. My singing style is rather a soft and gentle one with deep warm tones. Easy to listen to and ear worm friendly.

My music can be best described as a coloured heart emoji. Different colours represent the feelings in each song, whether it be about true love, heart break and friendship. Every song of mine has a story, a meaning or a message and it represents the emotions of the people I listen to, to help tell their story in a creative way. It represents my emotions and real life experiences too, how I felt at different stages of my life.


Question: Can you tell us about Exclusive?

Tamara Shamini: Exclusive is a high octane dance track inspired by a group of a high society people who live in their own bubble and the shenanigans they get up to. They have very little consideration for others and think the world revolves around them. If you are not good enough or "Exclusive" like them, they won't give you the time of day.


Question: Is there a particular message you hope listeners take from your music?

Tamara Shamini: I hope my music inspires change within people, to never be afraid of being who they really are and who they aspire to be. To reach for the impossible, because it can be possible and to not hide behind fear or sorrow. To understand their worth and know they matter.


Question: Do you prefer performing live or recording?

Tamara Shamini: I actually enjoy both recording and performing but prefer to perform live because I can better connect with my audience and feel what they feel.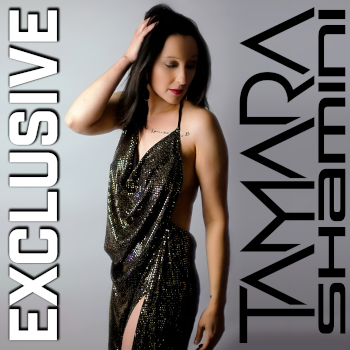 Question: Can we expect any upcoming shows?

Tamara Shamini: Yes! I anticipate once restrictions are lifted, I will have more of an opportunity to get out more and perform and I really look forward to doing that in the near future.


Question: What motivates you most when writing music?

Tamara Shamini: People. I absolutely love people and am extremely fascinated by them. A lot of my songs tell stories about others pain, joy and sorrow.


Question: Which music/artists are you currently listening to?

Tamara Shamini: Taylor Swift, Adele, Ariana Grande, to name a few. I love to listen to many different genres of music but my all-time favourites are various bands and artists from the 80s. Toto, Icehouse, Tears for Fears and even one hit wonders like John Waite's "Missing You" and "Waiting for a Star to Fall" by Boy Meets Girl feature on my playlist.


Question: What or who was your inspiration to go into the music industry?

Tamara Shamini: I had two inspirations that led me to go down the path of music. Karen Carpenter was one, as I really admired her angelic voice. My father was the other. I inherited my musical talent from him and endeavoured to take my career further than he did. My father missed out on opportunities in his life and now he gets to see his dreams come true through my successes and for that he is super proud.


Question: If you could collaborate with another artist, who would it be?

Tamara Shamini: It would be an honour to collaborate with any well-known artist in the music industry, but if I had to pick, right now it would be Taylor Swift. She too can write to different genres and often tells a story in her songs.


Question: How does it feel to hear your song played all over the airwaves?

Tamara Shamini: It feels surreal and amazing at the same time. Having ambition and working hard all these years is one thing, but to see it come to light is on another level. I am really stunned and honoured that my song is resonating with people. All I ever wanted was to connect with people through my music and to hopefully make a difference in their lives.


Question: Was there a moment you contemplated throwing in the towel?

Tamara Shamini: I never once gave up on my dreams. I have wanted to be an artist since I was 4 years old. I did have to take a break for a time, as I had other personal commitments to attend to, but I could never give up on my passion. It just feels so good to be back doing what I love the most.


Question: What has been your favourite part of becoming a music artist?

Tamara Shamini: My favourite part is seeing the reaction of people when they hear my music or watch my music videos and can't believe it's really me, but mainly it's writing a song with the aim of connecting with people. If I have reached one person in a positive way, it makes me really happy.


Question: What advice do you have for aspiring writers or artists?

Tamara Shamini: Never give up on yourself or your dreams. Nothing is impossible, dreams can come true if you work hard for it. I am a living example of a simple girl from the suburbs holding a dream close to her heart and giving herself every chance of success. Know your worth and run with it.


Question: What's next, for you?

Tamara Shamini: Definitely more music. I have written and composed a few more dance tracks and given the success of my latest track "Exclusive", I may release a follow up track, but I also have a plan to release a few country songs that I have written and composed too. Country music is outside my comfort zone and because I love a challenge, I aspire to give it a go.


Question: Can you share your socials? (links please)

Tamara Shamini: Facebook
Instagram
YouTube
Twitter


Interview by Gwen van Montfort