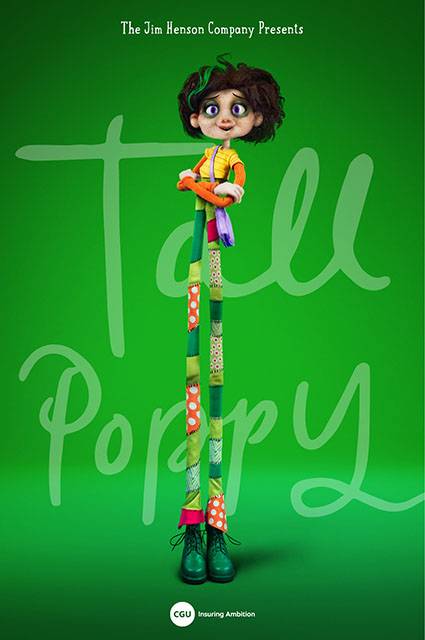 Tall Poppy
The Jim Henson Company - creators of iconic characters like The Muppets - has collaborated with CGU Insurance to create an ambitious short film to tackle tall poppy syndrome.
Directed by Brian Henson (Muppet Treasure Island, Muppet Christmas Carol, Farscape), the film Tall Poppy was released nationally in Australia on Sunday. Through its main character Poppy, the ground-breaking film encourages Australians to question the cultural stigma of tall poppy syndrome, and to see ambition – which is often seen as a negative trait – in a different light.
Tall Poppy was created using an impressive range of production techniques and technologies, combining classic tabletop puppetry with rich visual effects resulting in a hand- crafted yet sophisticated look. Dozens of puppets and nearly 150 visual effects shots were needed to complete the nine-minute film.

Brian Henson said: "Tall Poppy is about celebrating ambition, and facing the feelings of uncertainty and vulnerability that can get in the way of living to your fullest potential. The ambitious team that came together to create this film, brought together by our incredible partners at CGU Insurance, definitely saw the magic and innovation that can happen when everyone feels free to share their own unique talents. We hope that Poppy's story will inspire Australians to celebrate their own tall poppies."
Tall Poppy was produced by The Jim Henson Company, with puppets provided by Jim
Henson's Creature Shop and visual effects provided by Stargate Studios.