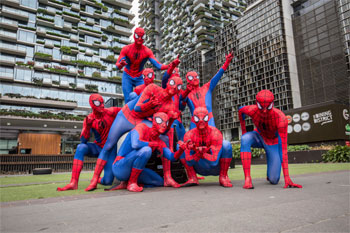 Spider-Man Takes Over Central Park
In celebration of Spider-man: Homecoming releasing on Blu-ray and DVD today, your friendly neighbourhood Spider-men took to Sydney's Central Park to show locals what he does best - parkour!
Flipping, bouncing and jumping, professional parkour athletes including Ninja Warrior's twin stars Dylan and Brodie Pawson scaled the steps of Central Park to give them a taste of the every day superhero.
Now Sydneysiders can channel their own inner Peter Parker with a series of free parkour sessions on Thursday and Friday (19 & 20 October) - for event details, see here - all ages and fitness groups welcome.