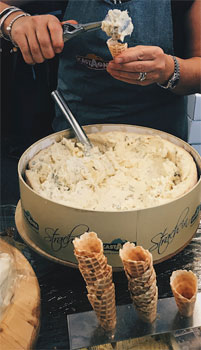 Cheesy Gorgonzola Cones
This is it! We've found a match made in heaven! Cheese + cones = cheesy gorgonzola cones.
The Smelly Cheese Shop will be selling these delicious Gorgonzola cones at this year's Good Food & Wine Show, presented by Citi at the Brisbane Convention Centre on the 27th – 29th of October.
The resident cheese experts at The Smelly Cheese Shop will take you on a cheese appreciation journey that will provide you with a complete sensory experience in a relaxed and fun environment. Make all your cheesy dreams come true by heading to the show and trying one out for yourself.