3-2-1 Low 'n' Slow BBQ Pork Ribs
Serves: 4-8 Prep Time: 20 min Cook Time: 6 hours

INGREDIENTS:
4 Pork Ribs (Baby Back or St Louis Cut)
Char-Griller Pork and Rib Rub
400mL Char-Griller Smoky BBQ Sauce / BBQ Sauce of your choice
Vegetable/Canola Oil to rub
EQUIPMENT:
Heavy duty foil
Thermometer
Reversible Rib Rack
Char-Griller Lump Wood Charcoal
Basting Brush

METHOD:
1. Using Char-Griller Lump Wood Charcoal prepare pit/off set and preheat to 220°F (105°C). Add hickory chips/chunks. (If using a ceramic smoker, leave deflector stone attached).
2. To prepare ribs, pat dry with a paper towel and trim excess fat. To remove the membrane that covers the bone side of ribs, use a paper towel to gently scrape the corner edge near bones to lift membrane. Peel back and continue to remove entirely.
3. Use a small amount of oil and rub over both sides of the rib (this will help
the rub stick to the surface).
4. Apply Char-Griller Rib and Pork Rub by shaking over ribs, making sure to evenly coat both sides.
5. Once grill is heated, place ribs in a BBQ Buddy Reversible Rib Rack and position on the grill of your smoker. A drip tray can be placed underneath to catch any fats and liquids.
6. Set up your Thermometer and insert probe into the meaty part of ribs to monitor temperature during cook.
7. Cook for 3 hours, ensuring constant temperature is maintained.
8. After 3 hours, internal temperature of ribs should be between 160-170°F (71-77°C). If not, cook for a bit longer until desired temperature is reached. Remove ribs and place on pre-cut heavy-duty foil. Baste with BBQ sauce, tightly wrap and place back on grill to cook for a further 2 hours.
9. After 2 hours, open foil and baste ribs in additional sauce. Place ribs back on grill and cook for additional 1 hour or until internal temperature reaches 195°F (91°C).
10. Baste with additional BBQ sauce before serving. Enjoy!
Char-Griller Rib and Pork Rub is also suitable for use on pork butts and whole pork shoulders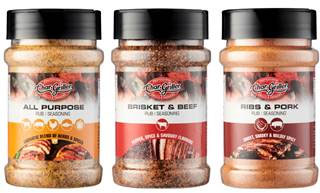 Fire up the barbie with Char-Griller's new BBQ Rubs

There's a definite culture of barbeque enthusiasts who love loading up the grill on a weekend, and with the weather warming up, there's no better time to get the BBQ ready. Not only does barbecuing bring family and friends together, but it offers versatility to the dishes you cook, whether it's steak, chicken, fish or lamb.

To add a touch of flavour and flair to your barbeque experience, experts in the art of grilling and smoking, Char-Griller, has launched a new range of BBQ Rubs, that will enhance your food experience.

The range is available in three flavours including the Char-Griller All Purpose Rub (RRP $12.95). This universal flavour is made from a unique blend of aromatic herbs and spices that is perfect for grilling, and low and slow BBQ cooking. The versatile flavour complements all dishes and is delicious on meat, poultry, seafood and vegetables.

The Char-Griller Brisket & Beef Rub (RRP $12.95) is a mildly spicy and peppery blend with subtle savoury notes, perfect for pairing with red meat such as beef brisket and tomahawk steaks. Char-Griller Ribs & Pork Rub (RRP $12.95) is a well-balanced sweet, smoky and mildly spiced, aromatic blend with savoury notes ideal for American style low and slow pork ribs.

Barbeque expert, Nathan Roberts from Basting Bros BBQ says, "One of the most common questions asked by those new to BBQ cooking is on the time and temperature required to cook. The answer is that you have to go by 'doneness' of the protein you are cooking. No two cuts will ever cook exactly the same. Once you master the cooking process that works the best for you and allow plenty of time for prepping, cooking, resting and then serving, you'll be set."

Here, Roberts shares his top tips to help you master the art of barbequing;
1. Cook to doneness, don't try and go by time/temperature. Use a digital thermometer as a guide only, especially for bigger cuts of meat. You want bigger cuts to feel like you are probing butter with a warm skewer or knife.
2. Resting meat is one of the most important things that people can do when cooking BBQ. Usually with bigger cuts of meat you need to rest them for a minimum of two hours after you have finished cooking and with smaller cuts like steak, allow 10 mins.
3. When selecting a steak, don't always go for the cheapest option. Select the best that you can within your budget. Remember that a thinner cut will cook quicker and give you less room for error during the cooking process. I recommend a minimum thickness of 1½ to 2 inches.
4. No matter what fuel source you are using always make sure that you are cooking over a consistent temperature inside the cooking chamber.
5. I recommend using oil as a binder only, then patting your dry rub after application. Using an oil with a high smoke point such as Grape seed, rice bran or peanut, will serve you well.

6. Before cooking it's important to work out what spices, otherwise known as a dry rub, you are going to use with your protein that you're cooking.

Sweet and savoury pairs well with pork like the Char-Griller Ribs & Pork dry rub. Bold, pepper flavour profiles work great with beef like the Char-Griller Brisket & Beef rub. You may even want to consider layering the dry rubs with light coating of the Char-Griller All Purpose Rub, then the dry rub matching your protein.

Char-Griller BBQ Rubs are suitable for vegans and vegetarians and are free from genetically modified materials. The Brisket and Beef Rub and Ribs and Pork Rub are both gluten free.

Char-Griller BBQ Rubs are available from Bunnings stores nationally. For more information visit www.bunnings.com.au