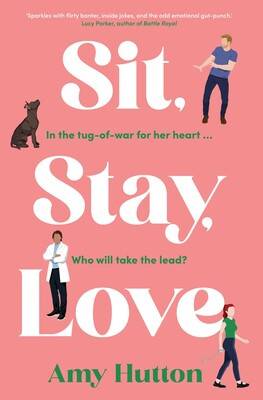 The most uplifting rom-com you'll read this year – a fresh take on the friends-to-lovers trope, brimming with heart, joy and puppies!

Sera loves owning a pet shelter – even if it's often tricky to make ends meet, and her mother thinks she's wasting her life. Thankfully, she can always rely on her steadfast best friend, Toby, who just happens to be the local vet.

And then famous actor Ethan James enters the scene. After Sera 'saves' Ethan from a friendly German Shepherd, he confesses to a terrible fear of dogs. A canine co-star is all that stands between Ethan and the role of a lifetime – and he wants Sera to help him overcome his fear. As they bumble through a series of training sessions together, sparks fly and Sera's surprised to find herself falling for Ethan. But not half as surprised as she is when Toby starts acting like a jealous boyfriend.

Now Sera's juggling six dogs, a litter of kittens, a horse, a sheep, and two men intent on outdoing each other. But she'll have to figure out what her heart truly wants ... before her life goes completely to the dogs.
Sit, Stay, Love
by Amy Hutton
Macmillan
RRP: $34.99
buy this book
Review: Devoured it, Amy Hutton first book is an uplifting love triangle rom-com. Sera a pet shelter owner saves Ethan James (a famous actor) from a German Shepherd and helps him overcome his fear of dogs so he can land the role of a lifetime. But her best friend Toby, who just happens to be the local vet, starts acting like a jealous boyfriend. Her juggle of men and animals is joyous adventure.