Sharna Burcher has released her new single 'Backwards Town', the title track from her sophomore album, which is due for release in early 2021. The album will be her first full-length release since graduating from the CMAA Academy of Country Music in 2016, following the release of her debut album 'Livin' on Closing Time' in 2015. This single is not only an exciting taste of what's to come, but also an example of why Burcher has opened for award-winning acts like Catherine Britt, Bill Chambers and Fanny Lumsden.

'Backwards Town' is a song about life in a small town. 'Life and the local rumour mill can get interesting sometimes when you're growing up in a small town,' says Burcher, 'and I feel like the track brings a lot of fun and humour to the topic.'

The single was written with Bill Chambers, who also took on producer duties. It was recorded at Troubadour House in Nashville, Tennessee, and is the first song Chambers and Burcher have written together. 'The concept came from Bill and I growing up in small towns, so we both drew from our upbringings and life experiences,' says Burcher. 'It was the easiest, most fun song I have ever written, and it seemed to write itself at times. It just flowed out very easily.'

While Burcher may have grown up and still resides in the small town of Broken Hill, she hasn't held back from exploring the big, wide world. She's an avid traveller, having visited the US, most of Europe, Thailand, Malaysia and Fiji, while she's also played the Fred Eaglesmith Charity Festival in Canada. Closer to home, she's appeared on the bill at the Silverton Sunset Festival and the Clarence Town River Country Hoedown, both in NSW.

'Backwards Town' is sure to draw a few smiles and laughs when it's played on the live stage, with Burcher's next gig scheduled for the Family Hotel in Maitland on November 14 with Bill Chambers. And though the song may be about everything backwards, there's no doubt Burcher is only looking forwards as she works towards the new album's release.


Interview with Sharna Burcher
Question: How would you describe your music?

Sharna Burcher: My music is very personal. I have always written personal and honest songs. Growing up my grandparents listened to a lot of Country Music. My Nan loved Tammy and Loretta. My own influences came from Kasey Chambers and more recently Lori McKenna. I think you can hear a bit of all these women in my music.


Question: Can you tell us about Backwards Town?

Sharna Burcher: I co-wrote Backwards Town with Bill Chambers, it was the first song that we ever wrote together. We were chatting about our experiences growing up in a small town, where everyone knows everyone and everyone knows everyone's business, and the song just flowed from there.
It was a really fun song to write. Coming up with the characters and their stories, I think we laughed the whole time we were writing it.


Question: Is there a particular message you hope listeners take from your music?

Sharna Burcher: Music has gotten me through some pretty rough times in my life. It is the first thing I turn to whether I am happy or sad or angry or lonely, there is always a song that you can relate to and makes you feel a little less alone in whatever you are feeling.
My hope is that my music might be able to make at least one person feel a little less alone.


Question: How have your travels influenced your music?

Sharna Burcher: My travels have been a huge influence. I love exploring new places and meeting new people. I wrote the song Livin' on Closing Time sitting in the Nashville airport. It was the first time I ever visited Nashville and my time in the States was coming to an end, I had a 5 hour wait for my flight, I had this tiny notepad from my motel, so I scribbled the song on about 10 of those little bits of paper, and when I got home I finished it off and it ended up being the title track of my first album.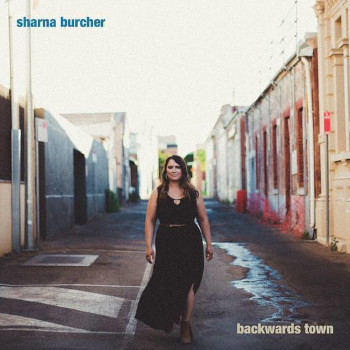 Question: Do you prefer performing live or recording?

Sharna Burcher: Both. I love performing live and getting to connect with the audience and getting to meet the people that listen to my music and hear their stories. It can be quite inspiring.
But I also love being in the studio. I write most of my songs at my kitchen table, so to be able to take them into the studio and hear them come to life is an amazing and exciting experience. I have had the chance to work with some really amazing and talented musicians in the studio as well that I probably would never get the chance to work with otherwise. It has been really inspiring.


Question: What should we expect from your upcoming gig?

Sharna Burcher: There will be a little bit of everything, new songs, old songs and probably a few covers chucked in as well. I'm so excited to play to a real live audience. What a year it's been not being able to do any gigs.


Question: What motivates you most when writing music?

Sharna Burcher: I just love writing, it is probably my favourite thing to do. It's a really great feeling to create something from nothing. On the good days when I write a song and get really excited about it and want to sing it to anyone that will listen, that feeling motivates me to keep writing.
In 2016 I lost my Mum, I wrote a lot of songs in the first couple of years after she passed, it really helped me work through my grief. Most of the songs never seen the light of day and were just for me, but it really kept me motivated to keep writing, it was almost like therapy, writing helped me work through all the feelings.


Question: What or who was your inspiration to go into the music industry?

Sharna Burcher: Music is in my blood, I have quite a musical family on my Dads side. My great Grandfather was a musician and he married my Great Grandmother who was born and raised in the circus. Music and performing has filtered down through the generations. My Dad has played in bands my whole life. I spent my teenage years going to his gigs on weekends and tagging along to festivals with the band. He taught me how to play the guitar and has always encouraged me. I never woke up one day and decided music is what I am going to do, it's something that I have always been around, and been exposed to. It just felt natural to follow this path.


Question: What moment in your musical career stands out the most?

Sharna Burcher: There are so many moments, I don't think I could chose just one.
There is nothing better than playing a gig and really connecting with your audience. When my song connects with someone and they tell me their story, it is those moments that stay with me.


Question: If you could collaborate with another artist, who would it be?

Sharna Burcher: Definitely Lori McKenna. I have loved Lori since I seen her on Oprah when Faith Hill recorded a couple of her songs. I just love the way she writes, and her way of telling a story. She is a lyrical genius. I would honestly just settle for being in the same room as her haha.


Question: What is the biggest challenge you have faced along the way to your musical success?

Sharna Burcher: Living out in the middle of nowhere can be hard at times. I love the lifestyle out here but it can be a logistical nightmare to get anywhere. I once drove 3 hours to catch a flight to Sydney, had a layover in Melbourne for a couple of hours, once we finally got to Sydney, we hired a car and then drove another 2 hours to the gig.


Question: What's a typical day like?

Sharna Burcher: I work part time at the local hospital in Broken Hill, so 3 days a week you will find me in an office there. The other days are spent pottering around the house or sitting at my kitchen table with my guitar. (Probably with a Wine)


Question: What has been your favourite part of becoming a music artist?

Sharna Burcher: Meeting new people and getting to connect with people through my music. Also getting to work with all the amazing musicians I have been fortunate enough to work with over the years, in the studio and on stage.


Question: What's next, for you?

Sharna Burcher: I will release the upcoming album 'Backwards Town' early 2021 and I will hopefully get out on the road and do a few shows.
I have a few new songs up my sleeve as well, so hopefully I will be able to get back in the studio at some point.


Question: Can you share your socials? (links please)

Sharna Burcher: Website
Facebook
Instagram


Interview by Gwen van Montfort