Sharam Jey
Sharem Jey is a hard-working DJ/Producer who began in a rock band before he got sucked into Germany's house and techno scene; from then, Sharem Jey picked up a pair of headphones and turned to DJing and producing.
Sharem Jey strives to push his music by developing fresh and exciting tracks that relate and are well-received by audiences, worldwide.
Sharem Jey has reworked Café del Mar's track Energy 52 which was voted Best Dance Track of All Time and everyone from Moby to Mylo to Faithless and Faith No More have sought his unrivalled ear to take their tracks to the dancefloor.
Sharem Jey, doesn't just remix, he is passionate about creating original material which is featured on the latest album, In My Blood. In the album, In My Blood, Sharem Jey works with Australia's Nik Valentino (of Lost Valentinos) for the album's title track, 'In My Blood'. This album showcases Sharem Jey enthusiasm, dedication and astounding ability.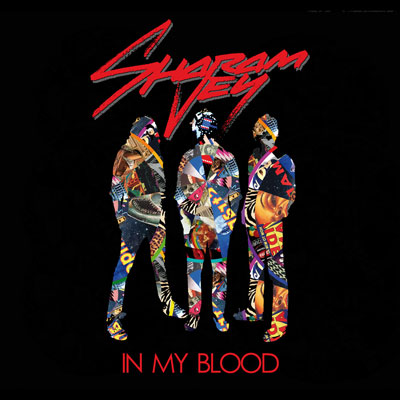 In My Blood, Sharam Jey
Bandroom Records
Tracklisting:
1. Revolution
2. In My Blood (feat. Nik Valentino)
3. Fists of Fury
4. Army of Men (feat. Cornelia)
5. Dear Valentine
6. Sleep Walk (feat. Nik Valentino)
7. Unique
8. Monday Morning
9. BoomBoomBoom
10. Hearts of Stone
11. The Things
12. Loving me Loving U
13. The More That I Do (feat. Nick Valentino)
14. Super Disco (Bonus Track)
Interview with Sharam Jey
You were a member of a rock band, who or what influenced you to turn to DJing?
Sharam Jey
: House was a new sound at that time, and I started Djing when I was still in that band. There were early influences from electronic music artists like Depeche Mode of course but when this house/techno thing started I blew me away and I quickly just dedicated my work to this new music.
Can you tell us a little bit about your latest album, In My Blood?
Sharam Jey
: After my last album I have toured quite constantly. And at first I had some difficulties getting back in those production routines, but I have found so many inspirations and got back into producing quicker than I thought. And it was really great to have that joy making music again. And I wanted to get on to the next level with the new album 'In My Blood'. In the end I had about 30 tracks finished and had to cut them off to 13.
I would describe those songs as energetic but emotionally with each having a story to tell. The style is a mixture of dance, electronic, rock and indie elements. I think I tend to get inspired by all those old synthi-sounds I always loved since I can remember hearing music. And I wanted to give the album a coherent sound.
And I have to say that I am really happy and amazed with the result. And that's a huge thing to say when you are producer.
How was it working with Nik Valentino?
Sharam Jey
: Great… and quite uncomplicated. Before working on that album I had quite a routine how I used to work on new tracks. Usually I had an exact idea of the track in my mind. This time I wanted the contributing artists on that album to feel free to add their ideas. And so I forwarded Nik the songs and he wrote the lyrics and recorded the vocals in Australia and sent them to me afterwards.
Do you have a favourite track on the album?
Sharam Jey
: It is nearly impossible for me to just choose one song. In the end I had about 30 tracks finished and had to cut them off to 13. That was so difficult for me I as I like them all. But songs like 'Fists Of Fury', a track that affiliates three directions, or 'Dear Valentine' which still gives me chills every time I hear it, or 'The More That I Do' with its strong pop-appeal, are for me some of the strongest on the album.
You are known as a very dedicated artist; why do you think this is?
Sharam Jey
: That is quite difficult to answer. I always try to do all my work with passion and dedication, yes that's right. I mean this was always the job I wanted to do...
How does it feel to hear your songs played all over the airwaves?
Sharam Jey
: That is of course always a great feeling. With this album I wanted to have more song-structured tracks, more radio-friendly music. But at the same time the songs provide the opportunity to get them remixed very club-friendly. We already had some great remixers done good jobs on the tracks, Alex Gopher, Headman, autokratz, NY legend Arthur Baker and new talents like Dirty Disco Youth or Malente.
What music/artists do you listen to when you're not playing your own?
Sharam Jey
: I like it a bit more rocking. Foo Fighters, Kings Of Leon, The Strokes or Temper Trap.
Was there a moment you contemplated throwing in the towel?
Sharam Jey
: Actually no. Everybody who is in this business for some time knows that there will be ups and downs. But you need to stay true to yourself and believe in what you do.
Do you prefer performing live or recording?
Sharam Jey
: I like both. If I'm in a club as a DJ I like getting in touch with the audience and the people. So I can try new stuff and get an immediate reaction. The studio work is basically to take your time to take this vibe of the club and put it into new ideas and create new material.
What is the biggest challenge you have faced along the way to your musical success?
Sharam Jey
: As I already said one of the challenges is that you need to stick to what you are doing even when times are getting a bit rough.
What's a typical day like?
Sharam Jey
: Mmm, can be quite boring, I guess. During the week I am working in the office or in my studio. And on weekends I go DJing. I had quite a lot of work during the last month due to the production and release of the album of course.
Apart from that I like meeting friends and cook.
What has been your favorite part of becoming a music artist?
Sharam Jey
: I guess traveling is quite a great part. Seeing places you would normally never go to. And meeting lots of different people. But of course after some time this can also be exhausting.
If have already collaborated with a number of internationally well-known artists, if you could collaborate with another artist, who would it be?
Sharam Jey
: Oh there are a lot of good artists out there. So it's difficult to pick one.
But I am really happy with all the guest vocalists on 'In My Blood' anyway. It was great having all those talents contributing their ideas.
Do you have a website fans can visit?
Sharam Jey
:
www.sharamjey.com
or
www.myspace.com/sharamjey