Australian music icon Shannon Noll just released the anthemic new song, 'Wonderful.'

'Wonderful' is a song about realising, in pursuit of something you perceive to be better, that the best person has been with you all along.

"I love this song not only because of the great story line but also for the musical hooks it has all the way through the song," says Shannon Noll about 'Wonderful.'

"I just love those accents!"

"It has an old school power ballad flavour and I've always loved the big power ballads," he continues.

Shannon is currently the face of a humorous Greyhound Australia advertising campaign, which features versions of his popular hit 'Drive' and a song he wrote specifically for the campaign called 'Take Me Away.' The campaign has achieved social engagement in the millions.

He's currently performing COVID-SAFE shows in New South Wales for the Raw & Uncovered Tour as part of Great Southern Nights.

Shannon is also featured on the new song 'Find Our Way' from new local all-girl band Southbound, which has already been streamed over 600,000 times across the globe, while also topping the National Country Airplay chart and AIR Independent singles chart recently.

Shannon Noll's everyman appeal lies in his honesty, he strikes a chord with legions of music fans, tapping into a pure emotion that's both his own and instantly relatable. His rise to fame as the first runner-up of the initial Australian Idol series in 2003 changed his life from farm hand in Condobolin forever.

Since taking to the stage and commencing his successful recording career, Australia's favourite son "Nollsie" has gone on to receive consistent acclaim with five top 10 albums, including two multi-platinum #1 ARIA albums, has 17 platinum and three gold accreditations, and boasts a reputation as the only Australian male artist in national chart history to have ever achieved ten consecutive top ten singles. His single 'What About Me' was certified 4× platinum was the highest selling single in Australia in 2004.

Shannon Noll has captured the hearts and minds of music fans around Australia and overseas with his raw, gifted voice. He remains one of the most recognisable names and faces in the Australian music industry with unparalleled success.
Interview with Shannon Noll
Question: How would you describe your music?

Shannon Noll: I would describe my music as country/rock.


Question: Can you tell us about 'Wonderful'?

Shannon Noll: Wonderful is my latest single and it's a bit of a tribute to the power ballads that have come and gone over the years. I love the story line as well, and the musicality is great.


Question: Is there a particular message you hope listeners take from your music?

Shannon Noll: I believe the majority of my work has a positive message and I'm very proud of that as I've had lots of people say to me that songs like 'Lift' have helped them through a tough patch in their life.


Question: Do you prefer performing live or recording?

Shannon Noll: I like recording but much prefer playing live, as that's how I started in the business.


Question: What motivates you most when writing music?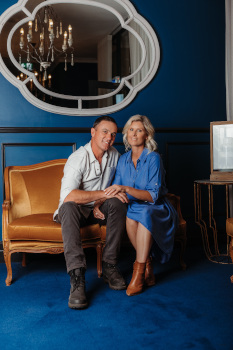 Shannon Noll: Telling a good story motivates me and also a really powerful melody.


Question: Which music/artists are you currently listening to?

Shannon Noll: I listen to a lot of Rock and Roll as that's what we did growing up. Currently I'm listening to bands like Bring Me The Horizon and Audioslave as well as classic OZ rock bands.


Question: What or who was your inspiration to go into the music industry?

Shannon Noll: Great singers have always been my inspiration. People like John Farnham.


Question: If you could collaborate with another artist, who would it be?

Shannon Noll: I've always thought Pink and myself would really work well together as in how our voices would gel!


Question: What is the biggest challenge you have faced along the way to your musical success?

Shannon Noll: The business side of the industry was always difficult for me because I came from a totally different world in farming.


Question: What has been your favourite part of becoming a music artist?

Shannon Noll: I think being able to do what I am best at, I did a lot of other jobs over the years but music seemed to suit me better than anything else.


Question: Can you tell us about the 'Love Story' campaign you and Rochelle are promoting with Simon Curwood?

Shannon Noll: I asked Rochelle to marry be again at a Christmas party for Simon Curwood and afterwards we put together the idea about running a campaign to win me to sing at your wedding. It just happened really naturally so it's very exciting.


Question: What's your secret to a successful marriage?

Shannon Noll: I think communication is the most important thing in a marriage, you can withstand whatever's thrown at you as long as you both believe in each other and are on the same page.


Question: What's a typical day like?

Shannon Noll: We live on some acreage so there is always lots to do. We have chickens, sheep, horses and a big veggie patch so that keeps me busy along with my newest little helper Colton who's always right beside me.


Question: What's next, for you?

Shannon Noll: We will be releasing an acoustic in April hopefully and I'm stoked about it as I've never released one before but I've been playing acoustically since I was a teenager, so I'm very excited about that!


Interview by Gwen van Montfort