Charlie Rust PESCADO - A Circus Cabaret Fusion Interview
NICA's talented second-year students will have no trouble fishing for compliments when they feature in this quirky aquarium of circus, cabaret and comedy. PESCADO - A Circus Cabaret Fusion will be performed in the National Institute of Circus Arts' intimate studio space from 13th to 16th of May, 2015.

Co-directed by Australian cabaret and circus mainstays, Hayden Spencer and Carita Farrer Spencer, PESCADO will submerge the audience in a wonderful world of piscean characters, outstanding circus skills and tonguein- gill silliness, all wrapped up in a -Venice Beach' atmosphere.

The directors have plunged their creativity into the underwater theme. 'We have created human characters that are based on elements from the ocean. Think aerial trapeze backing vocalists who strangely resemble both prawns and The Supremes, crab-like strong men, a Walrus-esque ringmaster, and scuba-diving DJs and dancers."

Audiences can expect a brave and edgy performance full of stunning character work, physicalisation, humour and a dynamic array of circus skill performances.

'We have responded to the skill-set of our ensemble and their creative passions and ideas, then we framed a show around that. The result will be a cavalcade of characters, some hilarious and quirky, some dynamic and extreme," said Hayden and Carita.

Twenty multi-talented artists will present high level circus skills including: Tight Wire, Hula Hoops, Acrobatics, Clowning, Aerial Straps, Handstands, Roue Cyr and Tissu along with a good dose of humour, live music and quirk.

PESCADO - A Circus Cabaret Fusion


Venue: NICA National Circus Centre, Movement Studio: 39 - 59 Green Street, Prahran
Session dates: Dates: 13 - 16 May 2015
Times: Wed - Thurs 7.30pm
Fri 6.00pm & 9.00pm
Sat 1.30pm and 7.30pm (Approx. 70 Minutes)
Tickets: General Admission
Adult $30 / Concession $25 / Child U16 $22
Family (2 adults & 2 children) $85
Family (2 adults & 3 children) $100
Groups (min 10) $24pp
Rated: Parental guidance recommended (PG)
Bookings: www.nica.com.au



Interview with Charlie Rust
Charlie Rust is not what you would expect from an aerialist. From an early age working on her family's sheep farm, she realised she enjoyed and excelled in using her body's capacity for strength in movement. When she discovered Circus Oz's teenage classes, she found an enthusiasm for training hard and for defying expectations of what female bodies are capable of. Choosing specialties at NICA, aerial straps took her by surprise, perfectly suiting her individual physicality and her passion for diversity in circus. She is currently undergoing intense training at NICA developing her unique straps style and vocabulary for creating powerful physical performances.



Question: How would you describe PESCADO - A Circus Cabaret Fusion?

Charlie Rust: PESCADO is an exciting show where we have taken the circus and plunged it underwater! We have built our characters around underwater creatures in human form, and then created captivating acts around them. We have aerial trapeze artists that strangely resemble prawns, crab-like strongmen, and our ringmaster is more than a bit like a walrus. PESCADO is a great mix of our interesting circus skills and creative character performances.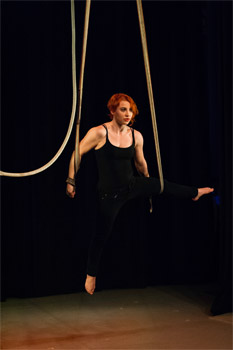 Question: What do you hope audiences take from this production?

Charlie Rust: We've been working hard on our circus skills since we chose our specialties 10 months ago, but have also been learning a lot about character development and performance qualities. I hope that audiences leave PESCADO having been totally immersed (so to speak) in our quirky, underwater world. We've created fascinating characters and put a lot of effort into making them larger than life. We hope the audience will enjoy our unique fusion of engaging characters, physicalisation, humour and circus.


Question: Can you talk about your audition for PESCADO - A Circus Cabaret Fusion?

Charlie Rust: The casting process was more of a conversation with the two amazing directors, Carita Farrer Spencer and Hayden Spencer, about what we'd like to showcase and how each act would help embellish the underwater theme of the show. Our directors really wanted to showcase each of our individual skills but they also wanted to bring out our hidden talents as well. We happen to have some incredible musicians in our group and so there's a lot of live music in the show, which is great!


Question: What is your role in PESCADO - A Circus Cabaret Fusion?

Charlie Rust: In PESCADO my character is a shark in human form. For me sharks are that menacing, dangerous presence in the water that you're never hoping to meet. In human form she is a strong, tough, punk chick who does what she wants and is unapologetic. She's sharp and cool, and she knows it – the other sea creatures keep their distance.

In this character, I open the show singing a rock song with the band. I also perform in the duo aerial straps act, and am a gliding, menacing presence throughout the ensemble acts as well. It's a lot of fun to play a character with such a powerful presence!


Question: Can you explain to us what is involved with Aerial Straps?

Charlie Rust: Aerial straps is an act where the performer uses two cotton seatbelt-width straps that can be wrapped or locked around their hands and wrists to perform movements like holds, rolls, and twists. It involves a lot of shoulder strength as it is comparable to Roman rings in gymnastics. A straps act commonly involves holds and positions in the straps in the air, rolls up the straps and drops down them, and dance or choreographic elements on the floor.


Question: Aerial Straps are strength demanding; can you talk us through your rehearsal and training schedule?

Charlie Rust: Aerial straps is a circus specialty that is very male-dominated, very few females perform it in the world. I have worked hard on building my body's strength and condition over my training years and I feel most comfortable using my body this way, as opposed to flexible, lithe ways. The challenges that straps pose excite and motivate me, even when it's difficult. In a day I'll generally have rehearsal or theory class in the morning and then four and a half hours of circus specialty training in the afternoon, every weekday. I also do extra strength and conditioning training in my spare time, focusing a lot on shoulder and core strength.


Question: Do you have any pre-show rituals?

Charlie Rust: The moment of waiting backstage as the audience begins to take their seats at the start of a show is always very thrilling. You feel exhilarated and nervous, but excited about getting out on stage and performing your hard-earned skills. I try to stay warm and ready, and as relaxed as possible, but I tend to get fired up and end up hugging people a lot backstage.


Question: What inspired your love of performing?

Charlie Rust: When I found aerial straps I found an affinity with the apparatus and its performance possibilities. Working from a young age on my family's sheep farm, I learnt the value and satisfaction in working hard and pushing the boundaries of what my body can adapt to. From the blokey atmosphere of farm life I found a passion in defying expectations of what female bodies are capable of. I've experienced some frustrating resistance to being a girl performing aerial straps but have also received great enthusiasm from audiences and circus folk alike. I love showing just how tough and strong girls are and performing something that is unique and inspiring.


Question: What's next, for you?

Charlie Rust: After graduating from NICA I hope to travel overseas to train and audition for some premiere European circus companies that are currently pushing the boundaries of contemporary circus. I am inspired by diversity and originality in circus, and would love the chance to perform to audiences all over the world not used to seeing a girl on aerial straps.


Interview by Brooke Hunter