From the author of the international bestseller Jane in Love – soon to be adapted into a feature film by Amazon studios and Di Novi Pictures – comes Secrets My Father Kept, the story of a headstrong seventeen-year-old who dreams of becoming a doctor and is desperate to learn the truth behind her mother's mysterious disappearance. Secrets My Father Kept has already been snapped up in international markets, including Germany, where Luebbe Publishing acquired rights in a six-figure deal.

Set in Poland in the lead up to WWII, Secrets My Father Kept is the riveting story of Marie Karska - the daughter of a well-respected doctor and an unnamed woman who disappeared when she was a baby. Marie remembers nothing about her mother except for her favourite fairy tale. Armed with only this memory Marie begins to investigate.

Marie's father is determined to shield her from the dark secrets of his past. His plan is to find her a husband who will protect her when he no longer can but Marie is set on marrying her childhood friend, Ben Rosen. When their differing religions threaten to prevent the marriage Marie secretly converts to Judaism. A choice that puts Marie increasing danger as the German army advances towards Krakow.

Secrets My Father Kept is a captivating novel by a master storyteller with a sharp twist that will keep readers guessing until the end.

About the author:
Rachel Givney is a writer and filmmaker originally from Sydney, Australia (currently based in Melbourne). She has worked on Offspring, The Warriors, McLeod's Daughters, Rescue: Special Ops and All Saints. Her films have been official selections at the Sydney Film Festival, Flickerfest and many more.

Secrets My Father Kept
Rachel Givney
Penguin Books Australia
ISBN: 9780143794103
RRP: $32.99


Interview with Rachel Givney
Question: What originally inspired the idea of Secrets My Father Kept?

Rachel Givney: The idea came to me during the editing of my first novel, Jane in Love. The fact that Jane Austen never married or had any children, despite writing six novels about love, had always bewitched me. I grew fascinated by the choices women must make if they wish to pursue a career. I began to wonder in what other settings and with what other characters I could explore this idea.

Secrets My Father Kept is set in the years leading up to World War Two. The main character, Marie, wishes to become a doctor, like her father, but encounters tremendous opposition from society towards following her dream. With her mother missing, she also seemingly lacks any positive female role models to aspire to emulate.


Question: What did you learn, about yourself, whilst writing Secrets My Father Kept?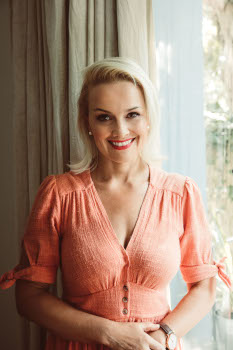 Rachel Givney: I thoroughly enjoyed writing this second novel as I had the chance to apply everything I'd learned while writing my first. Most importantly, I learned not to worry as much about what others think and write something that I would want to read myself.


Question: How much of your inspiration comes from real life and real people?

Rachel Givney: My ancestors on my mother's side hail from Eastern Europe. Secrets My Father Kept is set in Krakow, Poland, and one of the main characters has the surname Kolikov, which is my great-grandmother's name. The first time I visited Krakow, I fell in love with the city with its medieval buildings and its bloody, complex history.


Question: What research did you do, prior to writing Secrets My Father Kept?

Rachel Givney: I travelled to Poland multiple times, visiting Krakow, Warsaw, Zakopane, Auschwitz, several former Prussian towns, and Lvov in modern-day Ukraine, learning to make Pierogi (dumplings) and highland cheese and visiting many market squares, apothecaries, and synagogues. I've also spent the last two years learning Polish - a beautifully difficult language. The Polish community in Melbourne showed me remarkable hospitality - something Poles are famous for. Several Polish consultants gave invaluable feedback on the manuscript. I also visited the Jewish Holocaust Centre in Elsternwick, listened to survivor stories, and used a Jewish consultant to ensure accurate depictions of Judaism in Poland in 1939. Finally, I discovered a centuries-old tradition that women still practice in Eastern Europe (which I can't reveal as it will spoil the ending). This beautiful but sad custom plays a crucial role in the main storyline and reinforces the theme of both my novels.


Question: What is the best thing about creating a character like Marie Karska?

Rachel Givney: Marie is a seventeen-year-old-girl who is trying to find out what happened to her missing mother, before total war breaks out in Europe. Standing in her way is her secretive father, who refuses to talk about what happened. On her journey, Marie encounters racism and sexism and falls in love. Secrets My Father Kept is a coming-of-age story. I loved writing Marie because she is a young woman who is discovering her identity and her place in the world.


Question: What advice do you have for aspiring writers or artists?

Rachel Givney: Don't get it right, get it written. The best piece of writing advice I've ever received. You will find it a hundred times easier to go back and edit words you've already written, than to stare at a blank page and try to write something perfectly first time. So, write down everything you want to say - don't worry about making it good. Then once you're done, go back and edit.


Question: What or who inspired your love of reading/writing?

Rachel Givney: I've loved telling stories from a young age. I vividly recall seeing Kindergarten Cop as a child and deciding I wanted to make movies with Arnold Schwarzenegger. I still do. So, if anyone inspired me to become a writer, I'd have to say it was Arnie. I also have warm memories of falling in love with literature - reading books like Jane Eyre, Wuthering Heights, and Emma as a girl.


Question: What's next, for you?

Rachel Givney: I'm currently writing the screenplay for my first novel, Jane in Love, which is being turned into a movie by Amazon Studios, and working on my third novel.


Interview by Gwen van Montfort