These are the last days of 1999. At St Peter's Basilica in Rome, as the world waits for the new millennium, Lucy, a young Australian woman looks up at Michelangelo's Pietà behind its pane of bullet-proof glass; a red kabbalah string circles her wrist. She has come with the mysterious parcel her recently deceased mother asked her to bring to the box marked POSTE VATICANE.

But before Rome there is Saint-Cloud. Here, on the outskirts of Paris, Lucy works as an au pair for Jean-Claude and his wife Mathilde. When Mathilde leaves for Central Australia to research the Aboriginal artist Kumanjayi, Lucy's circle of contacts becomes smaller and strangely intimate: Jean-Claude, the baby Felix for whom she cares, and the couple's charismatic friend Sébastien, a marble restorer. Yet Lucy's homesickness for Australia and its vastness haunts her world, surfacing in the memories of her mother, the Australian garden at Empress Joséphine's Malmaison, and Mathilde's letters from Alice Springs.

Lucy's mother, Jude, who was a nun in the 1970s, once warned her daughter 'to be careful what she wished for'. It is a caution that marks but rarely alters the choices these characters make. With lushness and tenderness, and revelation, Fitzgerald's unforgettable novel Pietà exquisitely captures the glorious and imperfect relationships between parents and children, between art and life.

About the author:
Michael Fitzgerald has lived between Sydney and Canberra as the editor of Art Monthly Australasia magazine since 2014. He made his literary debut in 2017 with The Pacific Room, a fictional speculation on Robert Louis Stevenson's travels through Oceania. Pietà is his second novel.

Pietà
Transit Lounge
Michael Fitzgerald
RRP: $29.99


Interview with Michael Fitzgerald
Question: What originally inspired the idea of Pietà?

Michael Fitzgerald: It's hard to pinpoint what came first with Pietà as it's been so long in gestation, and with so many threads. I can remember originally seeing Michelangelo's titular sculpture in St Peter's in the mid-1980s as a fine arts student at Melbourne Uni and being struck by its compelling mix of vulnerability, beauty and strength. And also the improbability of it: the sculpture depicts the Virgin Mary holding the adult body of Christ as if he was a baby, which is the whole point of it. It seemed such a potent symbol of motherhood (and of being mothered), and for thinking about ideas about parenting and inheritance. Then later I found out what happened to the sculpture in May 1972 – but you'll have read the book to find out.


Question: What did you learn, about yourself, whilst writing Pietà?

Michael Fitzgerald: Much of my initial research took place in 2002, when I was on long service leave in Paris. At this time I was drawn to the history of Malmaison, Empress Joséphine's château on the outskirts of Paris, where she kept a menagerie of Australian animals and flora and fauna. In thinking about my novel's main character Lucy Bass, a young au pair from Canberra who stays with a French family at Saint-Cloud, I thought it would be interesting for this to form the backdrop to her own rite of passage or coming of age – as a way of further exploring themes to do with identity and inheritance. Just as the recent history of Michelangelo's sculpture has an unusual connection to Australia, so I started to find all sorts of intersecting stories with Australia and France – not only in terms of the early French explorers in the Pacific, but France's more recent appreciation of Aboriginal art and Indigenous culture. It made me start to think differently, not only about our country and who we are as a culture, but about myself and my relationship to this web of things.


Question: How much of your inspiration comes from real life and real people?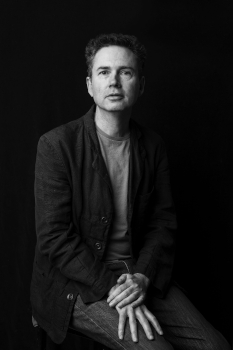 Michael Fitzgerald: Having worked as a journalist and arts editor during the 1990s and early 2000s, I've always been drawn to real life and current affairs, as well as to art history (having edited Art & Australia and now being at Art Monthly Australasia) – it's the fuel for my imagination. I don't feel comfortable straying too far away from this speculative zone. My first novel The Pacific Room took the literary figure Robert Louis Stevenson as its inspiration; and my most recent shorty story (soon to be published in Westerly) takes as its stepping-off point Mascot Towers – the apartment block in Sydney that had to be evacuated because of structural cracking; it's called 'The Cracks'. I don't think I'll ever write science fiction, as real life (and history) is too interesting.


Question: Is there a message you hope readers take from Pietà?

Michael Fitzgerald: I think it's to be less judgmental and more forgiving of humanity's flaws and foibles – these are all on parade in Pietà. And also for us to stand up and take ownership of our past. Lucy has to do this on a micro level in the novel, but we still need to do this as a nation – there's some unfinished business to do with the treatment of our First Peoples that Pietà touches on as well.


Question: What research did you do, prior to writing Pietà?

Michael Fitzgerald: As well as the time I spent in Paris in 2002 researching Empress Joséphine's garden, more recently (in 2018) I spent two weeks staying in a convent in the heart of Rome. It was a case of quietly absorbing the pace and rituals of an old order of nuns, which was important for getting into the Roman sections of the novel and, in particular, the character of Lucy's late mother Jude, whose parallel story as a young nun in 1972 plays out through the diary entries that Lucy reads at Saint-Cloud. Eventually their stories commingle when Lucy arrives in Rome in the last days of 1999, when history and faith collide.


Question: What is the best thing about creating a character like Lucy?

Michael Fitzgerald: It took me a while to get to know Lucy – originally she was slightly older and more worldly. But as the novel developed, I realised it was important for Lucy to be younger and more open to the world. In 1999, I can remember buying one of my first paintings which was called Let Love In (referencing an album by Nick Cave), and I see Lucy in one sense as an embodiment of that aspiration, or on the cusp of that state of being. Over time I have grown quite protective of her, and care for her in a way that I haven't with a character before. She is an unusual spirit – stubborn yet dreamy. Through her, and in the scenes where she looks after the young baby Felix, I was also able to experience rearing a child – there was a vicarious thrill and discomfort in writing those particular passages for which I have Lucy to thank.


Question: What advice do you have for aspiring writers or artists?

Michael Fitzgerald: Not to overthink or second guess what you are doing. Sometimes our instincts, no matter how strange, are best.


Question: What or who inspired your love of reading/writing?

Michael Fitzgerald: My mother and, later, my English teachers at school. Some of my most prized books were bought for me when I was a child and have on them a tiny sticker, 'The Little Bookroom'. I was also lucky with my English teachers at Camberwell Grammar who introduced me to a group of literary 'friends' I've always cherished: J. Alfred Prufrock, Tess of the d'Urbervilles, and Stan and Amy Parker from The Tree of Man.


Question: What's next, for you?

Michael Fitzgerald: Last year I went on a residency up to Varuna in the Blue Mountains and started on some shorter fiction while I begin researching another novel (hopefully), with its feet planted firmly once again in art history.


Interview by Gwen van Montfort