Legendary Australian rockers Screamfeeder are back with a brand new single Don't Get Me Started, a mosaic of a song, inspired by a need to get away from screens and invest some time in self-reflection. After sharing the Spring Loaded mainstage with the likes of Grinspoon, You Am I, Regurgitator, Killing Heidi and more on the weekend, Screamfeeder are more exciting than ever – and are thrilled to announce their new album Five Rooms, set for release on May 6, 2022. And they'll be heading off on a national tour to celebrate the album in June, supported by rock queen Adalita – the tour will kick off in Melbourne at the Northcote Social Club on Friday June 10, then move through Jive Bar Adelaide and Oxford Arts Factory Sydney, before wrapping up with a hometown show at Princess Theatre in Brisbane on Friday June 24. For tickets and information, visit screamfeeder.com/

Don't Get Me Started is classic Screamfeeder – the catchiest of hooks, supported by an upbeat and urgent kick-snare pattern, and melodic, irresistible bass. It feels like a time warp back to the 90s, where wavy, woozy rock ruled – but there is something about this track that still feels modern, and current, and there's a clever, Trump-referencing lyric that feels particularly incisive. Speaking on the inspiration behind the track, vocalist and bass player Kellie Lloyd says,

Don't Get Me Started is just a taste of what is to come with the release of Screamfeeder's new record Five Rooms, set to drop on May 6, 2022. The album is a varied collection of fuzzy pop rock – some tracks, like Don't Get Me Started, and the sparkling, summer-soaked No Past Tense, feel playful, short and sweet – while others, like the darker How We Pay, and the sprawling, brooding epic Late To The Party feel heavier both in theme and sound. Evocative of mainstay classics You Am I and Something For Kate, and newer groups Catfish and the Bottlemen and Circa Waves, the record was produced by Anna Laverty (Stella Donnelly, Camp Cope) in Brisbane and mixed by Beau Sorenson at Best House, Berkeley, and Travis Harrison at Serious Business Music, Brooklyn.

The timing of the album feels somewhat cosmic, celebrating 30 years since the release of their debut album Flour and reliably coming out of the gates strong with Five Rooms, as Kellie reflects, "Honestly it's surprising and not surprising at the same time. Time feels like it doesn't exist anymore anyway. I think it might take some time to feel like everything is normal again after the last few years, but I can't wait to see live music return to full capacity and feel safe and free again."

In terms of that return to the stage, things are looking good for Screamfeeder. This past weekend, they played a wild, energetic set for Spring Loaded festival, and with the national album tour on the horizon, there will be plenty of opportunities for fans to see Screamfeeder live this year across the country.

Screamfeeder is Tim Steward, Kellie Lloyd, Darek Mudge and Phil Usher.


Interview with Screamfeeder (Kellie Lloyd)
Question: How would you describe your music?

Screamfeeder: Loud, melodic, thoughtful


Question: What inspired Don't Get Me Started?

Screamfeeder: Playing around on garage band, the song just kind of wrote itself. The music came first, then way too many vocal parts and variations that I had to cull. Lyrically it's about our collective obsession with ourselves, looking inwards instead of looking outwards. I suppose, it's hard to put a meaning on a song in retrospect. It just became what it is quite naturally.


Question: Can you tell us about your upcoming album?

Screamfeeder: The album was recorded in the countryside just outside Brisbane. Anna Laverty came in to work with us producer, we had to postpone it once for covid reasons and then we had a lockdown right in the middle of it. It took 10 days to record, it's about half and half Tim Vs Kellie songs, some if it was Mixed in NYC by Travis Harrison (Guided By Voices) and the others were mixed by Beau Sorrensen (Deathcab for Cutie, Bob Mould, Superchunk) in California. I'm really proud of the work we've done on this album.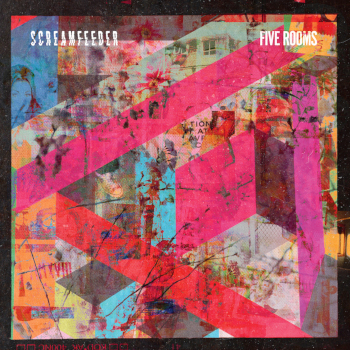 Question: Is there a particular message you hope listeners take from your music?

Screamfeeder: Think deeply.


Question: Do you prefer performing live or recording?

Screamfeeder: They are both different things. It's like asking do you prefer a main meal to a dessert.


Question: What should we expect from your upcoming shows?

Screamfeeder: We've had such a strange few years of cancellations and postponements that any show we play we're keen to get on stage and make some loud noise.


Question: What is the story behind the band name?

Screamfeeder: It was the 90s. We couldn't find a new name and had long lists for some reason we decided on Screamfeeder. Shrugs.


Question: How did the band come together?

Screamfeeder: We were all into playing music. There was a real scene in Brisbane at the time, Tim's band the Madmen ended up rehearsing in my loungeroom and I joined the band when they needed a bass player and we changed the name and the rest is history.


Question: Which music/artists are you currently listening to?

Screamfeeder: My favourite music right now is True Widow, Mere Women, Diiv


Question: What or who was your inspiration to go into the music industry?

Screamfeeder: I never thought of it as an industry when I started playing in bands. I just wanted to make music. The music industry is a brutal ugly place mostly and I've happily tried to stay on the periphery of it most of our band life.


Question: If you could collaborate with another artist, who would it be?

Screamfeeder: Had it not been for his untimely departure, I would have loved to have written a song with Mark Lanegan


Question: What has been your favourite part of becoming a music artist?

Screamfeeder: I cannot overstate how satisfying playing loud music is. It relieves my stress when I go to a practice room, I love being creative and singing, it uplifts my soul.


Question: What's a typical day like?

Screamfeeder: I don't think there is a typical day in the last few days. I work from home with my full-time day job now, so I'm working a lot in my bedroom. I try to go for walks in the park nearby and bike rides to be healthy and sane. I practice with my bands after work twice a week. If I'm not playing gigs on the weekend I'm keeping pretty low profile these days with the plague and all….


Question: What's next, for you?

Screamfeeder: Getting this SF album out then hopefully soon the Deafcult album we've been working on for the last few years. Then I don't know. It's been a difficult few years with everything going on, as I write this Brisbane is flooded and Russia is threatening nuclear war…. Everything feels a little hard to process in the moment let alone planning for the future right now.


Question: Can you share your socials? (links please)

Screamfeeder: Twitter
Instagram Screamfeeder
Instagram Kellie
Facebook


Interview by Gwen van Montfort