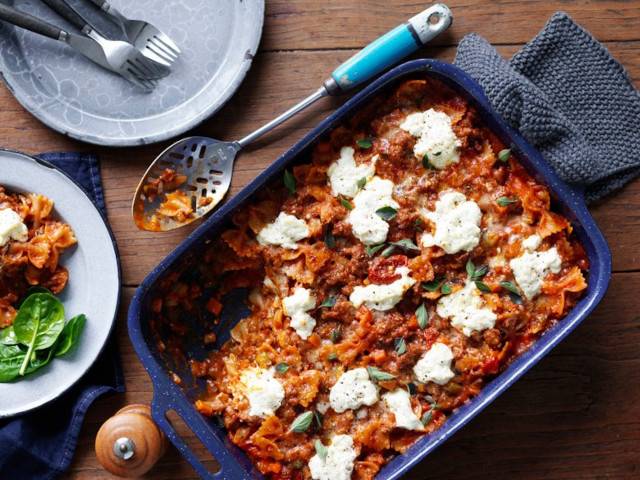 Serves 6

Ingredients
• 800g good quality beef sausages, skins removed
• 1 onion finely chopped
• 1 carrot finely chopped
• 1 zucchini finely chopped
• 1 celery stalk finely chopped
• 2 cloves garlic, finely chopped
• 1½ tsp chilli flakes
• 1½ tsp fennel seeds
• 400ml passata
• 400g canned cherry tomatoes or chopped tomatoes
• 250ml (1 cup) beef stock
• 1 tbsp coarsely chopped thyme
• 1 tbsp coarsely chopped oregano, plus extra leaves to serve
• 250g farfalle pasta
• 1 tbsp red wine vinegar
• 250g ricotta
• 80g finely grated parmesan, plus extra to serve
• Baby spinach, to serve

Method
1. Preheat oven to 200°C. Heat 1½ tbsp of olive oil in a large flameproof casserole dish, add sausages and cook, breaking up with a spoon for about 5 minutes or until browned. Add onion, carrot, celery, garlic, fennel seeds and chilli flakes, stir for about 3 minutes until just tender, and then add passata, canned tomatoes, stock, thyme, oregano and 200ml water, bring to a simmer. Season to taste with freshly ground salt and pepper, stir in the pasta and cook, stirring occasionally for about 15 minutes until pasta is al dente. Remove from heat, stir in vinegar to combine.
2. Pour half the mixture into a large baking dish, dollop with half the ricotta and scatter with half the parmesan, repeat layering finishing with the cheeses. Bake until bubbling (8-10 minutes) and serve hot, scattered with extra herbs and parmesan and baby spinach salad.

Tips
The base mixture of this freezes well – prepare to just before layering the mixture with the cheeses and cool to room temperature and freeze in airtight containers instead. Defrost in the fridge then layer and bake to finish.