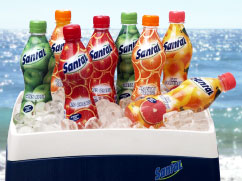 Santal, the drink that has been awakening the senses of the worlds most fashionable hot spots has arrived in Australia. Forget the usual crop of fizzy, ordinary flavoured soft drinks this summer. In their place is Santal, the refreshment drink that captures the essence of fruit.
Already famous in countries such as Italy, Portugal and Brazil, Santals unique tasting flavours will win you over. So if you are looking for something a little different that is refreshing choose one of four unique flavours including:
Santal Red Orange, made from red oranges (or blood oranges).
Santal Pink Grapefruit for a refreshing taste sensation.
Santal Brazilian Orange, made from real Brazilian oranges that have a unique taste.
Santal Green Apple, with a crisp green apple flavour.
All these make excellent mixers with your favourite spirits, or for frozen cocktails with a difference, turn turning Santal flavours into ice cubes or blend into cocktail concoctions. Or maybe just chilling on the beach. RRP $1.90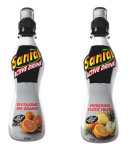 Santal Active
Combining the goodness of juice, vitamins A & C and Ginseng to provide a natural energy boost, Santal Active is the alternative to caffeine energy drinks. With its slow release of natural energy goodness and low GI rating, Santal will help you meet all the goals in your hectic lifestyle. Comes in two invigorating flavours: Santal Active Revitalising Red Orange and Santal Active Energising Exotic Fruits.
RRP $2.30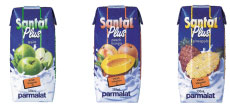 Santal Plus
Combining the goodness of fruit juice with a dash of skim milk to deliver a uniquely refreshing drink. Youll be surprised at how great it actually tastes. Santal Plus comes in three delicious flavours, Apple, Pineapple plus Peach and Mango.
RRP $1.90