For those who like the finer things in life....
Special Delivery of "Rolls Royce" of Rums: a toast to the 21 year old blends of Appleton Estate
Australian customs officers take note! This winter Australia will be honoured to receive a special delivery of 66 cases of the world's most exclusive rum blend. Appleton Estate 21 Year Old Jamaican Rum has been distilled by the world's first female Master Blender, Joy Spence and is sure to ignite the palates of luxury-lovers and liquor connoisseurs.
For 2006, only 2,000 cases of Appleton Estate 21 have been produced for the worldwide market and Australia will receive a special share in recognition of the growing group of consumers who have been passionately enjoying the aged blends of the Appleton Estate since the rum launched here in 2004. The 66 cases will be shipped to Australian shores from the tropical Caribbean island of Jamaica, the birthplace of Appleton Estate - under close watch!
Since launching in Australia, Appleton Estate's versatile and sophisticated aged blends have been quietly changing the perception of rum, with homes and bars across the country opening their eyes to the possibilities and embracing the rum renaissance. This new appreciation of rum in Australia, takes into consideration the depth of aged rum blends introduced by Appleton Estate.
Priced at $159.99 retail, the silver embossed and individually numbered bottles of super-premium Appleton Estate 21 will be for sipping by the refined palates of serious liquor aficionados. And for those interested in joining the rebellion and getting serious about great rums, Appleton also supplies Australia with three premium aged variants, which have a versatility and quality unmatched by other rums.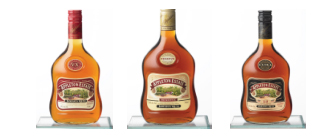 Appleton Estate V/X a premium blend of rums with an average age of five years RRP $37.99

Appleton Estate Reserve an indulgent blend of rums with a minimum age of eight years RRP $49.99

Appleton Estate Extra a finely crafted blend of rums with a minimum age of twelve years RRP $59.99

Appleton Estate Rums can be enjoyed sipped on the rocks with a twist of fresh lime or as a flavoursome base to uber-cool Mojito and Cuba Libre cocktails, which glitter the drink lists of style-bars and fine dining restaurants around the country.

The Appleton Estate was founded in 1749 and is one of the world's oldest and most famous rum distilleries. Master Blender Joy Spence combines art and science to achieve the unique golden colours and sweet nutty flavours in Appleton Rums which are created through a combination of secret blending techniques and the lengthy wooden barrel ageing process in the tropical Jamaican climate.


---

To celebrate the special delivery of limited edition Appleton Estate 21 Year Old Jamaican Rum to Australia, Mick Formosa one of Australia's top bartenders has created this Jamaican Back Jack cocktail for the occasion.

Ingredients:
10ml 5 spice Sugar Syrup
5ml Pedro Ximinez Sherry
4 Rum-soaked Raisins
60ml Appleton's 21year old

5 spice mix includes:
Cumin
Star Anise
Dried ground coriander seeds
Dried ground Fennel seeds
Nutmeg

Method:
Stir sugar Syrup, PX and raisins with ice until glass is chilled
Add Appletons 15ml at a time slowly stirring and adding ice

No garnish, but looks best with the raisins suspended through the ice rather than sunk on the bottom of the glass.

** Please note that if you print this cocktail, it needs to be attributed to 'Created by Mick Formosa of Ginger Bar in Melbourne'


---

Style Bars that will be serving Appleton Estate 21 Year Old Jamaican Rum include:

Sydney:

Arthouse

Zeta bar

Bayswater Brasserie

Hugos Bar Pizza

Melbourne:

Gin Palace

Ginger

F4

Murmur

Brisbane: