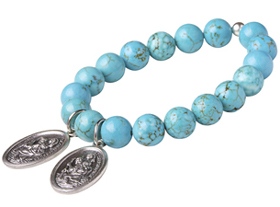 Beaded Jewellery - Tuquoise Howlite Bracelet
Made from semi-precious speckled howlite stones. Beads come affixed to a high quality silicone string that stretches to fit most wrist sizes. Customise by choosing from two medallions.
Beaded Jewellery - Tuquoise Howlite Bracelet
RRP: $35.00
Review: San Cerre's delightfully stylish jewellery makes a great gift or treat for yourself. With a wide variety in colours and combinations, there is something to suit any outfit or mood. These beautifully crafted pieces are high quality items that will be cherished.
Silver 5mm Bracelet
Made from the highest quality double dipped silver plated 5mm beads, this bracelet is extremely durable and comes with your choice of two SanCerre signature medallions. Its quite heavy for its size and is such good quality that its always mistaken as sterling. Coupled with the fact that its just as durable, looks just as good (if not better) yet doesnt have the price tag - need we say more!
Silver 5mm Bracelet
PRICE $35.00

San Cerre Fashion & Jewellery Roots
In 2006, a young, ambitious Sarah Wilkinson ventured overseas seeking adventure and inspiration. She found this when travelling through the French countryside and stumbled upon the village of SanCerre. It was here that she met an elderly woman who shared many pearls of wisdom with Sarah and as a parting gift she gave Sarah a St Christopher medallion for good luck and safe travels. Sarah loved the medallion so much that she made a bracelet out of it - and hot new label SanCerre was born......
"I couldn't really find any jewellery that I liked at the time so set about making my own," says Sarah Wilkinson, Owner / Director, SanCerre. "Everyone kept asking me where I got my bracelets from so I started making them for just a few stores initially and it grew from there," she says.
"I drew inspiration from my worldly experiences and began to develop a brand that would encompass meaning and value in each design and provide a service that enabled clients to mix and match, allowing the wearer to create their own unique look."
Each jewellery piece in the collection is handcrafted using the finest quality materials, finished with a medallion, charm or authentic Australian coin.
On the back of SanCerres jewellery success, Sarah introduced an easy to wear clothing range in 2011 consisting of quality basics and functional pieces all designed to be worn alone or effortlessly layered.
SanCerres clothing is primarily built around an earthy colour pallet with occasional splashes of seasonal colour. They also love to play with different combinations of beautiful fabrics and dyes. Regardless of ever changing trends, the flexibility, creativity and trans-seasonal nature of SanCerres products blend to always remain in style.
"My inspiration comes mainly from things I like to wear, but I also look to Europe for ideas and inspiration," says Sarah. "At the end of the day the underlying foundation that dictates what we design and take to market is based on a combination of what we love versus 'wearability' - pieces that are comfortable, practical, versatile and flattering", says Sarah.
Far from slowing down, Sarah has extensive expansion plans for the brand into additional international markets as well as exploring new product categories. Sarah has established herself as a well respected Australian designer. She lives with her son Albie and they divide their time between homes in Melbourne and Indonesia.
Having grown from humble roots as a small French inspired, Australian made jewellery label, SanCerre is now wholesaling and retailing (online) a stylish range of easy wear, trans-seasonal womens clothing and accessories. SanCerre is stocked in 200+ stores across Australia and New Zealand.
SanCerre is a brand that has substance and is renowned for their quality and affordability. Their earthy, natural range truly resonates with women of all ages.
ALL SanCerre products are available online through
www.sancerre.com.au
or via their 200+ selected stockists throughout Australia and New Zealand.