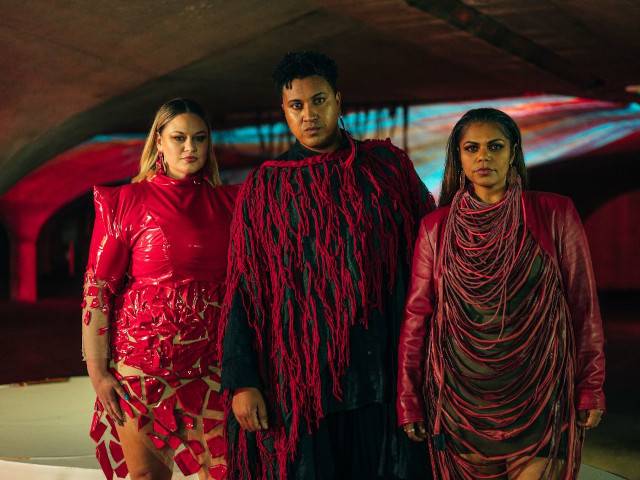 Singer, songwriter, actor, performer and changemaker Samuel Gaskin returns with his first new music in 2022 on the beckoning single 'RĀIN' featuring The Merindas. The highly anticipated follow up to Gaskin's 2021 breakthrough track 'RECKŌNING'"which was added to Apple Music's New Music Daily and New In Electronic playlists and whose accompanying theatre project of the same name took out four Melbourne Fringe awards"'RĀIN' rides the intimidatingly large wake of its predecessor with the ease of a seasoned and multifaceted creative who was born to entertain. To celebrate the arrival of the rainy season, Samuel Gaskin is excited to announce that he will be taking his award winning 'RECKŌNING' theatre show back to the stage for one night at the coveted Frankston Arts Centre on Sunday 8 May.

Out via Ditto, 'RĀIN' is an intimate collaboration with Indigenous pop duo, The Merindas. One of Sam's magic powers is bringing together powerhouses that wouldn't usually end up in the same room together and 'RĀIN' is the mesmerising result of this. Produced by Aria Award winning collaborator and friend Pip Norman (Troye Sivan, Baker Boy, Kate Miller-Heidke), 'RĀIN' presents an amalgamation of two Indigenous cultures from Aotearoa, New Zealand and Te Whēnua Moemoeā (Land of the Dreamtime), Australia, in a unifying and grounding experience as cleansing as its title suggests.

"The cultural exchange of us coming together & bringing a song to life is truly something magical and so special. I can feel our ancestors smiling." – Kristel Kickett (The Merindas)

"For me, the song RĀIN is about embracing power and strength in your most vulnerable moments. Water and Fire are such powerful elements; it's truly an uplifting song when you're feeling defeated." – Candice Lorrae (The Merindas)

"The pinnacle of the track is hearing both Aboriginal Torres Strait Islander and Māori singing in Noongar language together as one." – Samuel Gaskin

Having collaborated with some of the most talented people in Australia, including performing and writing almost exclusively with indigenous artists such as Yothu Yindi & The Treaty Project and The Merindas, Samuel Gaskin is a true delight to behold both in the studio and on stage. His goosebump-inducing live shows can evoke a sense of pure joy and seemingly insurmountable grief within the same breath, leaving audiences awe-struck by his powerful storytelling and proudly authentic self-expression. Do not miss your chance to catch this inimitable artist on the rise when he takes his stage show 'RECKŌNING' to the Frankston Arts Centre this May.